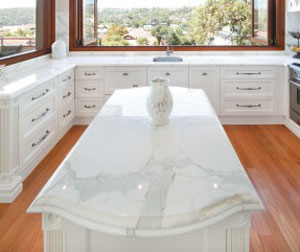 With warehouses in Sydney, Melbourne and on the Gold Coast, WK — Quantum Quartz has the eastern seaboard covered when it comes to selecting quality stone. 
Step inside the showrooms of WK — Quantum Quartz and be overwhelmed by the selection of natural and engineered stone on display — more than 250 varieties of natural stone and 50 varieties of Quantum Quartz (engineered stone). At any given time, the company has more than 30,000 slabs of high-quality stone available — from marble, granite, limestone and onyx to travertine and Quantum Quartz. Stone tiles are also available in polished, honed and flamed finishes. WK is particularly renowned for its Quantum Quartz — a manmade product available since the late 1980s. The main component is quartz, one of nature's strongest minerals, blended with pigment and additives.
Quantum Quartz has a number of enviable characteristics. It's virtually nonporous, highly resistant to heat, scratching, chipping and staining. It also comes with a 10-year limited warranty. The most popular applications for Quantum Quartz are kitchen, vanity and other benchtop applications. It's also a popular choice for flooring and is the designer's favourite because of its style, low maintenance and suitability for both residential and commercial interiors. The WK — Quantum Quartz manufacturing facility uses the patented Breton manufacturing process to ensure each slab of engineered stone is flawless, so it's not surprising that Quantum Quartz is found in some of the most prestigious private homes, businesses, restaurants and hotels across Australia. A network of distributors also helps bring WK products to Tasmania, SA, WA, New Zealand and the Middle East.