It is hard to believe that this inviting kitchen was previously haunted by dark brick walls, slate flooring and timer-lined ceilings
After 20 years of service the space was in desperate need of an extreme makeover that would improve the look, feel and functionality of the kitchen.
The owners wanted to create a stunning kitchen with an open plan feel that incorporated plenty of storage solutions while integrating with the adjoining dining and family areas.
The extensive use of solid seamless Staron (Aspen Snow) to the benchtops adds a flowing touch to the space and provides the kitchen with a stylish finish. Teamed with the all-white cabinetry, the stunning benchtops help uplift the once dark space.
The installation of a butler's pantry, cleverly concealed behind the main kitchen area, and plenty of large draws and cabinetry has revamped this space into a practical masterpiece. The Anglessa Blue and Sparkle Silver splashback and feature display walls, add a colourful focal point while complementing the design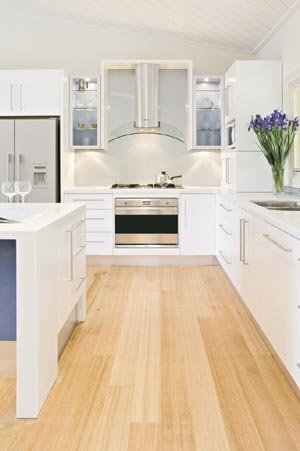 .
The results provide the owners with the 'wow' factor they were looking for. The kitchen has now become a sleek area for work and play. Whether catering for a keen chef or, a handful of lingering guests.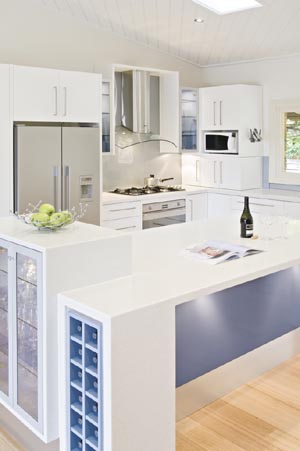 For more information
Photography by Tim Turner Photography