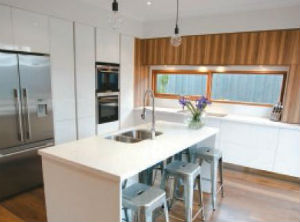 Four ramshackle homes, four couples and a gruelling renovation schedule equals fascinating television.
The Block has brought in a fierce competition of kitchen renovations. We hear from each of the couples about the planning and design that went into every stunning kitchen.
Kitchen 1 — Josh & Jenna
Josh and Jenna chose a blend of natural and organic with hints of industrial and retro, with a handle-less look for a sharp, minimalist edge. White cupboards and satin oak timber feature panels fit the theme, as does the industrial tap. "Our design incorporates stones, timbers, lots of whites and plenty of light," say Josh and Jenna. "We also aimed the home towards families, so we designed the house for maximum safety, practicality and so that it would be easy to clean."
The kitchen features premium Siemens and Fisher & Paykel appliances while the large island bench is a great spot for a casual meal. The Mira star splashback reflects the outside in. "We love the functionality, it's so easy to use," enthuse Josh and Jenna.
"The large space around the island bench means two or more people can cook at once". Susan Hasler from Freedom Kitchens says Josh and Jenna "incorporated clever lighting and natural light for instant appeal. Freedom's streamlined channel handle and Laminex Satin Heartwood overhead cabinets add a modern twist".
Kitchen 2 — Polly & Waz
Polly and Warwick have created a kitchen with ample benchspace and plentiful storage. Their goal was to maximise the space available and create a kitchen that had a classic, classy feel with a lowmaintenance finish. "We had the second largest kitchen on The Block which was impressive because we weren't the largest house," say Polly and Waz. "Our design is clever because it not only looks nice, but is very functional as well."
Some items were specially chosen for personal reasons. Explains Waz: "My favourite aspect is the gas stove — we were so fortunate to have the gas line coming through the street." Polly's favourite feature is the double sink with instant Zip hot water tap because, as she readily admits, "I'm a messy cook so having a deep, double sink means I don't have to worry about the mess taking over my benchspace."
Waz focused on the functionality of the working triangle while Polly visualised herself working in the kitchen in order to make sure the final design would work for the new owners. Susan Hasler from Freedom Kitchens knows that Polly and Warwick have chosen a design that is right on trend. "Two-tone kitchens deliver depth and interest," she says. "The trick is to use complementary colours and textures that work together for a cohesive space."
Kitchen 3 — Katrina & Amie
Katrina and Amie focused on the overall look when designing their kitchen. "We wanted a bit of wow and pizzazz," they explain. "But we still wanted it to tie in with the overall look of the house." To provide the much-wanted visual appeal, the sisters chose black and white with geometric shapes to ensure a memorable design.
"We love the open shelving in gloss black," say Katrina and Amie. "We also love that the shelves are off centre." The girls thought long and hard about how to kit out the kitchen to stay in keeping with the style of the home and make the space appealing to a buyer. "Don't overdo it on the appliances," they recommend. "Streamline everything and make sure you have enough space for preparation."
Susan Hasler from Freedom Kitchens can see the influence of the latest trends from Europe in Katrina and Amie's design. "Cube cabinetry with thick borders that frame the section is one of the hottest trends we're seeing right now," she says. "It's the perfect fit for the style-conscious, executive couple the girls are hoping to appeal to."
Kitchen 4 — Tania & Rod
Tania and Rod selected a classic black and white colour scheme to create a neutral background that would allow the new owners to add their own flair. "Adding different accessories is a quick and easy way to add colour," they say. "The stainless-steel benches give the kitchen a wow factor and they are easy to maintain at the same time."
The kitchen has been positioned to take advantage of the indoor/outdoor living and entertaining spaces and a few key items are integral to this theme. "One of our favourite things is the glass-fronted wine fridge," Tania and Rod say. "You touch the door, the light comes on and you can see the selection of all your favourite wines without opening the door."
The fridge is positioned specifically to be utilised when entertaining. "You can open the bi-fold window and pass out your beer and wine to the barbecue area," laugh Tania and Rod. "We've created a space with urban glamour style." Susan Hasler from Freedom Kitchens agrees. "A surefire way to impress potential buyers is to open up your kitchen space, creating an area that evolves from dining room to work area, to a space to gather and entertain," she says.
"Keeping clutter to a minimum is crucial in any open-plan design, so including items like pull-out pantry drawers from Hettich is a great decision," adds Susan.
DETAILS
Freedom Kitchens Phone 1300 885 435 Website www.freedomkitchens.com.au
For more information on The Block 2011, visit www.ninemsn.com.au/theblock