If you've loved the look of the kitchens on Reno Rumble, you're in luck — we have all the details so you can recreate the incredible designs
Nine's renovation series Reno Rumble has finished, bring to an end the weekly reveal of kitchen design that inspired and amazed. However, Freedom Kitchens has provided everything you need to know to get the look of the best kitchen designs of the show.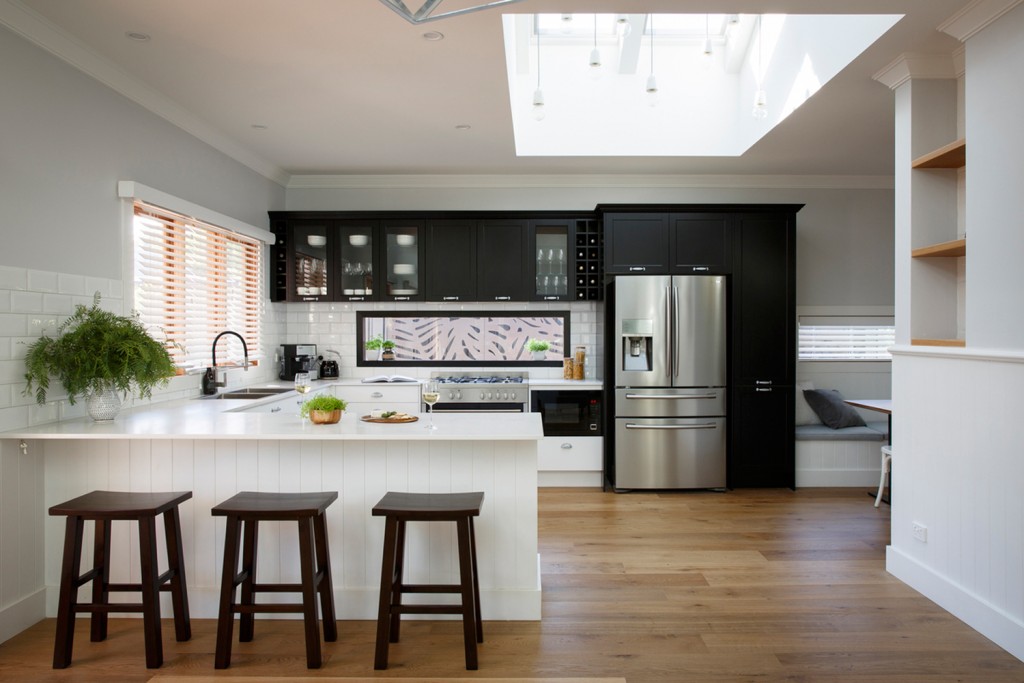 Week 1: SCOTT & NADIA, NEW HAMPTON:
Scott & Nadia's elegant kitchen brings together a traditional colour scheme in a refined setting.
Dual colours of Matt Black and White combine beautifully with a superb choice of Caesarstone Calacatta Nuvo – with its marble-like appearance, it achieves a polished and sophisticated look.
Beautifully blending the old with the new, the Inalto freestanding cooktop and classic handles sit perfectly alongside modern storage solutions such the Le Mans corner system and internal drawers to ensure every inch of space is maximised.
Features:
Cabinetry in Shaker Matt Black and Iceland White Satin
Chrome Cup and Chrome Bar Handles
Benchtops in Caesarstone Calacatta Nuvo
Kitchen Appliances by Inalto: 90cm Duel Fuel Upright Cooker, 90cm Undermount Rangehood, Fully Integrated Dishwasher, 2 x Built-in Microwaves
Accessories including Soft Close Doors and Drawers with Design Sides, Le Mans Pull-out Corner System, Internal Drawers, Steel Cutlery Trays, Oak Knife Holder, Oak Spice Rack, Wine Racks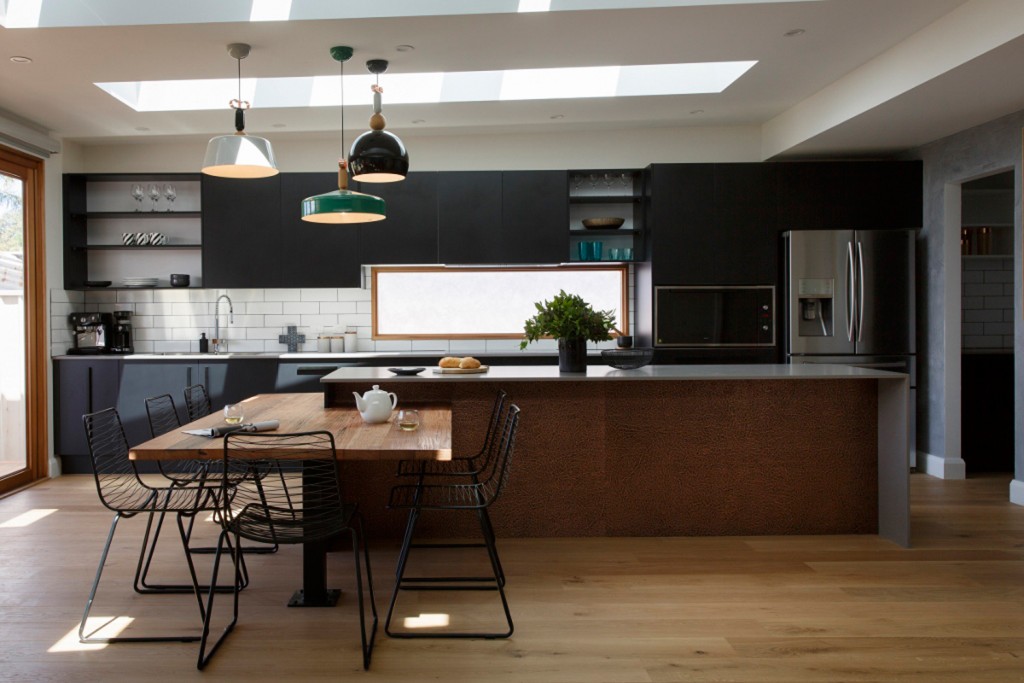 Week 2: LEANNE & DANE (red team), INDUSTRIAL CAFÉ
Café inspired, Leanne & Dane's kitchen is bang on trend for an open, airy space with a relaxed ambience.
A variety of different textures and surfaces have been carefully chosen to convey the café vibe including an interesting mix of textures and surfaces, including Matt Black cabinetry, open shelving subway tiles, Caesarstone benchtops, and copper metallic bar back.
Inalto appliances integrate perfectly, with the large 90cm gas cooktop and integrated dishwasher completing this café cool kitchen. In the butler's pantry, the high standard of design and detail is carried through – a storage and preparation area never looked so good!
Features:
Cabinetry in Super Matt Black and Antique Copper Panels
Black Ash Bar Handles
Benchtops in Caesarstone Sleek Concrete (20mm)
Kitchen appliances by Inalto 60cm Electric Cooktop, 90cm Multi-function Oven, 90cm Undermount Rangehood, Fully Integrated Dishwasher, Built-in Microwave
Accessories including Soft Close Doors and Drawers with Design Sides, Steel Cutlery Trays, Cross Rail Dividers in Drawers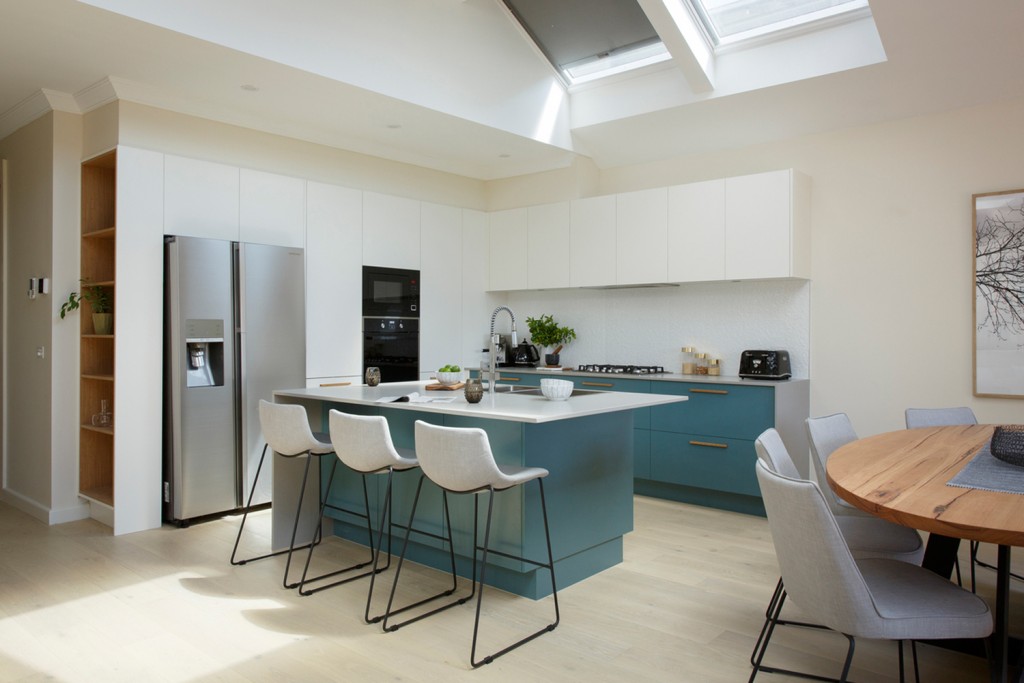 Week 3: SCOTT & NADIA (BLUE TEAM), SCANDI:
Choice of materials in this kitchen are second to none – vibrant Teal cabinetry, new to Freedom Kitchens, has been paired with Alabaster Satin for a fresh take on Scandi style and benchtops in Caesarstone Raw Concrete complete the look.
In terms of layout, this is a carefully considered kitchen space which incorporates the traditional work triangle where the cooktop, sink and refrigerator and well positioned for optimal flow.
Deep glass sided drawers plus pull out pantries either side of the ovens offer fantastic storage. Add to this the array of Inalto appliances, from the Gas Cooktop to Multi-function Oven, plus Hafele Bluetooth Sound System, and this is a kitchen that is functional and stunning in its simplicity.
Features:
Cabinetry in Iceland Alabaster Satin, Impressions Teal and Impressions Teak (open shelving)
Oak Handles
Benchtops in Caesarstone Raw Concrete (20mm)
Kitchen Appliances by Inalto: 70mm Gas Cooktop (5-Burner with Wok), 60mm Multifunction Oven, 70mm Undermount Rangehood, Fully Integrated Dishwasher, Built-in Microwave
Accessories including Hafele Sound System, Pull-out Pantry, Steel Cutlery Trays, Spice Tray and Oak Knife Holder
To book a free in-home design appointment with a professional Freedom Kitchens designer, visit freedomkitchens.com.au or call 1800 113 733. For more inspiration, follow on Instagram @freedom_kitchens and Pinterest www.pinterest.com/freedomkitchens/