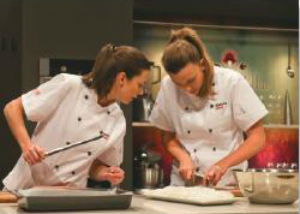 As winners of the 2011 My Kitchen Rules reality show, Sammy and Bella Jakubiak know a few things about cooking under pressure.
By Melanie Gardener
As I sat glued to the television watching the finale of My Kitchen Rules, I was enthralled at the action and amazing cooking on show. Nervously trying not to bite my nails, I realised that this competition could easily go either way and that both sets of finalists were giving it their all. When Sammy and Bella Jakubiak from Sydney were announced as the winners, the inevitable tears began to flow — and that was just me! I knew straight away that I wanted to interview the girls, not only about their amazing journey during the show but also to find out a bit more about what inspires them, how they became so passionate about food and cooking, and what their plans were for the future.
Of course, I have to start by asking about the incredible day of the taping of the finale. "At best I can describe it as 'surreal'," laughs Bella. "I never thought we'd get this far. We really did it more for the experience, and just focused on getting through each day and enjoying it." Sammy adds that the experience was crazy. "It ended with such a bang, but what a great finish!" she says.
As with any reality show, there are the added pressures of taping schedules and squeezed time frames to compound the stress of the competition, so I want to know how the girls fared. "I've never been under such pressure in my life," Bella tells me. "I'm a bit older than Sammy so I was worried for her but she handled it all so well." Bella pauses, and then adds, "I'm so proud of her." Sammy says the key was teamwork and having such a great relationship with Bella, but she knew they would be up against stiff competition. "To be honest, I was more worried about the other contestants. I knew I was quite young so I was nervous about how I would perform in front of my peers," she confides.
The two sisters have always had an intimate relationship with food. They admit to spending every waking moment eating, cooking and exploring with a view to sharing food with friends and family. After spending a number of years in the fashion industry, the girls decided it was time for a change so they began a food blog and then decided to audition for the show. Both girls credit their extended family with having instilled a love of food and cooking within them. "Everyone in our family loves to cook — Polish food in particular," says Sammy. "Grandma was the catalyst; I really feel I got my appreciation of food from her." Bella agrees, and adds, "It never dawned on me that Sammy and I were good with food. In our family, it's just normal, but now we know that other families are not always like this. It has become a very special connection within our family."
Sammy and Bella grew up cooking a range of traditional Polish dishes but both say that French cuisine has become their favourite food to cook and eat, as well as a range of European dishes. But each has their individual interests as well. Bella has become very interested in Asian cuisine, with the added influence of her boyfriend and his family, while Sammy had never cooked fish (although eaten plenty) before meeting her boyfriend, but now loves planning a meal around whatever catch is brought home. Eating out is still considered a treat. Bella explains, "We loved food so much but we were students and couldn't always afford to go out to nice restaurants. IIf we did go out, we'd always try something we couldn't make at home. If we loved the food, we'd do our research, experiment, and try to make it at home." 
The sisters live apart so it felt like a great opportunity to ask about their kitchens in their respective homes — what they like, and what they'd like to change. Sammy laughs as soon as I ask. "I live in a small apartment and I definitely paid more for the views than for the kitchen," she says. "I try to keep it pretty neat but it's all about organisation and storage. I recently purchased a new, basic oven and I'm heading to Ikea next week for new tools." So, what would she like to change? "A rangehood would be nice," she sighs. "At the moment I'm using a sliding door to keep smells from the rest of the house. And, to be honest, another couple of square metres would also be nice. My dream kitchen is large, with lots of bench space, big drawers and a nice big island in the middle with copper pots hanging down." When asked what item is indispensible in her kitchen, Sammy is quick to answer. "My Zyliss peeler because I can't stand a peeler that doesn't work properly," she says. "The good ones will last years. I love my hand zester as well."
Bella confesses to 'couch surfing' at the time of our interview as she is in between homes. But she assures me she's doing her fair share of the cooking in return for using her friends' spare room. "Tonight I'm making Southern Fried Chicken, potato salad and coleslaw," she says. "My friends have a lovely kitchen with a great oven," she adds, explaining that the oven in her last residence was woeful. "My advice to anyone is: get a good oven."
This leads us to a discussion of one of the dishes cooked in the finale that revolved around puff pastry which the girls made from scratch during the competition. Bella confides that she has a secret weapon when it comes to baking with puff pastry. "You need an initial heat of around 220 degrees Celsius to make it puff up. Make sure the pastry is chilled. Our trick is to heat up the baking tray in the oven so it's already hot when you put the pastry on, then put it straight back in the oven. This helps crisp the base and make it puff up properly." Bella's must-have kitchen item is her Kitchen Aid mixer. "I can't live without it," she declares. "It copes with small quantities really well. I also love my potato ricer — it's a bit like a large garlic crusher and is indispensible in our house. We love mashed potato and this one creates such a smooth, creamy texture; it's also fabulous for making gnocchi."
As you would expect, both girls have a favourite dish to cook at home and, interestingly, both girls chose a risotto — albeit each have a very different take on this traditional dish. "My lamb shank risotto is not a traditional risotto but it's my interpretation," explains Sammy. "I love to cook my lamb shanks for eight hours if possible so they become gorgeously soft and fall off the bone. My chef's treat is the marrow. I cook the shanks in a tomato sauce with a few simple herbs then add cans of tomato. Then I use the sauce and add stock to cook the risotto.  I pull the meat from the bone and add that, with some frozen peas, right at the end, plus a good drizzle of olive oil. The sweetness of the peas is great against the richness of the lamb."
Bella's favourite dish is Porcini risotto which she credits as the girls' signature dish. "It's a simple dish in terms of ingredients but you do need the correct technique to get the creaminess," Bella advises. "My tip is to use carnaroli rice not Arborio rice. You get it from delis and it has a higher starch content so the grain doesn't turn to mush but stays together. For velvety creaminess, you need the carnaroli rice and it's not that much more expensive." Bella pauses here and adds a funny story about her family and risotto. "My dad has always hated risotto," she tells me. "He calls it 'mushy rice'. But the first time we made this risotto he fell in love with it and now we make it all the time." Busy at the time of our interview on the publicity circuit, I was curious about the girls' plans as their lives had calmed down somewhat. "We still have our day jobs but we are working part-time so we can take on other projects," says Bella. "We are working on a book and maybe a short TV special. We also started a catering business and are looking at doing some cooking classes and demonstrations." 
Sammy sums up by adding, "It's so rewarding to teach people and see the smile on their faces. I love to do cooking classes for this reason. The catering side of the business is our immediate priority but anything that involves feeding people is great." Seeing the girls now host events and take on projects large and small, it's clear that the time spent on the TV show has honed a number of key skills that are now being put to good use and will be a great stepping stone for their future.
DETAILS
SAMMY & BELLA
 Website www.sammyandbella.com