Deep red tones make for a warm and inviting space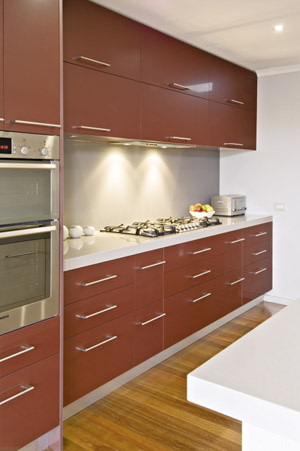 All year long and especially during the colder months, this kitchen is a cosy haven where family can gather to cook and chat about the day's events. It's only natural, then, that the owners were after a space that reflected their upbeat mood.
Tired of their white Laminex benches, the owners of the kitchen wanted to enliven the room with a hearty splash of colour. Con Moshopoulos from Urban Kitchens selected a deep earthy red to do the job. "With so many people doing all-white minimalist kitchens, I was excited about doing something a little different," he says. "Duropal Deep Red Metallic cabinetry seemed like the perfect choice."
The colour is truly unique and blends perfectly with the Grey Ironbark floorboards. In keeping with the room's organic feel, Satin Greige Stone Italiana was chosen for the benchtops, adding an element of texture to the space.
The "natural" theme is also evident in other areas of the design. The owners have chosen to go "green" and installed energy-saving fluorescent downlights and water-efficient Flickmaster taps.
Not to be forgotten are the high-quality appliances that enhance the room's "star" power. With a generous-sized Bosch oven, a deep Abbey double sink and huge stainless-steel LG refrigerator, complete with an ice dispenser, the kitchen is well-equipped to handle any last-minute catering emergencies, or simply a severe case of the munchies!
Fact file
DOORS/PANELS 18mm thick Duropal Deep Red Metallic with combination 18mm thick Laminex Industries Linea vertical grain
HANDLES Howard Silvers 054 341 stainless steel
BENCHTOP Stone Italiana in Satin Greige
KICKBOARDS Stainless laminate
FLOOR Grey Ironbark floorboards
LIGHTING Energy-saving fluorescent downlights
APPLIANCES include a Bosch double oven, Highlander hotplate, Qasair rangehood and extractor fan, Miele semi-integrated dishwasher, LG ice dispenser, Abbey sink, Greens flickmaster taps and Panasonic microwave
COST, approximately, for design, manufacture and installation, $24,000
Tim Turner Photography