DIY might be all the rage on TV, but what are the risks of not employing a professional building designer or an architect on your project? Property expert and Selling Houses Australia host Andrew Winter gives some sound advice on working with professionals.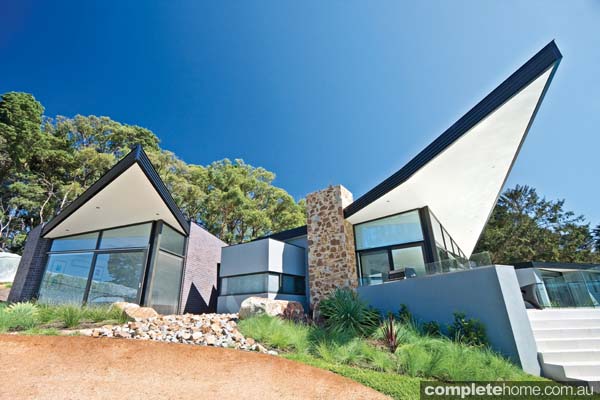 Home by Saaj Design. Photography by Patrick Redmond.
You have decided a brand-new home is what you want — the great Aussie dream. This is your chance to live in a home that is not only shiny and new, but with exactly the right number of rooms for you, the right balance of space, the storage you need, enough power outlets, the outdoor area ready to welcome your (hopefully) slightly envious friends and family, and a home that suits the block and streetscape. This new residence will have your choice of kitchen and bathroom fittings, even the tiles you love; this home should be exactly what you want and expect. Before you start saying you can only do that with an endless budget, I disagree. Good design need not be expensive, and the experts know this!
One major change I have seen in the many decades I have been involved with housing is the fact that so many feel they can DIY design. Why would they need to use the talents of an architect, an experienced designer, draftsman or perhaps the design consultant supplied by your builder? We now have countless magazines, innumerable TV shows and just about every element of the subject covered online and contained within apps.
My argument however is very simple. I'm sorry to say that we are still all amateurs in the sense that there's a lot to comprehend and fully understand in this field – the many different instructions, design concepts, ideas and choices to make. So asking for and needing guidance should be seen as an essential part of any building project.
Apart from their degrees, study and experience, designers and architects should have the real-world practical experience and knowledge to be able to help you with your vision and give an overall view. They most likely have dealt with commercial and residential projects, budgets big and small, plus demanding clients. All this adds up to a broad experience and insight into this very specialised area.
Ironically, experienced real estate agents and new home salespeople can be helpful, too, provided they have been in the industry for at least three to five years, ideally more. Some of these people can be great design advisors, purely because they have seen so many good and bad examples and have taken mental notes of that information. I would be the first person to happily admit to being one of these 'amateurs', having been involved with creating homes for more than 25 years and interested in the subject, too. I do know the basics, but cannot always explain the reasons behind design rules. I have seen so many homes of every shape and form and unless I had my eyes shut I should hope some of this information has been retained. And those like me would at least be able to offer a constructive opinion.
Anyway, back to the case in hand. I daresay most people should expect to need some design or architectural advice when about to build a home, whether a project home or the ultimate dream structure already created in your mind.
Because you really can create style without blowing the budget, an experienced designer will know the tricks to get the look you want, interpret your ideas and add some inspiring creativity.
The devil is in the detail. Make sure windows are in the right place, the sun's orientation is taken into consideration and sight lines are considered. Just these minor choices, if ignored, can potentially have a massive impact on the finished home. These are details that are very costly, if not impossible, to alter retrospectively.
Consider the streetscape, aspect and immediate neighbours. This can be really tricky if you are building among empty blocks, building to give you outlook and privacy and preparing for future neighbours, or ensuring your design works with existing neighbours. This is one of the most frequent mistakes I see, so get this right for a truly successful build and pleasant, long-term home.
We all want some individuality and a home built specifically for us, but guidance is invaluable on those personal touches. From the tiles to the taps, sinks, flooring and window designs, not forgetting roofing materials and door handles, no matter what your budget, the options are pretty overwhelming. An extra pair of professional eyes can be invaluable.
Finally, do you really know what to do with lighting and the amazing impact it can have? At pre-construction stage, the added cost of using a lighting designer can be nominal, but the results spectacular.
So the risk is really there. We amateurs need help from the pros, so don't be afraid to ask or pay for help. Any added cost can easily be justified by creating a home for you with character and personality. In my experience, this is usually one that will sell easier and be in more demand in the future when it comes time to sell.
The real risk is in the fact that you are about to commit to one of the largest single purchases you can make. Just because we make it seem so easy in TV land and the glossy magazines, don't be fooled, get some serious design advice — I built in 2010 and I did!
By Andrew Winter
From Grand Designs Australia magazine Vol. 2 No. 3