Transform unusable space into functional storage with storage Queen Tanya Selever's top 3 hidden storage ideas.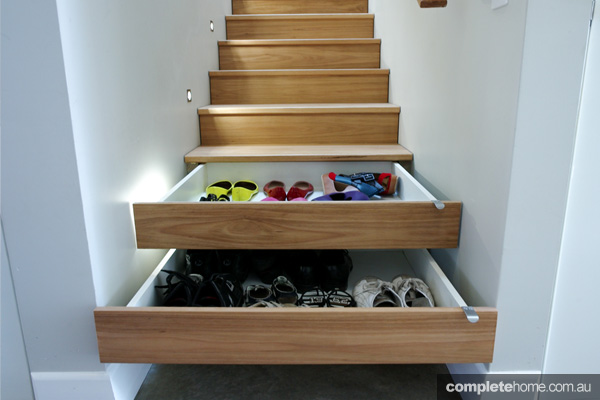 Photo courtesy of Hearise
1. Under stair storage
Under treads: Always a goldmine when it comes to storage, there are a wide range of pull-outs ranging from standard drawers to shoe or wine storage. Although this is an excellent form of concealed storage, it needs to be incorporated into the stair design.
Under the staircase (side access): Most staircases are quite deep, so try to maximise as much depth as possible. Hettich drawer depths range from 250mm-650mm but can go up to 1000mm in special applications. Ask about heavy duty options if you plan to store heavy items as weight capacity decreases as slides get longer.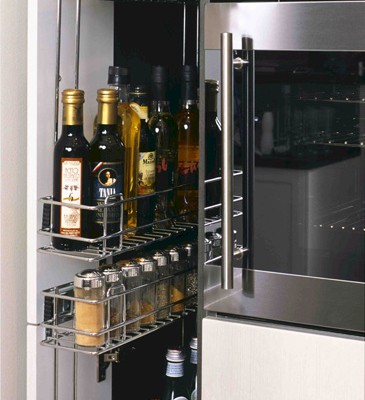 2. Kitchen fillers
Fillers, or filler panels, are used at the end of kitchen cabinets to take up residual space because it's thought that no storage options suit such narrow spaces. Well, they do! Bottle & Spice Pull can be used in spaces as narrow as 112-123mm. These solutions are suitable for use with a hinged door or door mount.
3. Under sink storage
Just about always the most difficult space to add functional storage once the pipes, plumbing, bins, water filters and more are added. Most of the time, however, there is a shallow space at the front or to the side of the plumbing. Remove the shelves and opt for a shallow slide out detergent pull out, providing extra storage and organisation.
By Tanya Selever, Managing Director and Product Designer at Tansel Stainless Steel Wireware
From Kitchens & Bathrooms Quarterly magazine Vol. 20 No. 4