This eclectic Paris apartment expertly showcases all the flair and decadence that only the creative director of one of the world's top fashion labels could craft.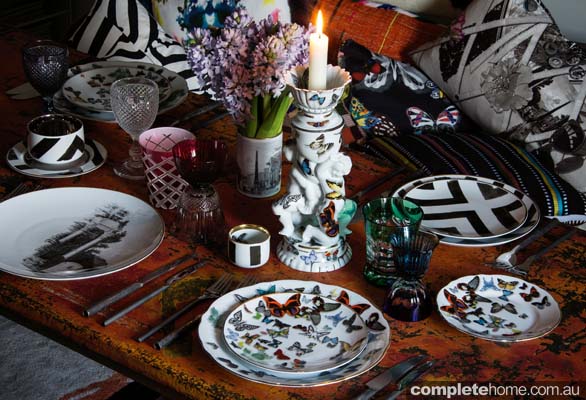 "You can't be minimalist and work for Christian Lacroix," explained Sacha Walckhoff, creative director for the house of Christian Lacroix, when interviewed recently by The Guardian. "I was a minimalist guy, I am a minimalist guy and I will be forever, but of course working for Christian Lacroix you can't be minimalist," he laughs. "I really had to fight against myself to put things together that I would never have put together alone."
This same mentality applies to Sacha's own home. There's certainly not much minimalism there. Actually, it's so far from minimal you'd be forgiven for thinking Sacha was telling porky pies. From the life-sized Zebra sculpture to the decadent designs by some of the world's most renowned creators and innovators, this creative corner of Paris is chocker block with eccentricities, masterpieces and a variety of antiques encountered while rifling through the world's best flea markets.
Position-wise, this stylish nook is in one of the best spots in Paris. A stone's throw from the Opéra Garnier, Sacha's home is surrounded by all the arts, history and romance that make the city so special. Structurally, Sacha changed nothing in the apartment. The architecture is beautiful enough already and his love of everything antique held him back from altering an old building in any way. With no architectural changes, the nature of the design work comes purely and simply from that which sits within it. "Depending on what I found during my travels or at the flea market, I composed the setting of each room in order to feel at ease in the space," he explains. Essentially it is a masculine interior brought to life by brave colours, strong pieces and fine materials. "Each object and image tells a story, each fabric evokes an emotion," he says. "My apartment is not a showroom for reeling off brands or names; it is an accurate reflection of my inner self."
Sacha is an intriguing character. He is a man with a discerning eye; one who can effortlessly combine antiques and contemporaries with ease. The house of Christian Lacroix also swears by this same mantra, something Sacha has adopted and learnt from Christian himself. Christian developed a love for fashion when writing a dissertation on the topic of dress in 18th-century French painting as part of his art history degree. Since then, his designs have eloquently amalgamated old with the present, and his fashion house is particularly renowned for bringing extravagant flair to modern wear. It's hardly surprising that — after 18 years of working together — these two creative individuals have rubbed off on one another in some way and both share this similar love of coalescing old with new.
Sacha is an artist, traveller and collector. The eclectic mix of items dotted around his apartment comes from markets in New York, Paris and London, and from various exotic places such as Syria and even as far afield as the Amazon. The items span centuries, too, with pieces dating back to the 1600s and beyond. "My home says a lot about me," explains Sacha. "I have been here for quite a long time, I live here with my companion and we really put together all the things that we like and so it's full of memories, full of all the souvenirs we bought on our travels — this is really a place where I feel at ease." He is an accumulator of ceramics, an enthusiast of contemporary design and an admirer of 1950s furniture; he has acquired a variety of treasured pieces by Picasso, Cocteau, Charlotte Perriand, Hella Jongerius, and Garouste and Bonetti, to name but a few.
"Even though I still love antiques, I am more into designer furniture and contemporary art right now so I try to put all my heart into building a warm and cosy interior," explains Sacha. This is unmistakably evident within the space. The presence of well-known and respected design labels such as Hermès and Marcel Wanders add a touch of chic modernity, balancing out the vintage, bringing in a bit of the present and enabling Sacha to maintain a hint of his minimalist nature.
One must take a stroll through this weird and wonderfully detailed world that Sacha has created to really appreciate the depth of the life experienced here. The living room is where a large portion of the fantastical world can be found: eclectic and wild, animalistic patterns dominate. An Amazonian head and a human's backbone make this space not for the fainthearted, but look closer and contemporary items and artwork can also be found alongside the extravagant.
Colour deserves mention in every room. Contemporary pieces by Dutch designer Maarteen Baas and fabrics and homewares from the house of Christian Lacroix have a great part to play, and the use of the bright items helps to balance out the dark hues found in so many of the antique pieces. Gold offers a fabulous halfway house, uniting old with new effortlessly.
The bedroom is filled with intriguing and inspirational pieces, which works well for Sacha as this room doubles as an office. "My favourite part of the apartment is the bedroom, it's my second studio and I do a lot of work in my bed either early in the morning or late at night," he reveals. The screen behind the bed — created from bull skin — is a truly unique touch and was designed by Sacha himself.
Take a walk through time. Take a walk through history. Take a walk on the wild side. Whichever path you choose to take through life, this apartment is a reminder to respect past, present and future. Respect that which is beautiful, intriguing or detailed. Respect old, respect new. Appreciate good design no matter which era or continent it comes from. And sometimes it is best to abandon rule and reason and simply surround yourself with that which you love.
GENIUS TRICK: Old and new are brought together effortlessly through clever use of golden hues and bold patterns
Eclectic Paris apartment details:
Sacha Walckhoff is the creative director of the house of Christian Lacroix.
A short distance from the Opéra Garnier, Sacha's home is surrounded by all the arts, history and romance that make this city what it is.
A minimalist at heart, Sacha has adopted much of Christian Lacroix's own decadent style, which can be seen throughout his home.
Sacha has a penchant for mixing antiques with contemporary pieces. Items from all over the world and multiple eras of time are dotted throughout the space.
While still an avid fan of antiques, Sacha loves modern pieces, too, and his home features a selection of items from some of the top designers and creators from centuries past.
christian-lacroix.fr
By Alexandra Longstaff
Photography Francis Amiand and Niel Bicknell
From Home Design magazine Vol. 16 No. 4