Featured on the LifeStyle Channel's Grand Designs Australia, Hampton Timber House is a truly unique timber-clad, Japanese-inspired home.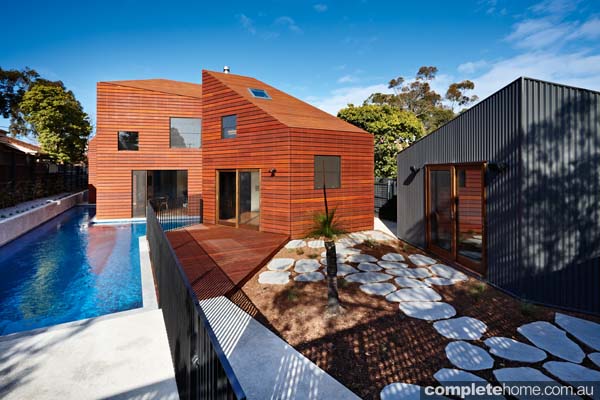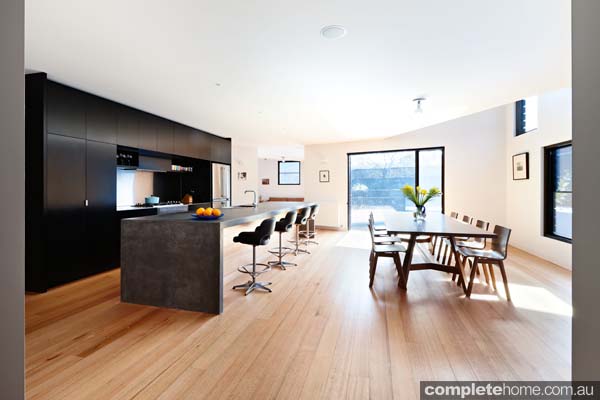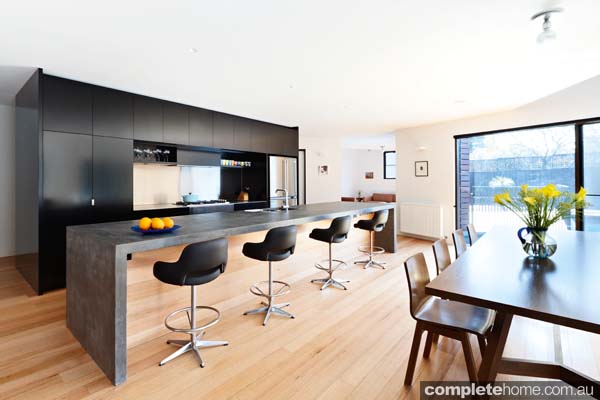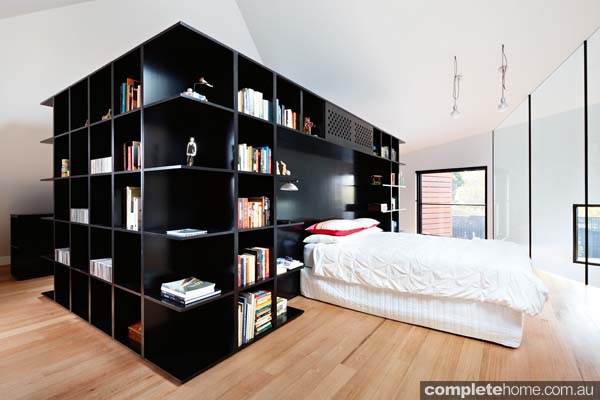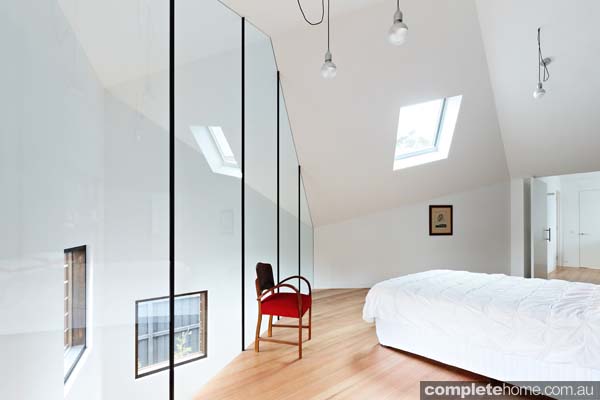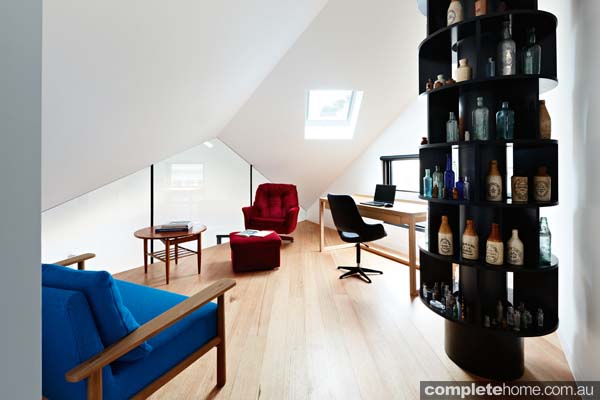 GRAND DESIGNS AUSTRALIA Hampton Timber House
LOCATION Hampton, Victoria
COST $1,700,000
DATE COMPLETED July 2012
EPISODE 2 SERIES 3
Water flows through the veins of this Japanese-inspired home. From the pool that wraps around the structure, reflecting light delicately onto the walls inside, to the billabong that flows underneath its foundations, causing countless problems during the build, water has been both friend and foe to homeowners Brett and Jenny from start to finish.
Of course, billabong aside, the inclusion of water in the design was pre-conceived, and with Jenny's love of swimming and affection for the calming effect water creates, the incorporation of water into the design was of utmost importance.
This journey began many years ago and has been a real family affair from the start. Enlisting Tim Jackson, Brett's cousin, to design their holiday house in Flinders 15 years ago, Brett and Jenny developed such a level of trust in Tim that they felt they wouldn't get anywhere else. They bought the Flinders property, with its eight hectares of land, initially with hydroponic tomato farming in mind, and the vast plot of land provided the perfect environment to do this.
Brett spent time learning about tomato farming but discovered that those in the business had an advantage he simply didn't have: time. Brett learned that a good harvest relies not solely in the quality of soil and seasonal conditions but in the hard yards the farmers dedicate to the crop. And the hard yards are great, with many farmers working overtime on a regular basis. This was something Brett couldn't commit to and, sticking to his already successful career in IT and communications, he instead directed his energies to building a new business, so this plot of land was handed over to Tim with the idea of tomatoes tossed, replaced by the new concept of a holiday house.
What Brett, Jenny and Tim learned through this process, though, is that they work very well as a team. "Discussion with Tim about the design of the Hampton house started about four years ago," explains Brett. "Tim came up with the design concept and what's great is that Tim understands our easygoing lifestyle and how we live." The relationship the couple have with Tim enabled them to relax a little, knowing they were in good hands. Plus, it also gave them the ability to take a step back and really let the architect take the reins. "The concept was entirely Tim's," says Brett. "He suggested the idea, which included the 'pods' concept, and we loved it."
That's not to say the design and build didn't prove challenging, though. The uniqueness of this construction is what sets it apart but is also what set the challenges high. A completely original design — especially one that rises from the pool like a wooden origami masterpiece — is bound to defy its project team left, right and centre but, as Brett says, "We knew it would be difficult as it was so original. It was also so much more complex than Flinders, so we were prepared. There are some things you can only learn through the actual experience of the build, such as needing two back doors rather than one — something we could only realise once the structure was up." Owing to these learning curves, the nature of the build probably changed about 20–30 per cent.
One of the most significant adjustments was the decision to add the timber cladding. The original concept involved concrete façades encasing the home but, after much deliberation, Brett, Jenny and Tim decided timber would work better. Using wood to sheath the outside works not only on an aesthetic level but also on a functional one. It enabled double insulation using layered fibreglass batts, which were then covered with a layer of roofing iron and then timber, keeping the home cool in summer and warm in winter.
Aesthetically, the cladding adds latitude to the structure and, from the builders' perspective, it also created a level of freedom. In fact, the uniqueness of this project was such a breath of fresh air for the builders that Ben Robson and his team were not only challenged throughout the construction, but on completion they came back to the home to add extra finishing touches.
Such an intriguing design came with huge challenges, but through successfully tackling those challenges, all those involved were rewarded with a high level of pride in their work. And, speaking of challenges, who could forget the spanner the underground billabong threw into the works? The last thing you want when building a completely new home is an underground water source flooding your site. Brett and Jenny weren't the only ones who encountered this problem, though. Other home owners in the area had encountered difficulties with water, too, particularly given the wet weather conditions experienced in Australia over 2011 and 2012.
"What was strange," explains Brett, "is that the year before we started the build, we buried our Jack Russell and didn't find a hint of a billabong, but then when building we had this water drama." Three or four months, a whole lot of concrete and $100,000 later, though, the building was back on track with the foundations of the pool in and the water source diverted using purpose-built agi drains.
All things considered, these challenges added a gritty make-or-break element. Any other family might have thrown in the towel, but before they even embarked on the project Brett and Jenny had a sense of the challenges ahead of them. In fact, the difficulties this timber vision threw at all those involved seem to have simultaneously provided enormous pleasure. As they say, nothing worth having comes easily and this beautiful wooden sculpture, filled with a water presence that seemingly floats gently into the home, glassworks that filter light and sound effortlessly and trigonometry that could flummox Pythagoras, was without doubt a challenge. But it was one that was worth every moment in the end.
PROJECT TEAM for Grand Designs Australia's Hampton Timber House
ARCHITECT Jackson Clements Burrows (jcba.com.au)
BUILDER Imperial Builders Pty Ltd  (imperialbuilders.com.au)
INTERIOR DESIGN CONSULTANT Cindy Jones Interiors (ballarat.com/cindyjones/services.htm)
JOINERY Esplanade Kitchens (03 5979 8850)
STRUCTURE Builder Imperial Builders Pty Ltd (imperialbuilders.com.au) Plastering EG Plastering (0414 553 517) Timber and hardware Tait Timber (taittimber.com.au) Hazelwood and Hill (hazelwoodhill.com.au)
FIXTURES & FITTINGS Audio visual solution Big Picture People Cheltenham (bigpicturepeople.com.au/stores/cheltenham/) Push Control — supplied through Big Picture People (pushcontrols.com) Bathroom fittings and fixtures Roger Seller (rogerseller.com.au) Concrete benchtops Rutso Concreting (rutsoconcrete.com.au) Doorware Designer Doorware (designerdoorware.com.au) Light fittings Light Project (lightproject.com.au) Nursery and plants Din San Nursery (dinsan.com.au) Stainless steel kitchen benchtop Esplanade Kitchens (03 5979 8850) Windows Future Windows (futurewindows.com.au)
FURNITURE & FURNISHINGS Appliances Elite Appliances – Hawthorn (elite-appliances.com.au) Blinds Hannans Window Furnishings (hannansonline.com.au) Dining table and chairs Jardan (jardan.com.au) Freestanding study desk Temperature Design (temperaturedesign.com.au) Kitchen bench stools and desk chair Kendall Furniture (kendallfurniture.com.au) Living room sofas and ottoman Athur G (arthurg.com.au) Shower screens Armac Glass (armacglass.com) Theatre room sofa Jardan (jardan.com.au) Weber barbecue Barbecues Plus Hampton (barbecuesplus.com.au)
SERVICES Architectural glazing Armac Glass (armacglass.com) Cabinetry Esplanade Kitchens (03 5979 8850) Electrical Design Electrics (0408 090 204) Painting McLean Home Decorating and Painting (mcleanpainting.com.au) Plumbing IN2 Plumbing (0418 366 761) Pool and landscaping Domain Pools + Landscapes (domainpoolsandlandscapes.com.au)
By Alexandra Longstaff
Photography by Rhiannon Slatter
From Grand Designs Australia magazine Vol. 2 No. 2