Inverloch Sand Dune House, which featured on the Lifestyle Channel's Grand Designs Australia, is set in Victoria's windswept south coast, the award-winning house is a mix of heart and hard edges inspired by the elements.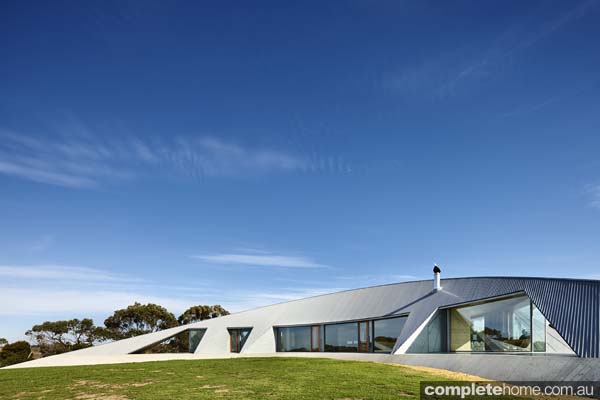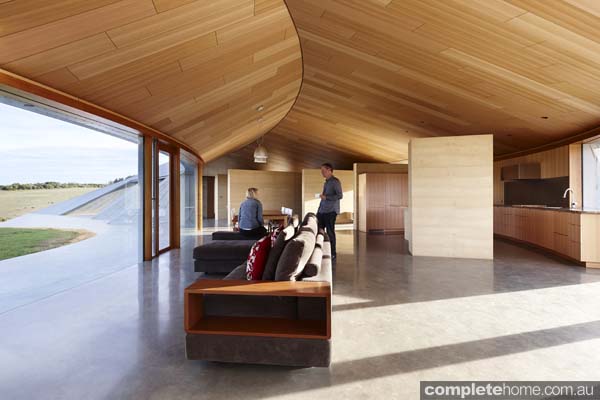 GRAND DESIGNS AUSTRALIA Episode
1
Series
4
HOUSE Costal View
LOCATION Inverloch, VIC
DATE COMPLETED September 2012
When she first saw the lime-zinc roofing on her Inverloch home, Kate Morris admits to a moment of sheer panic. "I thought, I'm going to be living in a spaceship. What will people think?" she laughs. Now she loves seeing that same reaction when guests arrive at Croft House. "When they approach the home they see the industrial exterior, but they don't realise what it's like inside; how soft, warm, natural and earthy it is. And when they see that, they get it. They realise why it has been oriented and designed in this way — it's all about the majestic panorama."
Kate's husband Glenn, a retired engineer, also loves this contrast. He describes one of his favourite moments of the 10-month construction process as being towards the end of the filming of Grand Designs Australia, when he sat on the lounge with presenter Peter Maddison and noticed how the tapered ceiling becomes part of the interior. "You look out the window and you see this sturdy, beautiful structure," he says. "You see how it lines up with the inside of the home and how the contrasting feelings work together."
Almost two years earlier, while in transit at Sydney airport, Glenn noticed a magazine with one of architect James Stockwell's designs on the cover. He was looking for an architect to design a unique, sustainable home for the eight-hectare block he and Kate had bought eight years earlier. He was so impressed with James' design that he arranged to meet the architect while he was in town. But James turned down the job, saying he'd be busy for the next six months. Glenn told him they would wait.
Six months later, James travelled to Inverloch on Victoria's south coast and camped out for two nights to get a feel for the area's wind patterns. The home he came up with — a low-slung, two-bedroom place that turns against the prevailing wind — makes for a unique holiday home. But, as he later discovered, it's not a unique form in this windswept corner of Victoria.
Once James had made a physical model, he got speaking with his geologist brother and told him about the Inverloch environment. His brother said it was likely the area housed barchan dunes, a type of sand dune that forms in windy locations. When James looked at his model, he realised he'd designed a barchan dune.
"When I heard that, James struck me as someone who can understand the environment and design for it, not against it," Glenn says. All went smoothly during the design process, which took about five months, until he and Kate started to worry there wouldn't be enough head room in the tapered ends of the home, which house the laundry and sitting room. They decided to increase the size of the entire home by 10 per cent, bringing the floorplan to 200m² — still not huge, but bigger than they'd planned for their eco escape. "If we had our time again, we probably would have got away with it at the size it was, but now they are very comfortable spaces to be in," Glenn says.
Another worry was finding a builder in the remote town who would be up to the task. "That was a big concern for us because we needed someone who could translate the plans with an architect who would be working from a distance," Glenn says. "It's a complex design and it's never been done before, but we found David Martin, a really capable young guy who was enthusiastic and passionate about the project — and a perfectionist."
The result is a gorgeous home that not only embraces the spectacular view of the sea and nearby duck pond, but has minimal impact on them and their residents. So far, the couple has had visits from curious koalas, kangaroos and a stray sheep from the neighbouring farm, and they want to encourage this interaction. "You're a part of the environment rather than being in a house," Kate says.
To lessen the home's visual impact, they've opted for minimal lighting — just a few lights above the dining table and a couple of LEDs in the kitchen area. As time goes on, they may add standing lamps to provide ambient lighting, but Kate says she's mindful of having too much furniture in the home.
"I want people to look straight outside — I don't want to distract from that," Kate says. The home's few furnishings are mostly built in, such as the seat by the entrance where guests can sit down and take their shoes off. They've also had a cupboard and desk built into the study nook and a bedhead and bedside tables added to the master bedroom. Even in the living room the furnishings have been kept to a minimum, which means Kate and Glenn can re-orient the entire room, choosing either a view of the pond or the sea, just by moving the lounge suite. Kate says she may add a few large artworks, but at the moment she's happy gazing at the pond and its busy birdlife.
If there's one thing that almost rivals the view, it's the stunning ceiling made of Victorian ash. It wasn't cheap, but Kate insisted on using the native wood — a stance that has paid great dividends, with the ceiling setting a sophisticated, earthy tone and injecting the space with just the right amount of pattern and colour to prevent it from feeling all too sparse.
Kate was just as firm when it came to selecting the roofing material, which was originally going to be zinc aluminium. "I really pushed for lime zinc," she says. "It's 99 per cent pure zinc and we had to get it brought over from Europe, but because we are so near the sea I really wanted something that wouldn't rust — that would look awful. When James realised we were happy to pay for it, he was delighted."
Kate and Glenn have avoided any product that requires regular painting and they've tried to stick with natural surfaces throughout the home. This includes the interior's dividing and feature walls, which are made of rammed earth. The concrete pad the house is built on is larger than the home, offering plenty of patio space, but also absorbing sun and warming the residence throughout winter, when temperatures in Inverloch drop down to the single digits.
Kate and Glenn have installed coils for underfloor heating, but at the moment they're still tossing up whether they'll have it connected. For now, a fireplace does the trick and, having planted 150 native trees (each one 6cm high), they expect to have plenty of firewood in five years' time.
"For us, it is about more than just having solar panels — we have them — but it's about letting nature do the work," Glenn says. The home collects its own water, has its own worm farm and has plenty of eco cred, a fact acknowledged by the Australian Institute of Architects, which awarded Croft House this year's Allan and Beth Coldicutt award for sustainable residential architecture. The prize was awarded to James, but for Kate and Glenn it's an acknowledgement that they've achieved everything they set out to do. "What we have is not just a statement house, it's not just an architectural fancy," Glenn says. "It's a beacon of sustainable residential design and a statement about what you can do if you push the boundaries."
INVERLOCH SAND DUNE HOUSE PROJECT TEAM
ARCHITECT
James Stockwell (www.jamesstockwell.com.au)
BUILDER
Martin Builders (www.martinbuilders.com.au)
ENGINEERING/ESD CONSULTANT  
Meinhardt Australia (www.meinhardtgroup.com)
BUILDING SURVEYOR
TJ Building Consultants (www.tjbc.com.au)
STRUCTURE
Curved glulam timber beams VicBeam (www.vicbeam.com.au)
Roof trusses Capeview Building Products (www.capeviewbuildingproducts.com.au)
Concrete/burnished slab Lou Zanella Concreting (0408 136 418)
Site works Chapman Contractors (03 5657 4339)
FIXTURES & FITTINGS
Rammed earth StabilEarth (www.stabilearth.com.au)  
Double glazed windows Viewtech (www.viewtechglass.com.au,
Glassworks (glassworksaus.com.au)
Rheinzink roof & cladding Craftmetals (www.craftmetals.com.au)
Joinery & cabinets Award Cabinets (www.awardcabinets.com.au)
Plumbing fixtures Reece (www.reece.com.au)
Lighting Lightproject (lightproject.com.au)
Fireplace Wignells (www.wignells.com.au)
Electrical appliances E&S Trading (www.estrading.com.au)
Sashless window units Aneeta (www.aneetawindows.com)
Door hardware Knobs & Brass (03 9796 3111)
SERVICES
Electrician Houston Electrical (0409 568 377)
Plumber Jamar Plumbing (jamarplumbing.com.au)
Waste Treatment A&A Wormfarm Waste Systems (www.wormfarm.com.au)
Tiling Dumbalk Tiles & Stone (0418 129 981)
 WORDS / Emma Mulholland  PHOTOGRAPHY / Rhiannon Slatter
From Grand Designs Australia magazine Vol. 2 No. 4