This Rose Bay beauty boasts a sleek minimalist style and exudes a warm, family ambience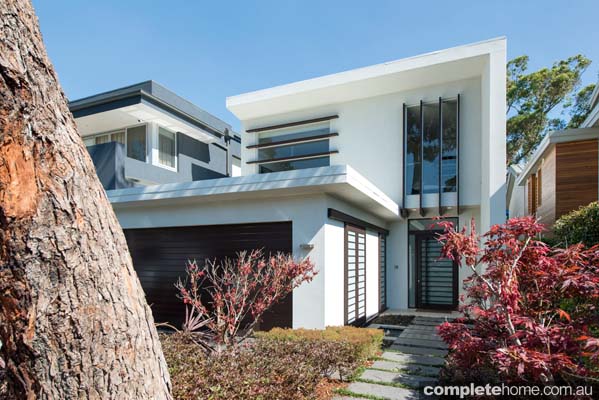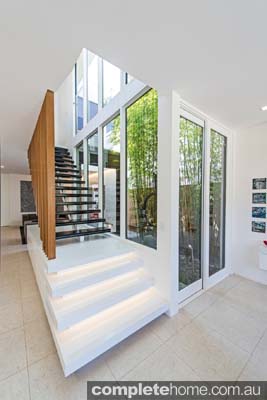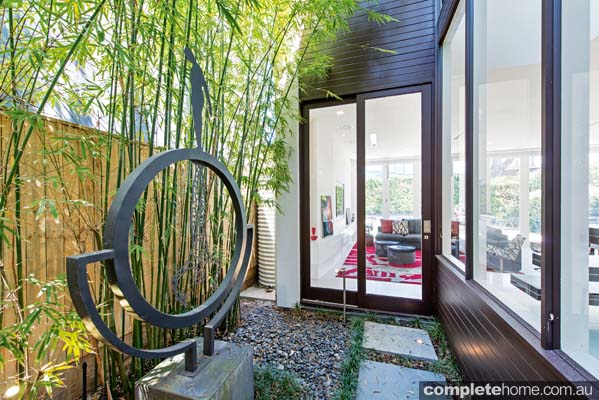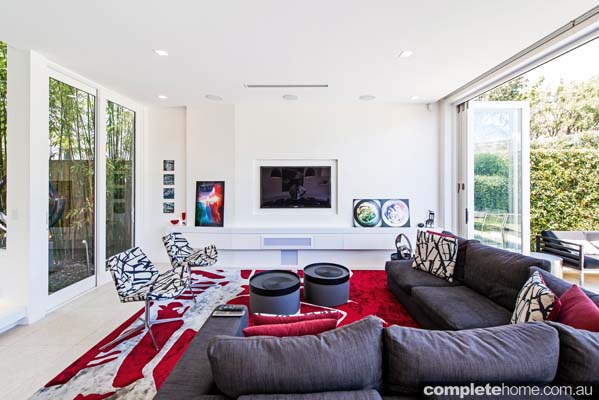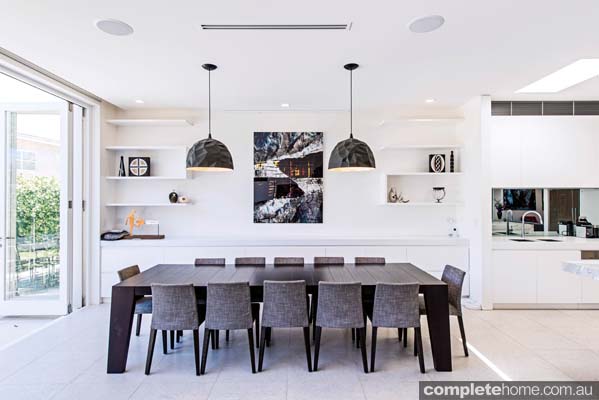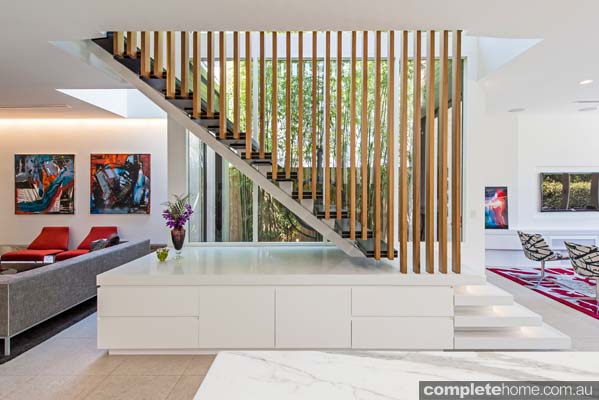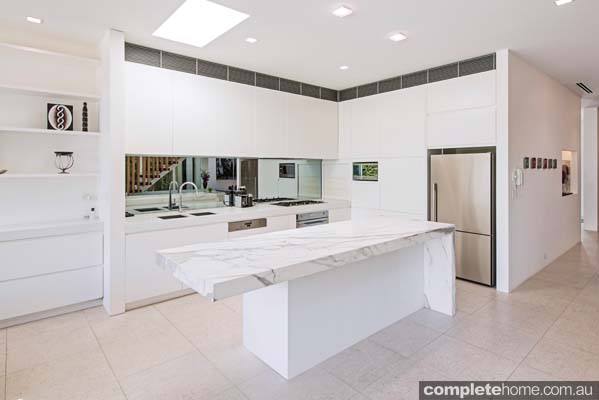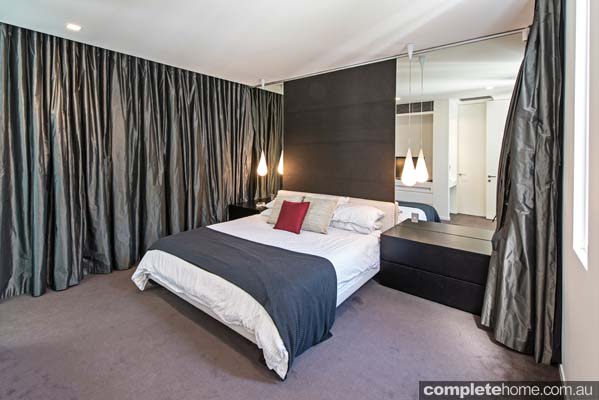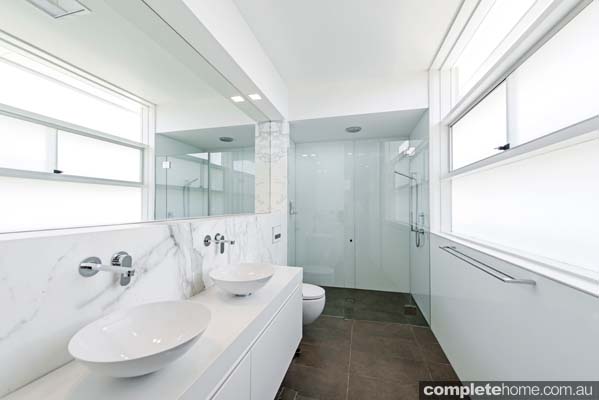 HOUSE Rose Bay Modern
LOCATION Rose Bay, NSW
DATE COMPLETED September 2010
"There's a lot of illusion in creating something that looks bigger than what it really is," says Derryn Tal, artist and part-owner of this surprisingly spacious modern home in the pretty harbour-side eastern-Sydney suburb of Rose Bay.
Walk through the 8m-wide, two-storey family residence that Derryn lives in with her husband, Yosi, along with their three teenage children and you soon see what she means. At every turn, subtle storage is revealed — a giant drawer under the stairs holds a vacuum cleaner, another, kitchenware; walls open up to reveal shelving and a full-length mirror is actually a "secret door" leading to a bathroom, laundry and more storage. Further sophisticated design elements throughout work together to create the stunning illusion of space.
What's interesting is that the Tal family's previous home was actually much bigger — on a larger block of land, with more floor space and more rooms — but Derryn insists the family actually has more space in this new, smaller house.
Aside from the clever use of space, the brief for this project was for a slick, contemporary home that was not pretentious and would be designed on ESD principles, though not presented as a "green" house in particular. "Our plans were for an understated, stylish home, but still with the 'wow' factor," says Derryn.
For this new build, the Tal family enlisted the services of architect Conrad Lowry. Derryn is a contemporary mixed media artist and her husband Yosi is director of custom rug company Designer Rugs. One of the first steps in this home design was for Derryn to show Conrad important artworks, both her own as well as treasured pieces of the family's. As such, the home is like a gallery — and intentionally so. The formal sitting area at the front of the home is flooded with light and features high ceilings and beautiful large artworks. Two are Derryn's — prize-winning pieces from a show in Italy. "I really wanted to keep them as a feature," she says, along with an enormous painting by renowned Indigenous Australian artist Gloria Petyarre.
The home has been designed to complement the art and to celebrate family life. The house is multipurpose and conducive to numerous situations — whether holding a birthday party with 100 guests, acting as a site for a rug shoot or for everyday family life. "When it comes to my children, I've always felt that I want to have contact with them; I don't want us closed off from each other in separate rooms," explains Derryn, alluding to the open, flowing design.
Building from scratch was like having a blank canvas, explains the artist, excusing the pun. "For me that was really exciting," Derryn adds, particularly after spending weekends attending auctions. When the old school site became available it was a perfect opportunity. Six houses were built on the site, with the Tal residence taking about 18 months to complete.
With such a fantastic bespoke design underway, it's understandable that Derryn and her family were itching to move in. Derryn knew what she wanted with this house and was inspired by a previous residence of Conrad's. She requested many of these same elements for the Rose Bay home and using her natural creative flair, worked closely with Conrad on the design. "He was a delight to work with and we really saw eye to eye. We both have the same aesthetic and he is full of great, fresh ideas," says Derryn. One such element was the staircase, made using different woods, with aluminium detail, cantilevering and positioned in the centre of the house. "We decided that the staircase should be a feature and we just love it," says Derryn. "It's a standout feature but it's not blocking the flow of the home."
That consistency and flow is a noticeable element in this residence. White, streamlined joinery throughout the house has ensured a custom fit and design that is also a clever use of space, though it was "a fair whack of the budget. It's one of the best things we could have done as it's so integral to the streamlined look and feel," says Derryn, who goes on to explain that once you consider purchasing other pieces — a console here, a cupboard there — the joinery quickly becomes the more cost-efficient option.
With its abundance of white and minimalist, contemporary styling, this house still has a homely, family atmosphere due to the artworks and splashes of red for warmth, mirrors that add depth and the garden outlook. And the art really does stand out. "White was chosen as the overall colour to ensure light was reflected around the interiors evenly. It also does not compete with the art," explains Conrad.
"Openness and light were the design imperatives, and with a white interior, a modernist home can quite easily resemble a gallery in mood," says Conrad. "So the courtyard was used to introduce colour through the external material choices and plantings, which filter light into the interior." This central courtyard on the first floor separates the entrance and formal living from the kitchen, dining and lounge area. It allows light in and acts as a feature accompanying the staircase. It's a peaceful outlook with a bamboo garden and a unique circular sculpture. This was Derryn's first foray into sculptural art; the large piece is a standout feature and was created after she couldn't find anything she liked.
Incredibly for a house with no views, Conrad has managed to ensure each room has an aspect "through the use of a courtyard and terrace, pond and pool". Again, with the illusion of space in mind, Derryn was insistent that the swimming pool sit lengthways at the end of the backyard, and with the high ceilings and full-length bi-fold doors opening directly to the outdoor space, it really does elongate the area.
Upstairs is carpeted in a dark brown, which lends warmth to this level that has four bedrooms, two bathrooms and a lovely terrace. The bathrooms are each different yet consistent. Conrad and Derryn specifically chose pieces of Calacatta Oro marble for each of their uses, whether it was an entire benchtop or a basin. "I really wanted consistency through the house; I didn't want a mish-mash of surfaces," says Derryn, explaining that "sometimes it's really tempting because you like so many things, but if you want that feeling of space and integration it needs to be consistent."
This house is successful for that consistency and warmth. It makes people comfortable and that's what this family wanted: "A real home, one that was compact, comfortable, stylish, and a multipurpose space. We feel fortunate," concludes Derryn.
PROJECT TEAM
Residence design CDL Design (cdldesign.com.au)
Builder DAFCAM (yourfuturehome.com.au)
FURNITURE & FURNISHINGS
Furnishings RLD (ruthlevine.com.au)
STRUCTURAL TEAM
Structural engineer ALBA + associates (albaconsult.com.au)
FIXTURES & FITTINGS
Selected floor tiles + all plumbing fittings and fixtures Gieffe Interior Environments (gieffe.com.au)
Lighting KODA Lighting (kodalighting.com.au)
Door furniture + hardware Style Finish (shopping.netsuite.com/stylefinish)
Selected floor + wall tiles Bisanna (bisanna.com.au)
SERVICES
BASIX + thermal modelling GE Hunt (gehunt.com.au)
WORDS Emma Wheaton PHOTOGRAPHY Geoff Ambler