Featured on the LifeStyle Channel's Grand Designs Australia, Yellingbo Art House is a one-of-a-kind home that encapsulates the work, life and considered thinking of an arty Melbourne duo.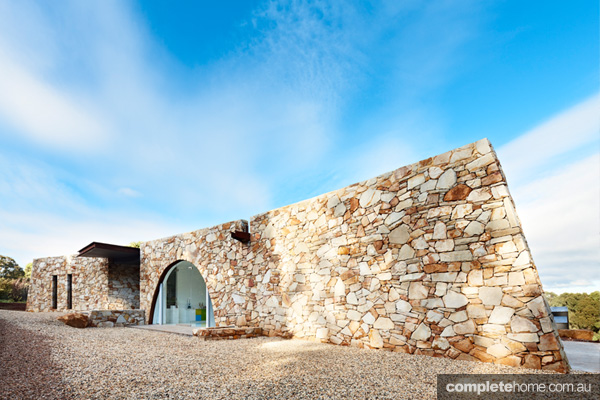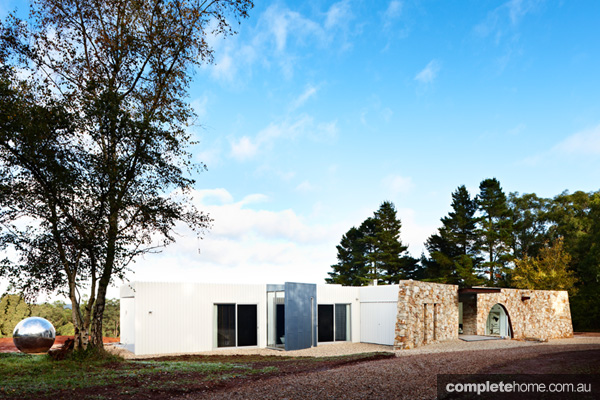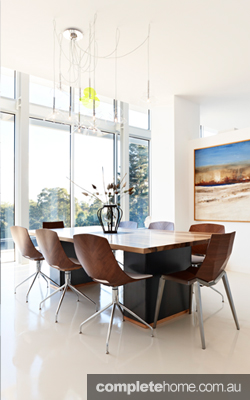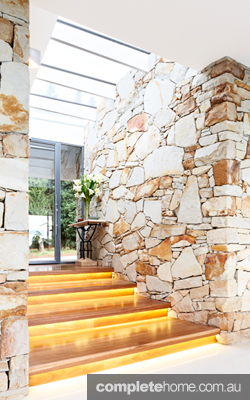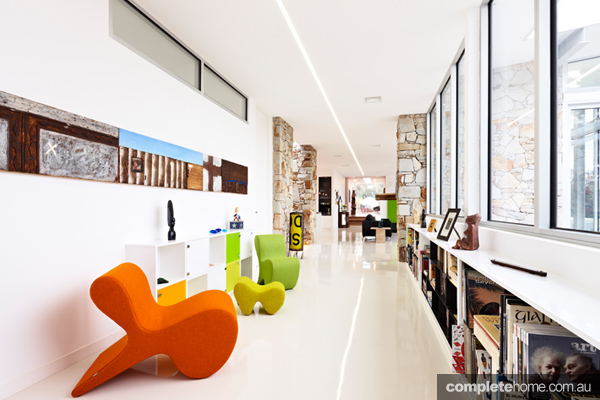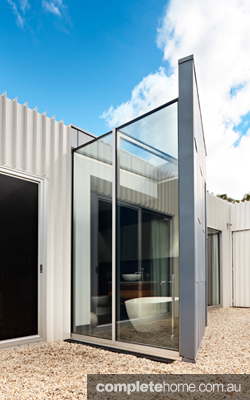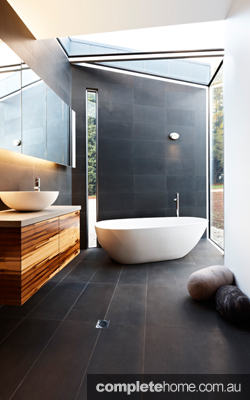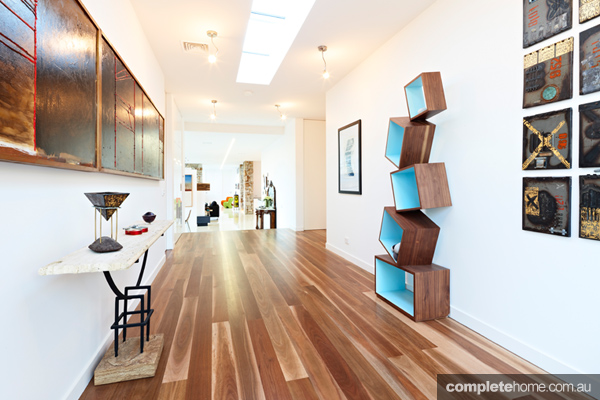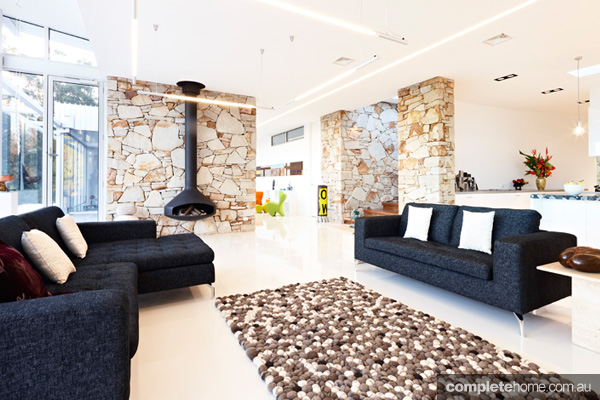 GRAND DESIGNS AUSTRALIA Yellingbo house
LOCATION Yellingbo, Victoria
COST $1.5 million
DATE COMPLETED April 2012
EPISODE 8 SERIES 2
As the Year 2000 Millennium dawned, Laurie Smith — an artist, sculptor, art teacher and self-confessed art and design book addict — and Renee Hoareau — a graphic, web, multi-media design and contemporary learning specialist — set their sights on having a very modern new home designed and built.
Their former family residence of 30 years was built in the iconic style of Melbourne suburb Eltham. "It was the full mud-brick thing — a rectangular 14-square form: brick-paved floor, solid planks of Oregon, natural render, pine kitchen and ceilings and exposed beams," says Laurie.
After the couple renovated the bathroom and kitchen, Laurie personally fitted out a 10-square pole-frame extension, complete with cedar-lined hardwood floors and exposed trusses with steel bracing. "That one was over-engineered," he reflects. "It was very much in the brown zones of the 70s and 80s, so the new home was always going to be contemporary and modern and light."
Renee and Laurie wanted to start from a completely clean slate in an area where they didn't have to reference any other building. That meant finding a block on several acres and a location that wasn't at risk of being "swallowed up" by the creeping urban boundary. There was also a yearning for flat topography and fertile soil, to contrast with Eltham's clay soil and hilly terrain. Yellingbo, 47km north-east of Melbourne CBD, came up trumps after a long search.
As for this creative pair's vision, "It was always going to be this thing, an object surrounded by lawn," says Laurie.
After taking along masses of drawings, sketches and clippings to an initial meeting with architect Michael Ellis, "We were told that the equivalent design in a car would be a BMW," laughs Renee, who also has an art background.
The couple were clear that they wanted a single-level home comprising one large open-plan living area, three bedrooms, a bathroom, en-suite, garage and two inspiring studios, one suited to the messier nature of Laurie's endeavours and the other for Renee's more high-tech work. "The home wasn't going to be McMansion style. It's simply one long rectangle with a stone wall curved across the front," Laurie says. "We see it more as a large apartment — it has that feel about it with the kitchen, dining and living all in the one space," concurs Renee.
Ease of cleaning influenced the smart floor plan comprising sleeping quarters at one end, work at the other and living in the middle. Mike introduced the idea of stone for the dramatic front wall as an alternative to their original interest in tilted concrete slabs, an idea foiled by site access. Since it would be a large feature with the tone of the stones ranging from whites, purples through to pinks, Renee and Laurie took the precaution of visiting the quarry in Maffra where they could "almost select the palette that the stonemason was going to work from," says Laurie. Keen to avoid the potential for a candy-coloured wall, "Renee always wanted more white [but] I wanted more ochre, so we got a balance," he says.
"We were confident that because of our mutual taste and sense of design, whatever the shell of the house was going to be, we were going to be able to enhance it. The things that we needed to get right were the main structural components: the stone, glass and the steel," emphasises Renee.
Impacted by rain, initial "panic" that the stone instead looked sludge grey was resolved by a meeting between all parties to ensure that the desired look would be achieved. In fact, Renee and Laurie were so impressed with the shapes and form created by the stonemason, describing it as "an artwork in itself", that they commissioned several additional elements.
Of the façade's mousehole window at the front of Renee's studio, also a distinctive feature the National Gallery of Victoria's (NGV) entrance, "That was incidental, rather than a conscious decision," she says. However they have deliberately tried to infuse the gallery experience. "That idea of a figure in space: from wherever you are in there is something to look at, it's framed. That's what I like about Yellingbo: it doesn't matter where you are in the home, sitting or standing, you're part of an artwork yourself," explains Renee.
Unused corridors were never an option for Renee and Laurie who were committed to effective and efficient use of space. Each of the three bedrooms opens onto a spacious gallery area that proportionally at 3m × 7m is its own entity. The carryover of having a gallery in their previous home in one sense makes Yellingbo "an update of our gallery space," says Laurie.
The two studios, powder and storage room and garage open onto a tranquil library area that makes a smart alternative to a bare passage.
Renee and Laurie's affinity with colour, texture and materials is evident in the way every finish tells its own special story yet sits cohesively together. They worked collaboratively with their architect in the selection of a limited but consistent palette, with an emphasis on low maintenance and high durability, inside and out. Externally the mix of ochre-toned stone, white steel, bluestone and glazing along with elements of Corten paint and Corten steel is at ease with the landscape.
Internally, floors in the kitchen, dining, living, library, storeroom, powder room and Renee's studio, are white Sika, a resin finish atop the home's concrete slab. The hardy, stain-resistant product, while often associated with commercial applications, appealed both aesthetically and functionally, says Renee. Yellow-box timber for the entry and gallery floor, carpet underfoot in the bedrooms and Travertine tiling in the en-suite adds texture, pattern and warmth. Bluestone wall and floor tiles for the main bathroom and for the outdoor swimming pool and surrounds could be read as another subliminal reference to the NGV's water features, Renee says.
Initially concerned that the predominantly white floors, walls and ceilings could be quite cold, Laurie and Renee toyed with the idea of applying different whites, eventually conceding that the shades would vary as a matter of course with changing natural light and shadows. While many people think of contemporary design as cold and clinical, says Laurie, here furniture and art introduce colour which bounces around the spaces. "It's still very clean. The stone and timber break it up and so it's actually a very warm space," he says. Coloured walls have not been discounted. A large kitchen wall offers "the temptation to do a big mural — but we'll have to live in the space for a while first," he concedes.
Renee and Laurie were attracted to the strong graphic pattern of South American granite for the island bench in the kitchen, which they say appears to float on top of the two-pack white-painted cabinetry. The choice of mirrored splashback imparts the impression of "the wall disappearing" says Laurie, and cleverly brings in the reflection of the landscape.
Thermal comfort has been addressed with double-glazed windows as a safeguard against ever being cold. There's a choice of hydronic floor heating, reverse cycle heating or the sculptural wood-fuelled Oblica fireplace.
The move has involved a "massive declutter" for the household. "Because it's a different space, different fittings were required," says Laurie. Each piece has been carefully chosen for its colour, form and materials, and the contribution it will make to the overall picture. Renee sourced the striking black-heart sassafras timber dining table top via a furniture-maker in Richmond. At 40mm thick and 2.4m long with steel legs hand-crafted by Laurie, it makes a big statement. The timber veneer "links back to ochre in the stone," Laurie points out.
Of the sizeable 2m-high silver-ball sculpture visible through a full glass window to the gallery end of the home, "The ball makes the house look like Stonehenge – the reflection bends it visually," says Renee.
The fastidious attention to detail and quality craftsmanship were the result of great teamwork all round. The build was completed in just over a year, an impressive feat given rainfall was 30 per cent above historical records for the area. As for the experience of commissioning and realising the design and build of a new home, "It's been the largest artwork that I've even been involved in, though we don't see it as anything out of the ordinary. It's just an extension of what I do and what we do," Laurie says.
PROJECT TEAM
ARCHITECT Michael Ellis Architects P/L (mearchitects.com.au)
INTERIOR DESIGNER AND COLOUR CONSULTANT Liberati Colour (liberati.com.au)
STRUCTURE
Builder Tim Skate Constructions P/L (03 9739 5147) Joiner Centrefire Shopfitting Pty Ltd (03 9730 7745) Plumbing Drills Swan Street Sales (03 9428 0677) and Reece Plumbing (03 9459 9385) Landscape/Gravel Frank Wood (03 9730 1288) Pool Elite Pools (03 9500 2511) Tiles Created in Stone (03 9421 5287) Timber Boards Natures Secret (03 9421 1124) and Misancraft (misancraftwood.com) Steel Valley Steel Sales (03 9437 0011)
FIXTURES AND FITTINGS
Alarm CIA Services, Seville (0411 334 344) Kitchen Splashback Yeomans Tile and Slate (03 9439 2211) Clustered Lights (above dining table) Yellow Goat Design (yellowgoat.com.au) Kitchen pendant lights Beacon Lighting (beacon.com.au) Other Lighting Creative Lighting (creativelightingvic.com.au), Home of Lights (homeoflights.com.au), M Light (mlight.com.au) and Masson Lighting Research (massonforlight.com.au)
FURNITURE AND ACCESSORIES
Artwork TarraWarra Museum of Art (twma.com.au) Bath and Bathroom Bowls Apaiser (apaiser.com.au) Carpets Supertuft Pty Ltd (03 9427 8600) Curtains Decorator Curtains and Blinds (decorator.net.au) Fabric (upholstery) Hoad Fabrics (hoad.com.au) and Seneca Textiles (senecatextiles.com.au) Felt Pebbles (rug) Emily Ziz Style Studio (emilyziz.com) Fireplace Oblica (oblica.com.au) Furniture Gainsville Thomastown (gainsville.com.au) and Nick Scali (nickscali.com.au) Accessories The Good Guys (thegoodguys.com.au) Book Shelf Malagana Design (malaganadesign.com) Multi-coloured chairs Yellow Diva (yellowdiva.com) Rugs HipHome Pty Ltd (hiphome.com.au) Stainless Steel Ball (in garden) Xiame Dingyi Sculpture Co Ltd (chinesesculpture.net) Wallpaper Eurowalls (03 9421 4400) Wallpaper and Paint Effects Paint Effects (painteffects.com.au)
SERVICES
Plumber Ross Plumbing Services Pty Ltd (03 9737 9911) Stonemason & Paving Specialist Peter Straker (0419 100 974) Electrical Supplies Ideal Electrical Supplies (idealelectrical.com/vic/)
By Marg Hearn
Photography by Rhiannon Slatter
From Grand Designs Australia magazine Vol. 1 No. 3