The linear architecture of this residence perfectly complements the home's chic, contemporary design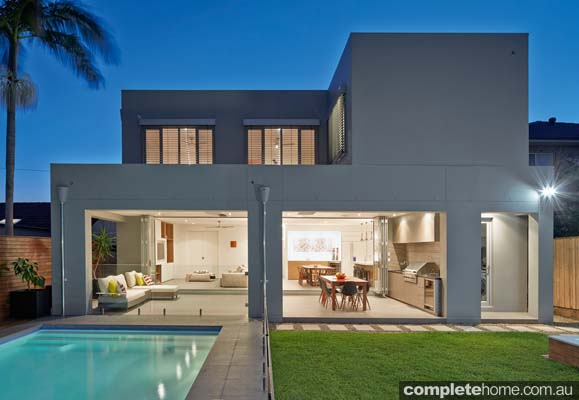 Striking a perfect combination between minimal and homely, this beautiful new Sydney build, recently executed by Felton Constructions, really stands out from the crowd. "The clients' brief for the project called for modern architecture with a strong external presence," explains Michael Milosevic, managing director of Felton Constructions. "The inclusion of open-interior planning with living areas that integrate the entertaining space and swimming pool was also key to the design."
The minimalistic beauty of the home is instantly arresting from the exterior. Facades of white and grey capture a dramatic look when paired with the linear structure. A vertical strip runs the height of the home, breaking up the horizontal features and adding glass to the equation, which in turn adds light to the interior. Timber has also been expertly placed, offering a natural touch to counteract the industrial colours already enlisted.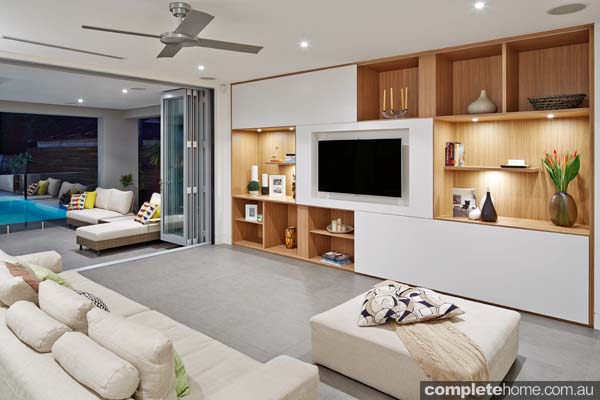 "My favourite part of the designed space is the external design, which creates a sense of grandeur, as well as the internal cantilevered stairwell," says Michael. "This stairwell is a striking addition to the large entrance hallway. It also works wonderfully with the exterior, leading the eye up to the higher level."
Move beyond the hallway and the layout unfolds like a jigsaw puzzle. The home consists of four bedrooms, two bathrooms, a study, living room, first-floor lounge, theatre, family room, meals room, kitchen, powder room, two-car garage, and an alfresco area with a barbecue cooking section and swimming pool, providing plenty of space for the whole family. The kitchen, living room, alfresco and family rooms sit side by side in a cube-like structure, meaning they are connected and open but are still separate areas that provide privacy. "It was important to create an open-plan space with a welcoming introduction to the external landscaped areas," explains Michael.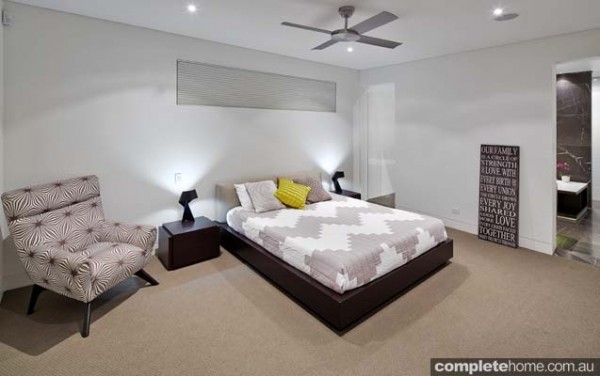 The use of porcelain tiles on the floor in all four rooms increases the continuity between these spaces. The tiles then flow out to the pool area, which is the perfect summer retreat. In the kitchen, a Quantum Quartz benchtop graces the island block and a black glass splashback works with the black bar stools and pendant lights, complementing the neutral colours of the timber and stone.
The cantilevered stairs lead to the bedrooms and bathrooms, which carry the same chic features as the ground-floor rooms. Gessi tapware, Minosa vanity basins and Villeroy & Boch Sunberry wall-hung toilets with concealed cisterns adorn the bathrooms.
"Special design considerations included incorporating modern architecture with the use of brick, a James Hardie Matrix system, Alucobond features and timber finishes," says Michael. "This architecture and use of materials works to create a modern building and makes this home special."
For more information
feltonconstructions.com.au
Photography by Marian Riabic
Originally from Best Homes magazine, Volume 2