Overlooking the pristine ocean of Sydney's north coast, this home uses glass, stone and natural timbers to reflect its inspiring surrounding landscape.
As you walk through the custom blackbutt entry door of this Northern Beaches home, you smell the salty-sweet scent before you see the glistening blue of the ocean ahead. Sitting on Turimetta Headland, this residence has the luxury of private, peaceful ocean views where, on a clear day, you can hear, smell and sea the ocean as you sit drinking your morning coffee. The essence of this lifestyle was the inspiration for the home and is encapsulated in the natural material palette and seamless indoor/outdoor living.
"The location of this home is incredible," says Andrew Gremmo of Gremmo Homes. "After our original meeting with the owners, we knew that they had a very clear vision of what they wanted to achieve. As the design of the home came together, we were certain that this would become an amazing project — and it has."
The style of the house has been coined "modern bohemian". Designer Jeremy McCulla from Urban Harmony Design has chosen a natural palette of glass, stone and timbers that results in an organic, earthy interior. Natural timber flooring and custom blackbutt cabinetry contrast with the turquoise-blue canvas that infiltrates every living space in the dwelling. An open-plan layout, as well as an open staircase, ensure this view is uninterrupted no matter where you're standing.
Offering resort-style living, this house has all the amenities, including a chef's kitchen, games room, fully equipped gym, media room and multiple entertaining spaces. In the backyard, a firepit and modern wet bar accentuate the indoor/outdoor lifestyle.
"Harsh Australian coastal conditions as well as a challenging geotechnical landscape have all been considered in the engineering and construction of this home," says Andrew. "Exposure-grade brickwork and ultra-steel roofing will ensure this home can withstand the elements for many years to come."
Having built many homes in this similar ocean side location, Andrew knew it was important to consider the effect high winds and salt spray can have on a house. Therefore, Berrimah natural stone and blackbutt battens were used due to their durable properties. They will age naturally over time and blend beautifully with the surrounding landscape.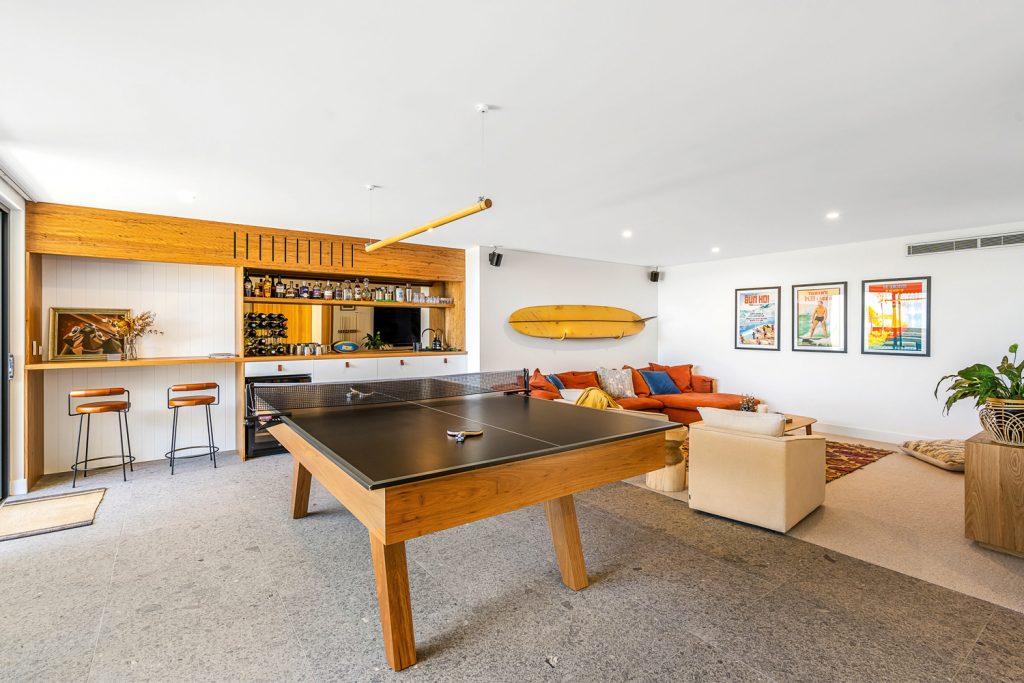 The home's environmental impact was also considered during design and construction. Solar passive design and ventilation in conjunction with photovoltaic power generation and double-glazed windows make this house highly efficient. Intelligent home automation also ensures the residence's resources operate with minimal wastage.
Integrated design, environmental consideration and natural materials create the perfect recipe for this headland home.
For more information