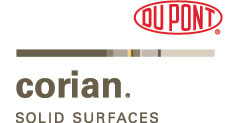 Facts at a Glance
• Made of natural minerals and high-performance acrylic, Corian® has the smoothness and substance associated with stone, combined with the workability of fine wood.
• Importantly in kitchen environments, Corian® is non-porous and therefore highly durable and easy to maintain.
• Corian® can be cut, routed, sandblasted, inlaid, moulded or thermoformed to create virtually any conceivable shape.
• Corian® is available in 90 colours, including whites, pastels, veined and textured colours and solid bright hues.
• Corian® is compatible – both aesthetically and practically – with a variety of other materials such as wood, glass and stainless steel.
• Corian® sheets are joined together with a special adhesive, giving a smooth, seamless appearance, and creating the impression that an entire area – such as a long kitchen benchtop – has been made from a single piece.
• Sinks – either in Corian® or another material – can be easily and neatly integrated to create a seamless overall look.
• Corian® lends itself to useful features such as spill-proof waterfall edges, matching knobs and handles or integrated bars for heat protection.
• Corian® is heat-, impact- and stain-resistant – making it a good choice even in the most high traffic of environments, such as a restaurant kitchen.
• Corian® is backed by a 10 Year Limited Installed Warranty (provided that it is installed by a member of the 'Quality Network' of fabricators and dealers).
CASF CORIAN
CASF Australia are the 'Collaborative Suppliers of Corian® Products' in Australia. CASF provides custom Corian® solutions to consumers and have expanded its product portfolio to meet the more specific needs of the design conscious consumer.
CASF Australia is also now the exclusive distributor of the Parmco Downdraft- an ingenious and inconspicuous kitchen ventilation system that allows more social interactivity with family and friends when incorporated into specific kitchen designs.