This home design showcases sophisticated neutrals accented with bold colours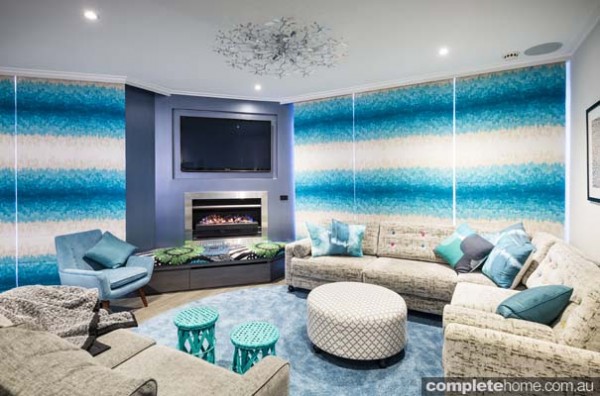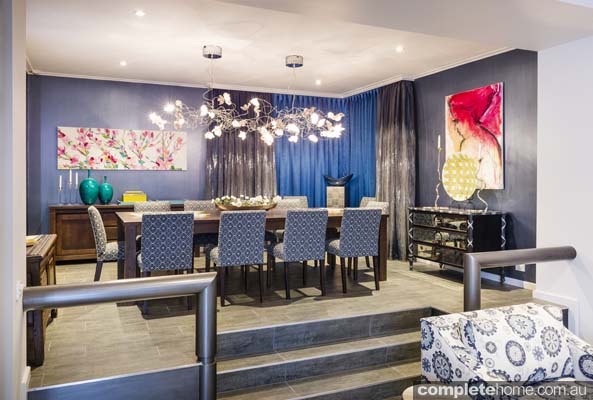 Embracing the joy of colour created wonderful results in this Melbourne family home. The active homeowners sought a complete makeover from interior designer Toni Franchi, looking to overhaul the dreary '80s-era pink-beige walls and carpets. "The client's brief was to make a beautiful home with individual colour signatures for a family with four young kids," says Toni.
The female homeowner and Toni worked together to create the desired vibe for the new interior design. "Floral paintings and custom pearl finishes by Stamos Painting were used with InVogue bright-coloured window sheers for the kids, and with elegant sheers for the master bedroom," says Toni. "We Pinterested each other daily to begin defining eclectic and retro chic looks that resulted in a neutral grey base with bright individual accents."
The children's bedrooms express each child's uniqueness. "The three girls were very involved in selecting designs for their bedrooms and the stage playroom. One daughter was so keen she wrapped herself in a long drape of showroom fabric, refusing to go home unless this was used in her room," recalls Toni. As for the boys, "Dad and son wanted their spaces for piano, computer games and sports," she recalls, and the parents wanted sophisticated greys in the mid-century bedhead, bedspread, walls and drapes. The grey neutrals include Wattyl Magnesium paint, Choices Flooring Baci carpet upstairs and National Tile ceramic faux-timber boards downstairs to make it easy to accent with the Behruz Tibetan Blue-wash silk/wool rug, surrounded by Cromwell furnishings.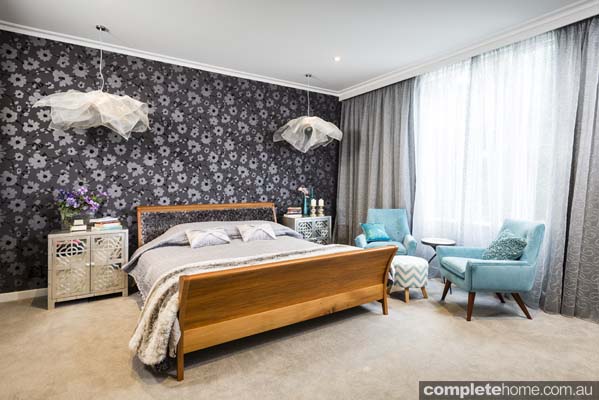 Floral and metallic themes in the common areas are expressed in a zinc meals table, Steel Pearl walls, pewter handrails and a "bouquet" of Marc Pascal and Custom Lighting floral-inspired pendants. "The peaceful Harlequin Perla velvet family room sofa, with sparks of Warwick teal, ocean, amber and fuchsia velvet buttons, is accented with turquoise Roman blinds and a Choices Flooring custom round sea-foam rug," says Toni.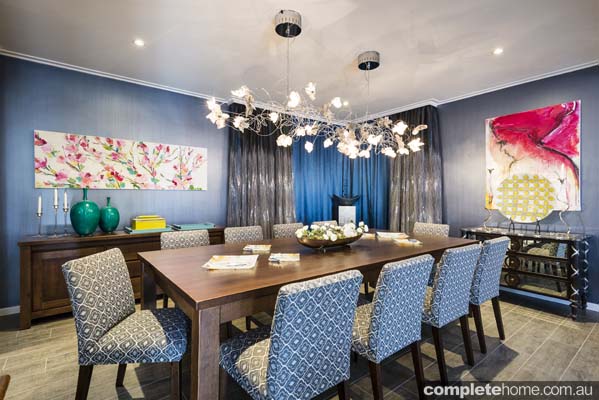 "The Real Flame Heatseeker fireplace with modern stainless-steel frame is brightened with Harlequin Serene Romans and the Steel Pearl feature wall," says Toni. "The kitchen, meals and family rooms integrate stainless steel colours with beautiful turquoises. These colours continue into the meals room with bright Yellow/Teal X-back chairs and a fabulous bespoke Teal banquette."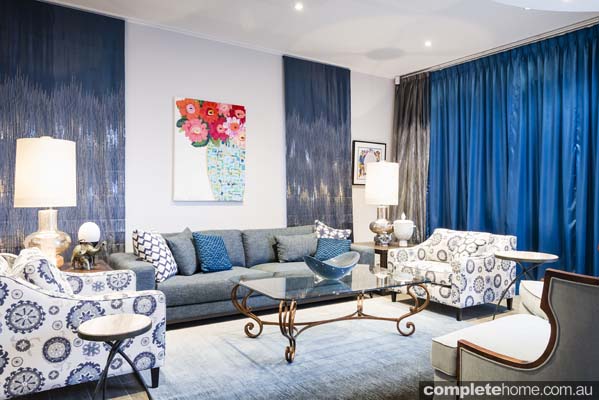 The standouts of this new interior design are the Floral pendant light, English Grey tones, pearl paints and exquisite wallpapers, which combine to express the joy, sophistication and vibrant personalities of a family that enjoys its stunning post-modern home.
Our pick:
The individually chosen colour palettes, Grant Dorman Eiffinger wallpapers and InVogue Sheers in the children's rooms and the playroom, which create a sense of playfulness and personality
For more information
Franchi Design
franchidesign.net
Photography by Tim Turner
Originally from Home Design magazine Volume 17 Issue 5