Beautifully in touch with its natural surroundings, this camp-style home showcases how innovation, sustainability and comfort can work harmoniously together.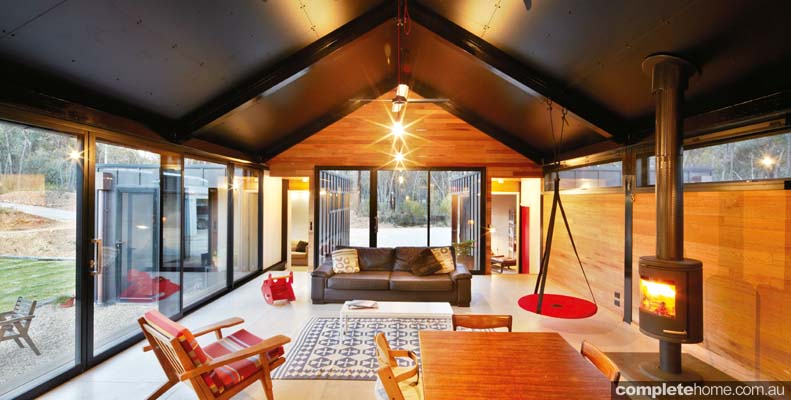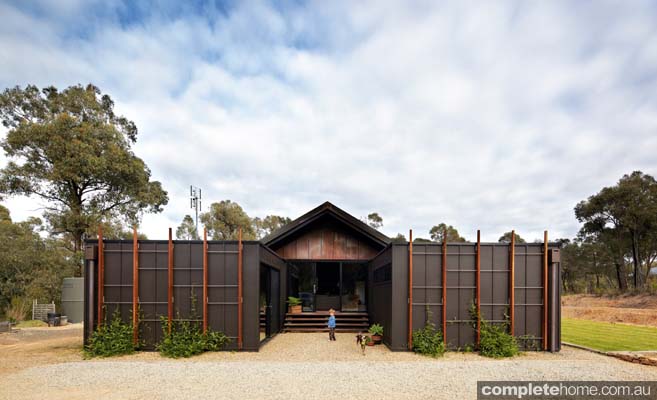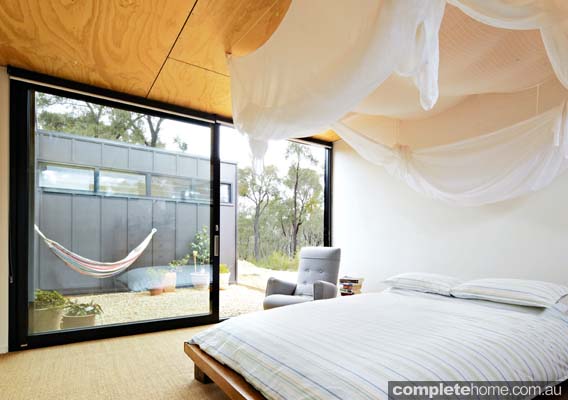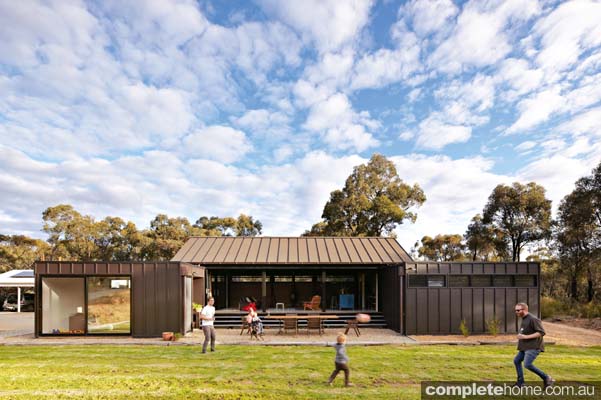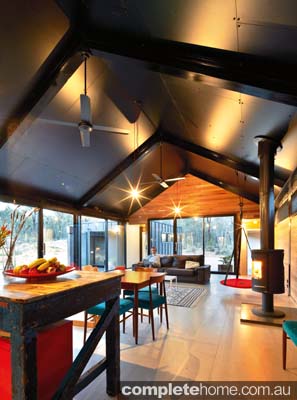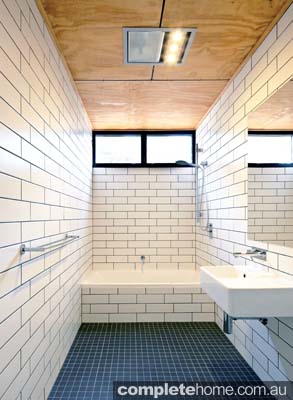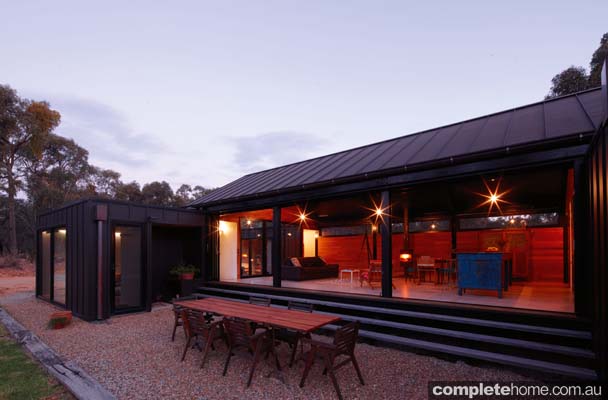 Being at one with nature is no easy feat, especially for a sturdy family home. But Kooroork House 2 is no ordinary home and it challenges the boundaries of architecture and interior design on many levels. It is the second home designed and built in a series of three located within the Box-Ironbark forest, which sits just outside Bendigo in central Victoria.
The theory behind the build is a very interesting one. The architect and his young family are the inhabitants of the home and it was built shortly after a five year stint spent studying and working in Brisbane. Planned initially as a home that simply fulfilled the need for an affordable shelter for the family, it soon developed into an intriguing design with a very unique concept.
"Kooroork House 2 was an attempt at 'making camp'," explains Lucas Hodgens, homeowner and architect of the house. "It was a concept explored in Brisbane with a fellow architect and mentor, and is an activity enjoyed on this site several times by myself and my wife in our youth. It explores the possibilities of minimal shelter in an area notorious for its hot summers and cold winters, a task more complex than in temperate Brisbane."
The integral foundation to the concept of "making camp" is the idea of a central living space, which is the social area for cooking, gathering around a fire and experiencing nature — all the things you would expect from a relaxing camp setting. This house achieves such a concept through positioning all the other rooms, or quarters as Lucas refers to them, around this centralised space. These areas are a series of four rooms that function as "an escape from the elements, a place for sleep, solitude and protection", explains Lucas.
Building a home based on an outdoor camping lifestyle doesn't come without its challenges. The brief took into consideration the cost-effective aspect of the design as well as the need for a home that would provide the family with a beautiful space in which they could grow and be comfortable with the natural surroundings. In order to achieve this, Lucas needed to reduce excess floor space and create a connection with the environment, without compromising the family's comfort levels too much. This has been accomplished through reducing wasted space wherever possible. There are no long distances between rooms or long corridors that cut sections of the house off from other sections. Instead, interaction between spaces and rooms is encouraged through the plan. "It encourages the family's socialisation away from the television, yet offers escape for privacy," Lucas says. The design also undoubtedly enables the family to connect further with their natural surroundings too.
The home is also a living, breathing entity of its own. Lucas and his family encourage it to grow and adapt with time and change. "The quarters located near the entry become semi-public as an office and a family room, whereas the other quarters to the rear become sleeping areas," explains Lucas. "As the family grows, these quarters adapt and change, this house will not be extended, rather amended to ensure the minimal square metres can accommodate the growing family."
While the architect had not initially intended for the home to be an environmentally friendly construction, its connection to the surroundings, paired with a key understanding of the core values of architecture, have enabled it to rely on sustainable means. There are passive controls for heating and cooling the home and there are no mechanically run systems in place that help to maintain the space. This area of Victoria can wield harsh winters, yet the home relies entirely on solar heating via well-oriented panels and thermal mass. The choice of dark cladding on the exterior also helps with collecting heat.
The house seems to offer so much more than a simple design. It suggests a philosophy for living, connectivity to nature and the earth, while also tapping in to the concept of innovation, which makes us as human beings so unique. Although it set out simply to be an affordable and comfortable home, it has fulfilled and also exceeded its brief, creating a sustainable, cost-effective, modern, innovative, and above all, liveable home for this young family.
By Alexandra Longstaff
Photography by Glenn Hester Photography and Lucas Hodgens
From Grand Designs Australia magazine Vol. 2 No. 1