Wrap-around steel façade, misplaced stone steps – this roof-top terrace showcases a unique design with a sustainable edge.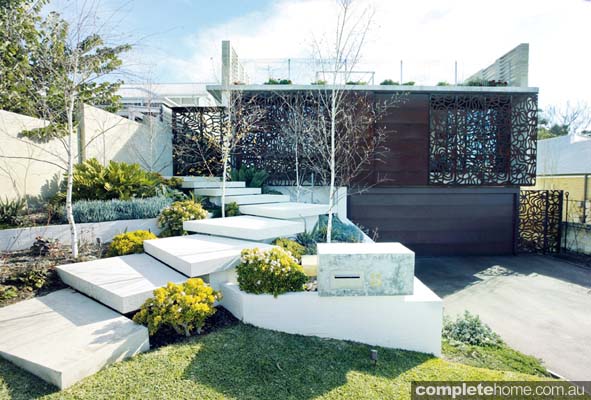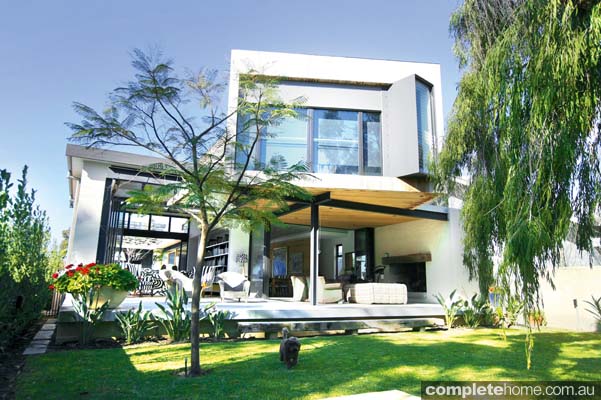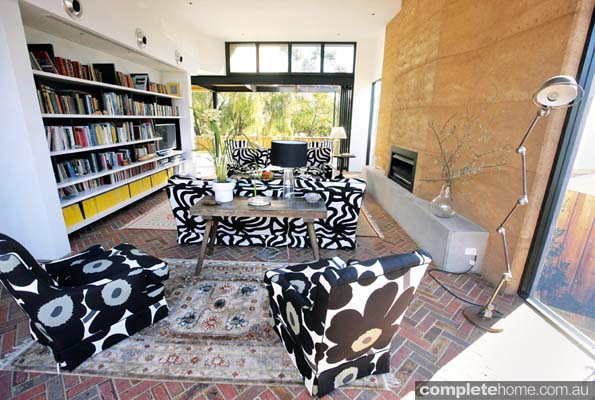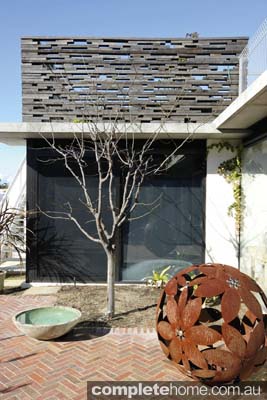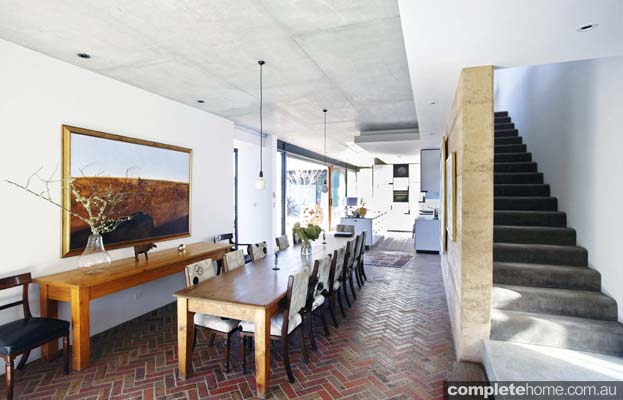 "I wanted to design something completely extraordinary to the traditional streetscape," says award-winning architect Ariane Prevost. "Good architecture should surprise you, take you on an adventure and it should be a journey to be savoured."
And this is exactly what this inspiring property does, set in the desirable riverside suburb of Mosman Park in Western Australia, it welcomes guests via a cascade of raw concrete steps through a screened Cor-ten steel bris soleil facade. "You have to really stop and decide where the entrance actually is through the steel and up misplaced steps, which take you straight to the middle of the floor plan as another point of difference from your usual house design," Ariane says.
Titled Marimekko House — a nod to its intricate laser-cut steel street appeal resembling the Finnish company's designs — the home was nominated for Australia's Best New House over 200m2 in the 2012 Houses Awards and its one-of-a-kind rooftop terrace took out the top Outdoor prize.
The passive-thermal rooftop terrace is incredibly multi-functional as it mediates the temperature of the concrete roof, traps water for plantings, warms the house in winter and has large tanks that supply the home with drinking water. And it is also the perfect place to gather and soak up the sun or the surrounding parkland views. "I'm a flat-roof girl," Ariane admits, "I can't see the point in having a large pitched roof that takes up a third of your height restrictions and ends up being unused space. And you can't have a party on a pitched roof."
As architect, interior designer, landscape architect and site supervisor (she is also a registered builder) for this build, Ariane was presented with the opportunity to make decisions about the whimsical design spontaneously and on a "feel-good" basis. Swathes of full-height glass and commercial sliding as well as bi-fold doors link the whole home to a central public space where the line between internal and external spaces is deliberately blurred. "An expansive combination of openings in every room ensures flexibility of function and frames the outdoors in a pleasurable and intimate connection," Ariane says.
The expression of raw materials doesn't just refer to the use of steel, timber, brick, rammed earth and concrete, but also their "nakedness" where each has been purposely left unfinished. Ariane explains, "There is little paint in this home and no finishes, because once you start adding finishes to natural products you have to keep doing it, so the unfinished business makes it low-maintenance."
It also enhances the home's sustainability with a heavy focus on recycled materials. The abstract timber walls on the terrace — hand-laid by Ariane — were old roof rafters; the pavers were from an old Cottesloe footpath; and the external privacy screens are made from concrete retaining walls arranged on their side. "The rammed earth was sourced from another building site I was passing by and they were just going to throw it out," Ariane recalls. "So I got them to dump it here and now it has become a wall."
Ariane says the modest handmade appeal references excitement and affordability while avoiding clichés, and she adds none of the furniture was purchased new for this home. "Everything you see has been gathered over our lifetime or made, including the railway sleeper coffee table in the living room, the front-door handle and the black and white couches, which I made 23 years ago and had them reupholstered in Marimekko fabric to match the front screen.
Ariane lives in the home with her husband Neil Garnett and their three adult children. The children have their own wing with three large bedrooms, a living space called "man-land" and a separate bathroom. A large glass skylight in the concrete ceiling gives a glimpse through to the rooftop terrace garden and allows ambient light to stream up to the exterior at night.
The second level houses a spacious study for Ariane and Neil, which is in the process of having one wall woven with twigs collected from the family farm to evoke a woven-basket feel. The master suite includes frameless double-hung sash windows overlooking the park at the rear, a pressed tin feature wall and a minimalist ensuite with two showers — one indoor and one private outdoor installation.
Unused space and unnecessary rooms were two things Ariane didn't want in the design, but views from every room — even the toilets — were important. "You take inspiration from the whole of a site and you have to connect with it. In all of the houses I have built for myself, every room has a pleasant view or outlook, even the dunnies, where good decisions are often made," she laughs.
The kitchen is a "six-in-one" space, which won the Innovative Use of Laminex award at the recent MBA awards. The cabinetry is made from an industrial laminate used in nightclub bathrooms and it hides a plethora of utilities including, kitchen cabinetry, pantry, laundry, office, scullery and storage.
Ariane is a "what you see is what you get" kind of person and the adage rings true in her intriguing family home. "The home works perfectly for our family, it has everything we need and has excluded everything we don't," she says. The design also represents her organic take on life with raw materials, an innate flow and flawless link with site and place.
Describing the home as "modest in budget and dimension, yet confident in attitude", Ariane strives to create things people haven't seen before. Though she does admit she was once part of the "obese" housing camp responsible for some of the biggest homes in Perth. Around five years ago, something about the grand scale of design experienced throughout Perth wasn't sitting right within Ariane and she was ready to retire from architecture to pursue her side career as a sculptor.
Taking time off to design and build her family home, she embraced the international movement and concept of "Slow Food" and conceived what she refers to as "Slow Architecture" — architecture that gets rid of time and trend restraints and simply allows the whole process of designing and building a home to be enjoyed. "I decided to move away from architecture because I thought I had grown to dislike it, but when I started this project I realised it wasn't architecture I disliked, it was the way I was doing it," she says.
Now Ariane is focused on "slow designs" where clients leave it up to her to evolve and tweak as the build progresses. "I'm finally free," she declares. "I would come and sit on this building site after dark and it was when I would come up with some of my best ideas because there was no pressure and it was somewhere I enjoyed being."
PROJECT TEAM
ARCHITECT & DESIGNER Ariane Prevost ariane@arianeprevost.com.au
STRUCTURE
Builder Trojan Construction 0416 001 997
Carpentry MT Carpentry
Engineer Fozdar fozdar.com
Glass Allwest Glass 08 9458 8996
Steel Unique Metals Works uniquemetalworks.net
FIXTURES AND FITTINGS Aluminium Joinery Supreme Windows 08 9249 1388
Benchtop Laminex laminex.com.au
Cabinets Laminex laminex.com.au and Franke Cabinets frankecabinets.com
Timber Joinery Cockburn Joinery cockburnjoinery.com.au
FURNITURE AND ACCESSORIES
Air-conditioning Austramech 0418 915 685
Appliances Siemens siemens.com.au, Liebherr liebherr.com.au, Franke franke.com, Liscio phoenixtapware.com.au, Häfele hafele.com.au and Caroma caroma.com.au
Gas Fire Jetmaster jetmaster.com.au
Lighting Radiant Lighting  08 9240 2227
Sanitary Fittings Caroma caroma.com.au
Sliding Screens Häfele hafele.com.au
Splashback Colourback colourback.com
SERVICES
Brickwork Aguilera Tiling and Daniel Robertson danielrobertson.com.au
Electrical CLS Electrical 0417 181 147
Hardware Architectural Design Hardwareadh.com.au
Plumbing Fred Green Plumbers 0418 948 046

Originally from Grand Designs Australia magazine Vol. 2 No. 1