A wood fired pizza oven if you want to be the host with the most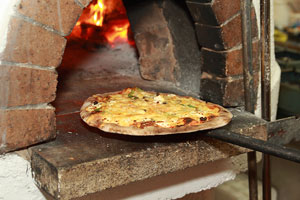 Wood-fired pizza ovens are now a must-have accessory in the modern outdoor entertaining area and Pivot Stove & Heating have a wide range of ovens to suit every setting. To help you make an informed choice when purchasing a pizza oven, Pivot Stove & Heating answer some of the most commonly asked questions.
Q. How do I decide what size pizza oven to order?
A. In general, it is recommend that you choose as large an oven as you have space for and can afford. The incremental cost of a larger oven size is not huge and you will appreciate the additional cooking space. Even if you do not intend to cook five pizzas at a time, you will enjoy the opportunities a large oven brings for, say, roasting a turkey, potatoes and vegetables or preparing multiple pans of appetisers for a party. A large oven is more versatile, which is why it is the best-selling size.
Q. How do I decide between a steel pizza oven and a refractory pizza oven?
A. It is a matter of taste and budget. Many chefs and food experts say that there is no substitute for cooking in a true refractory oven but today's steel pizza ovens are heavily insulated and as efficient as prefabricated modules. They are also just as easy to install. In addition, many people like the fact that steel ovens heat up so quickly
Q. How long do they take to heat up?
A. From start up, the steel pizza ovens take about 45 minutes to get to the required cooking temperature. The refectory made ovens take between two and three hours.
Q. How do I install my new pizza oven?
A. Pivot Stove & Heating has worked hard to simplify the installation process, both for indoor and outdoor ovens. Most of its pizza ovens come pre-assembled and just require a base to sit them on. If you prefer, there are several pizza ovens that have optional stands.
Q. Can I cook more than bread and pizza?
A. Definitely. The characteristics that make a wood fire oven excel at cooking pizza and baking bread also make it ideal for cooking roasts, poultry, potatoes, vegetables and fish. The fire in the oven environment that simultaneously cooks the top and bottom of a pizza is perfect for appetisers and tapas, while the oven's ability to retain heat enables you to slowly cook beans, soups and stews. What is more, you can use stainless steel, terracotta and cast-iron pots and pans in a wood fire oven to obtain a wide range of cooking effects.
Q. What are the differences between ovens designed for restaurants and caterers and those designed for the home and garden?
A. Ovens for the home and garden have the same basic characteristics as commercial ovens. They reach the very high hearth and dome temperatures necessary for cooking the perfect pizza and they retain heat to cook bread and roasts. At the same time, they heat up more quickly, weigh less, cost less and are easier to install.
Q. How do I order?
A. All you need to do is call or email Pivot Stove & Heating and tell them which oven model you want (to view the full range, visit the website) along with your contact information and shipping address. Helpful staff will then let you know what the shipping cost will be –you will be pleased to discover how reasonable those rates are. Payment can be made via EFT, Visa/Master Card or cheque.
PIVOT STOVE & HEATING
Tel: 1300 HEATER (1300 432 837)
Email: sales@pivotstove.com.au
Website: www.pivotstove.com.au