Take a look inside The Moebius House — a signature house for architect Tony Owen and a pioneering environmental design known and awarded throughout the world.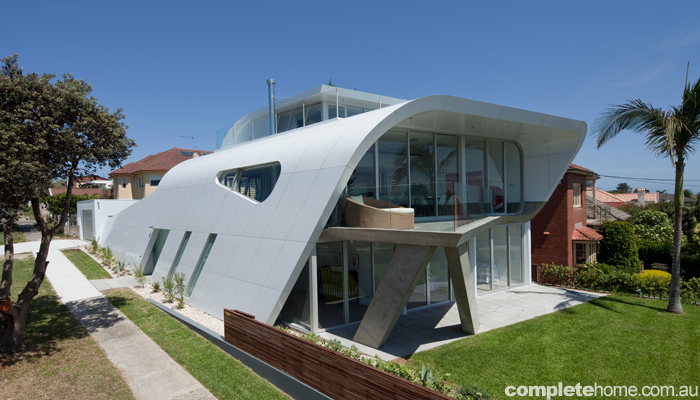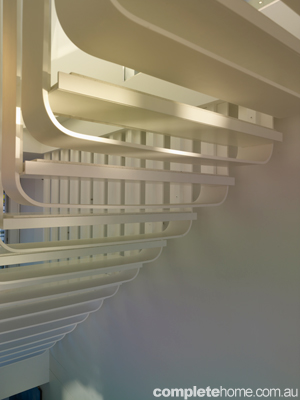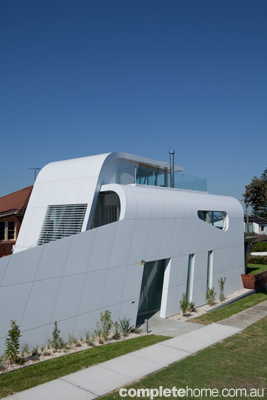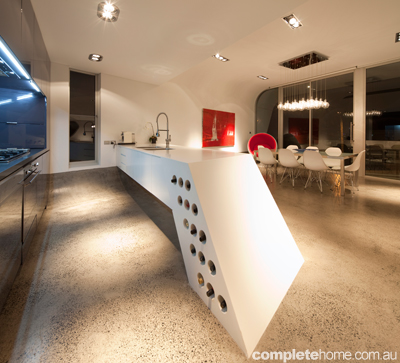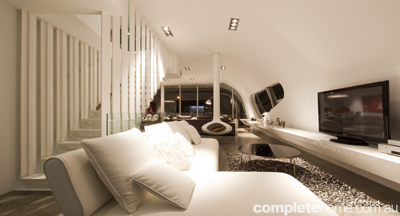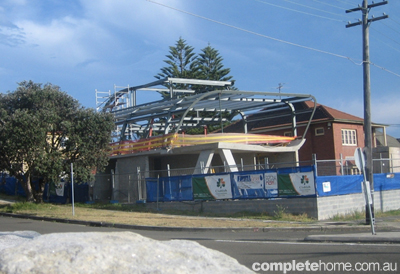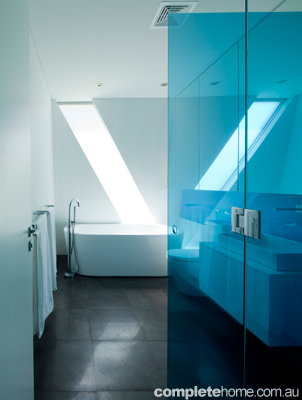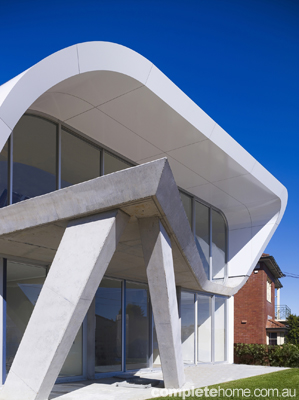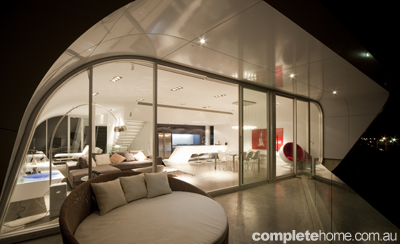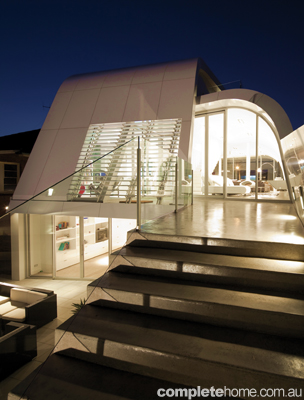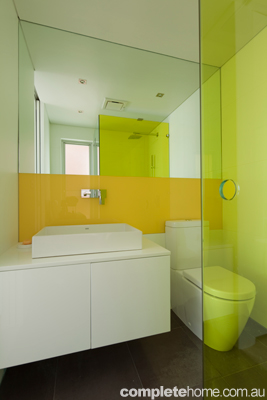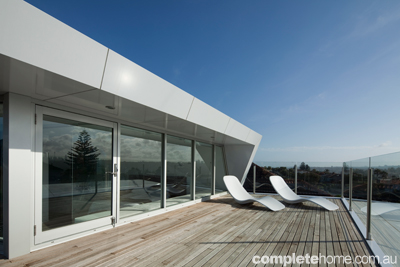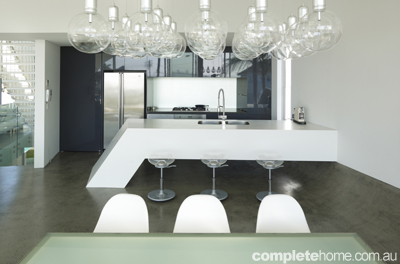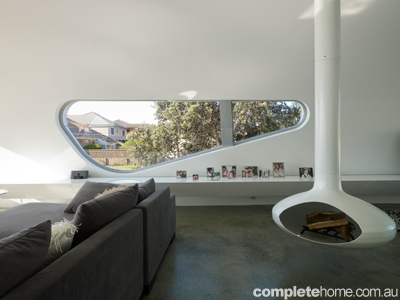 If there's one job that is of the highest importance for an architect, it's designing his or her family home and such was the case for Tony Owen. But to add to the stress of creating the perfect abode for his wife and children, he was designing and building it at a time when, economically, the world was in turmoil. This not only touched him personally, but affected his business as well.
First and foremost, this is a home designed specifically with the architect's family in mind. It was to have four bedrooms, expansive living areas and a study for the architect's wife, Kerri, a writer and blogger who works from home.
Dubbed "The Moebius House", this family home sits on a corner block and enjoys fabulous views of Sydney Harbour, Sydney Opera House and Sydney Harbour Bridge. Therefore, the house had to be designed to maximise these views, as, like all Sydney Harbour houses, maximising views is something of a national pastime. The house is also typical of Australian residences in that there is a very strong relationship between the internal spaces and the outdoor areas and pool. The house's unique form is also a response to the requirements to maintain the view and solar corridors.
The Moebius House took a long time to document. "Due to the complex geometry of this house and the need for such fine tolerances, we had to evolve a completely new system of fabrication and assembly for this house," says Tony. "We started off designing a house, but in the end the construction process more closely resembled that of a car."
Early on it became apparent that this house would have to be detailed and documented entirely in three dimensions. The steel-frame house is clad in metal panels that are pre-cut in China. The complex curving structure is like the ribs of the human body and must fit within a very slim cladding zone. The tolerances are very tight, so if anything is out by even a few millimetres the ribs will stick out from the skin.
It took about 12 months to finalise the steel chassis. This involved developing the structure as a three-dimensional model and continually checking it by inserting it onto the three-dimensional model to make sure it fit. This model was continually checked against the computer model being prepared by the steel fabricators until it was identical and all junctions were resolved.
In a traditional house the floor and walls are built first and the roof is added, but The Moebius House was assembled around a chassis like a car would be. First, the chassis is assembled on-site. then the pre-formed metal cladding panels are attached to the chassis to create a monocot shell. The house is wired and plumbed like a car, with the electrical, air conditioning and services all wired through the chassis. The kitchen even resembles a dashboard.
The house is unique as many of the components were fabricated in China and imported to be assembled on-site. This was decided mostly to save money, particularly when complex or unusual assemblies were required. In this case, major components such as the metal cladding and the feature plastic stair were made in China. As a result these items were procured at a quarter of the cost of buying it locally. Tony's office had been procuring materials and fittings in China including lights, baths and taps, stone, tiles etc for a number of years, so this was not unusual. "We would often take clients to China to select materials which are then shipped by container," says Tony. "This can result in a cost saving of up to $100,000."
In the case of the aluminium cladding panels, this presented a unique challenge. The shape is very complex, involving compound curves and each panel had to be shaped to fit perfectly onto the structure. "However, here we were able to use the computer to solve this problem," says Tony. "We constructed the surface of the house on the computer using the 3D model and were then able to unwrap it to form the cladding schedule. This schedule was then used in the factory to make each panel."
The Moebius House encapsulates all the principles of Tony Owen's practice. It is a design with fundamentals that lie in a new and unique approach to an environmentally sensitive form of design called Micro Design. Tony's creation explores the concept of Micro Design, which utilises parametric modelling software that can respond to very small changes a design's input criteria.
In Micro Design, everything is about the design; its materials, functions, and particularly its shape are designed specifically in response to environmental issues. This includes sustainability, structural, spatial and programatic issues made possible by the use of digital computer capabilities.
Many of these capabilities were not available until just a few years ago. However, recent advances in software and 3D digital modelling make it possible to change the shape of the design in response to very small changes in environmental conditions such as airflow, sunlight, views etc. We can measure the effect of these forces and change the shape on a millimetre-by-millimetre basis, so the shape of the building reflects the optimal sustainable performance.
"We started the design by responding to the site with a series of movements that folded and twisted the space in order to maximise the changes of level, view opportunities and potential for connectivity to outside spaces at various ground planes," says Tony. "We created a dynamic model capable of responding to changes in these variables and allowed the models to run in real time. We then stopped the model when we felt we had one that satisfied our concerns."
The house has a fluidity of space, which is a direct result of having a strong relationship with the surrounding landscape. Given the unique appearance of the house it was surprisingly easy to get approved. "The surrounding houses are a broad mix of styles and types, so it could be argued that there was no overall style to fit into," says Tony. "Also, we were able to use the same computer technology to demonstrate that the design actually performs better for its neighbours than a normal house would.
"We are exploring an architecture that is more responsive to the environment; we refer to this as 'Elastic Design'. This is architecture that is pliant, yet has an inherent structure and ordering principle. Elastic Design is an architecture that is capable of responding to all manner of changing variables. This includes spatial, programatic, environmental and structural issues.
"We are designing spaces that expand to allow greater connectivity to the exterior environment to maximise light, air and movement flows, or retract for greater privacy and differentiation of uses. These are spaces that respond not just to program and uses but to patterns of behaviour that change over time. We are envisioning dynamic buildings that respond to variations in inputs and relationships.
"The result is an architecture which is future focused, open and responsive in approach and experimental in nature. This is an architecture that is supple and responsive, reactive to changing variables and assisted by new technology.
"After a 12-month design process and support from the council, we were very confident that the build would go smoothly," says Tony. "We had secured adequate finance and, using my contacts in the industry, we had honed the budget to the point where we were confident we could keep to it.
"We decided to use a builder, Claddah Constructions, who had built some of our houses before, so we knew he could handle the complex nature of the design and we had a good working rapport. Because of this I decided to act as project manager and was in charge of procuring many of the materials and finishes. The builder would act as site foreman."
Construction began in June 2008. "The early phase of the build went very smoothly and we were feeling very confident," says Tony. The ground-level and first-floor slabs were poured; the first-floor slab contained many curved elements, so the formwork was particularly complex and sculptural.
"By January 2009 I found myself in China with my agent Leanne Yuen," says Tony. "I was on a routine call home when everything changed. The Global Financial Crisis (GFC) had hit a few months before and it was starting to affect our business. New jobs were not coming in and the jobs we had were stopping.
"The call came from my partner to tell me he had decided to quit. As he owned the office we would also soon be out on the street. It was also becoming apparent that we had very little work. There I was, alone in a factory in a small village 10,000km from home and faced with the realisation that I now had no partner, no work for the office, no premises or equipment and my flight home was not for another week.
"At this moment, Leanne was my angel. From a mini-van somewhere in southern China and with only a mobile phone she managed to reschedule my flights, hotels and connections and I was home 12 hours later.
"We were then faced with the decision of whether to stop construction or keep building using borrowed money with no way of knowing if I would have a practice or even an income. If we stopped we would almost certainly have to sell the land and likely lose everything. If we finished we would have a house that could at least be sold.
"In the end, looking back, it was probably building the house that saved us," says Tony. "In a world where everything seemed to be falling apart, there was, at least, one thing that I was in control of. Every evening I would come to the house and see something new had been done and feel a sense of hope to carry on."
There were also other advantages of Tony being more available than he usually would be to oversee the project. "As I was less busy at work, and because we were only living a short distance away, I was able to come to site every morning and every evening for the next year," says Tony. "I was able to put the type of attention to detail into the construction that ordinarily wouldn't be possible. As a result, the house was built almost exactly as it had been planned and within budget.
"Over the next few months I was able to find new premises, re-purchase all the equipment and re-hire staff. We found that because of all the hard work we had done before and the reputation we had built, new jobs came to us much quicker than for many and we actually recovered from the crisis much sooner than most others. Within a short time the office was bigger than it had ever been and I was being asked to do larger and more significant projects completely in my own right. We were able to use the house to show how Micro Design could benefit in designing for the future and it won a number of international awards."
Not only was the build difficult for Tony, but his family were also very much affected. "The time of the build had been very stressful, particularly for my wife," says Tony. "During the build she had given birth to our third child and we had been living in a small two-bedroom flat. We had the two eldest in one bedroom and the baby spent her first year in a corner of the living room. My wife had been very worried about finances and at one point we could easily have lost everything. Even with just days until completion she would say that she didn't believe it was real until she moved in."
By Christmas 2009 the house was complete and the Owen family was more than ready to move in. "Most of the furniture was purchased in China, so one day we just grabbed our clothes, left the flat and walked into a whole new life," says Tony.
"Since moving in I have noticed an unimaginable change in my family. Everyone is so much happier and every day the time we spend together is just so enjoyable. It's like a whole new life has begun. We wake up to a wonderful view and spend summers by the pool and every once in a while I sit back to contemplate a tiny detail or joint that no one else would notice or appreciate but me.
"My wife settled into her study and set herself to work. By December she had written her first book which was published the next May and has recently completed her second. It was called When My Husband Does The Dishes but it might well have been called When my Husband Builds Me a House."
Tony says that during the difficult times, the TV program Grand Designs proved to be a source of inspiration. "It was during the build that I first started watching Grand Designs," says Tony. "Somehow, seeing the plight of other people gave me the solace to continue on. Most of the builders would tell me they had a dozen episodes recorded themselves."
Now that they have survived the daily challenges and hardships that came with the build of this house, the Owen family is staying put. "Originally, we had planned to build the house as an investment and sell it when it was completed, but in the end we found we were quite able to stay, and we now have no plans to leave," says Tony.
This home was built by…
PROJECT TEAM
Tony Owen, Sumir Diwan, Joseph Fok, Lawrence Loh, Mansia Lam Structural steel Steel Concepts Structural structure Waterman AHW Builder Claddah Constructions Mechanical consultant Orion Air Conditioning Plumbing Leakless Plumbing Electrical Arasanis Electrical Landscape architect Site Landscapes, 360 Degrees Planner DMPS
STRUCTURE
Glazing DNA Glass Frameless glass A Glass Apart External cladding Foxville Pty Ltd, composite aluminium panel Roof Composite aluminium panel Structure Steel frame Outdoor floors Reinforced concrete Outdoor walls Masonry External paving Concrete pavers Pool Reinforced concrete with mosaic tile Garage Painted rendered masonry Internal walls Painted Gyprock on masonry Ceilings Painted Gyprock Flooring living/dining Polished concrete Garage flooring Polished concrete L1 terrace Polished concrete L2 terrace: Timber deck
FIXTURES AND FITTINGS
Windows Aluminium-framed glazing Kitchen benchtops Stone Kitchen joinery Two-pack polyurethane Kitchen island Corian Joinery master robe Timber veneer Bedroom flooring Carpet Stairs Steel frame with stone treads Bathrooms/laundry flooring Vitrified ceramic tile Bathroom walls Vitrified ceramic tile Kitchen appliances Smeg Gas barbecue Reinforced concrete
SERVICES
Fully ducted air conditioning; solar pool heating Security Closed-circuit video entry/security and alarm
By Danielle Townsend
Photography by Brett Boardman
From Grand Designs Australia magazine Vol. 1 No. 1