Jamie and Louise Paul initially picked out a Valley Kit Homes' design, The Lewis, and then changed it dramatically to suit their requirements.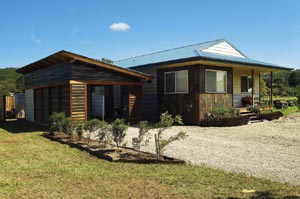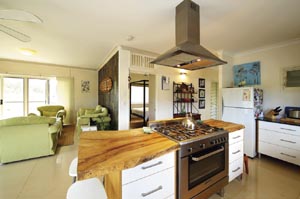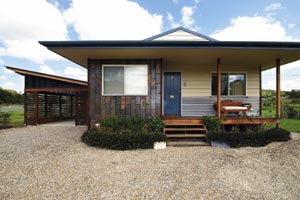 Top of their wish list was to take advantage of the splendid tree-covered mountain views by installing lots of windows. A strict covenant imposed by their Eco Village developers meant the Pauls had to access recycled materials, orient their home to catch prevailing breezes and build with as much sympathy for the unspoilt environment as they possibly could.
As an owner-builder, Jamie appreciated the helpful manual, support and advice supplied by Valley Kit Homes, whose Gold Coast factory happens to be based close by. The comfortable cottage he and Louise have created is a credit to the young couple, who are first-time builders. Timber-decked verandahs provide quiet sitting areas and recreation space on three sides of the house. External materials are an attractive blend of galvanized iron, Hardies cladding and slate tiles. A north-facing Besser block wall acts as a thermal mass structure, capturing the warmth of the sun during the day and releasing it in the cool of the evening.
Large windows, ceiling fans, louvres and decorative bedroom breezeways help with air circulation. Camphor laurel was used to make the island bench and shelves in the kitchen, while blackbutt displays a pleasing grain on polished timber floors.
The budget-conscious couple have used recycled materials wherever possible, including the vanity and tiles in the bathroom, and French doors in the shed off the carport.
Star wiring, where electricity paraphernalia is fed into one outside box, allows energy use to be easily monitored and controlled to avoid wastage. Elements that foster sustainability in the eco-friendly home include solar power, water tanks and low-wattage lights.
Valley Kit Homes fosters high-quality, low-cost production due to construction taking place in-house, rather than outside contractors being appointed. A wide range of external cladding caters to individual tastes.
All frames are delivered pre-assembled, ready to stand, and are clearly marked to show their position in the building, ensuring easy construction. Kits are also designed and engineered to provide the structural strength to withstand a minimum of N3 (50 metres/second wind velocity).
The Lewis (modified by owner)
Size: 166 square metres (including verandahs).
Accommodation: Three bedrooms, study, central lounge/dining room, kitchen, laundry, verandahs on three sides, bathroom, laundry.
Construction time: Three-and-a-half months.
Construction: Timber with feature panels of Hardies Heritage cladding galvanized iron and slate, Bluescope steel roof, 900mm-wide eaves, front gable, interior and exterior slate
feature walls.
Special features: Home based on two pavilions and guided by sustainable principles including recycled and renewable resources, block wall provides thermal mass, timber floors and benches, off-the-ground construction, cross-flow ventilation cools home, large windows frame spectacular views