Consider these elements for your outdoor design and make the most of your backyard
Materials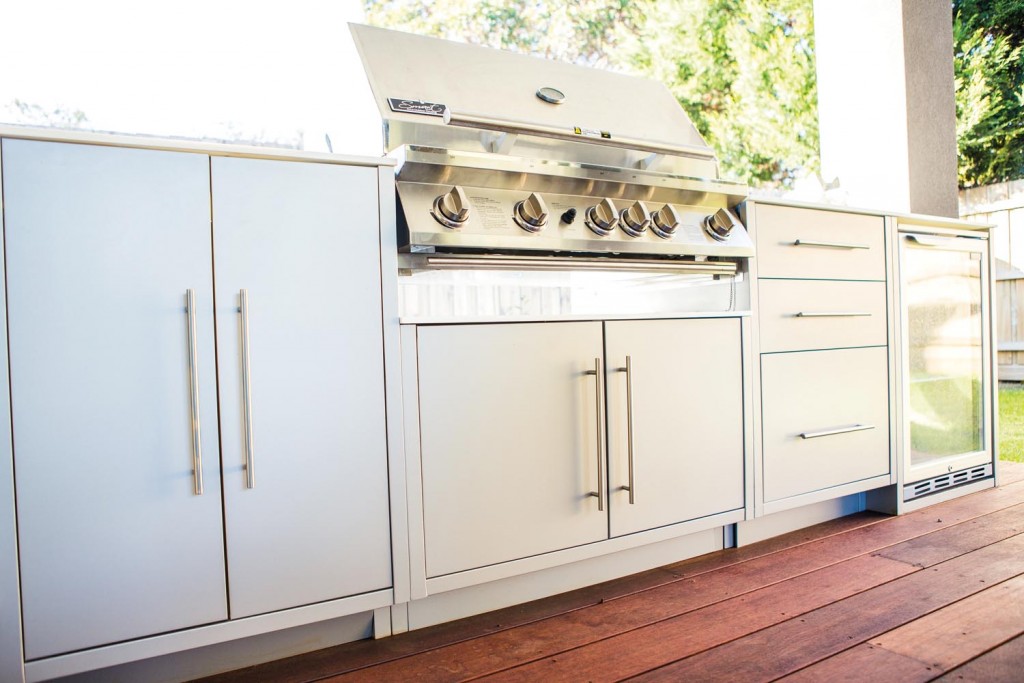 In an outdoor kitchen, the materials used need to be resistant to various elements including weather, mould and staining. Stainless steel has traditionally been the material of choice for many barbecue and kitchen designs. However, the growing trend in creating a liveable space in the backyard is producing a demand for alternative options that are more sleek and stylish. Surfaces such as granite and acrylic allow for a diversity of colours and designs, and provide the appropriate qualities for an outdoor environment.
MyAlfresco offers its customers Alucomp — a panel consisting of aluminium layers with a polyethylene core — and Staron solid surfaces. Pictured here is an outdoor kitchen installed by MyAlfresco with gloss white cabinetry and a benchtop that contrasts beautifully with the stainless-steel built-in barbecue.
Flexibility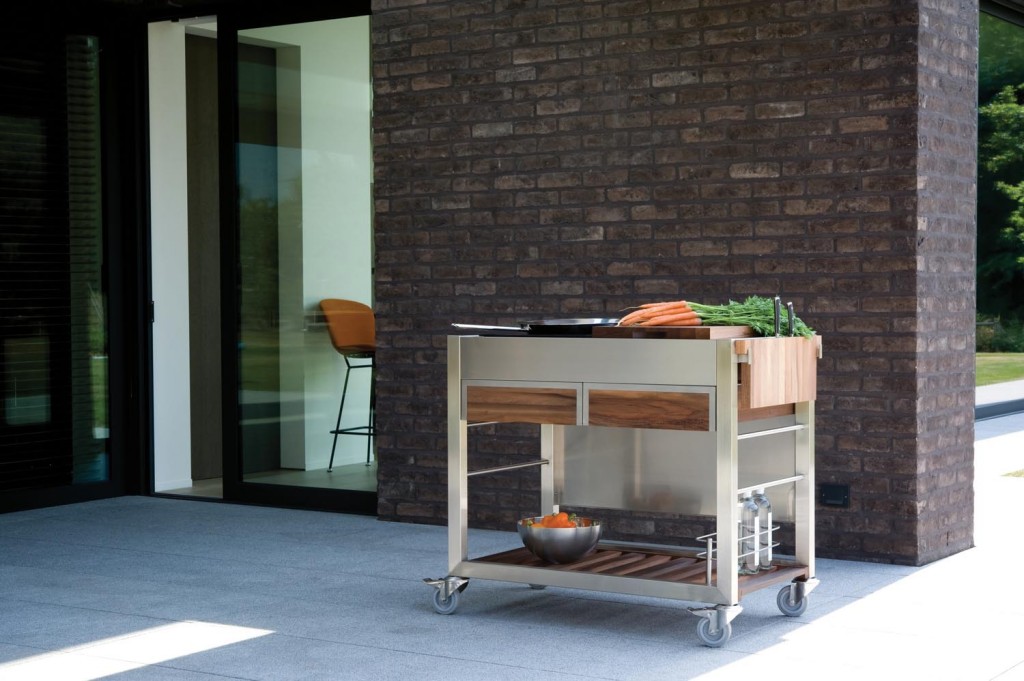 Popular choices for those renting and property owners who are short on space are free-standing options such as Cosh Living's Indu Duo barbecue. Not an ordinary barbecue, the Indu Duo has modular induction hobs, extendable chopping boards on either side of the cooktop and a trolley with storage for pots, pans, utensils and ingredients. Also with wheels, the Indu Duo and other free-standing options offer a flexible alternative for outdoor cooking due to their mobility and ease of use.
Storage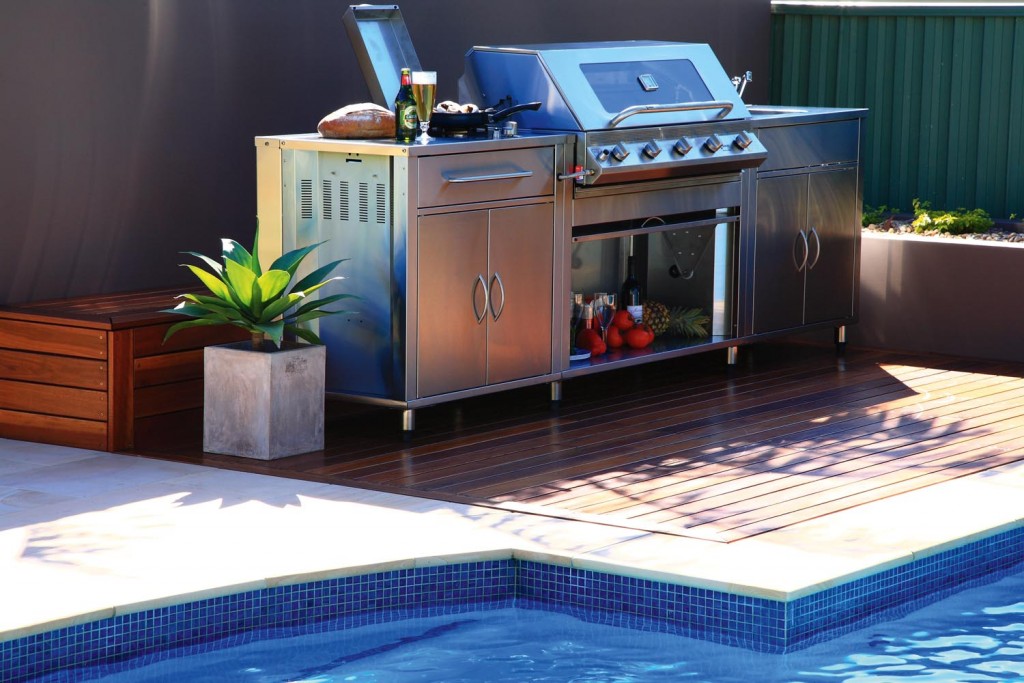 Just as important in your outdoor kitchen, storage will determine the functionality of your cooking area. The sort of storage you will require will depend on the extent of your outdoor cooking, how often you will use the space and what facilities you have installed. Drawers and cabinetry are a must, however, you could consider adding more or less depending on your needs. Pictured here is the Collaroy from Lifestyle BBQs with a side burner and sink top, two cabinets, one drawer and centre cabinet with tilt-lift door.
Cellar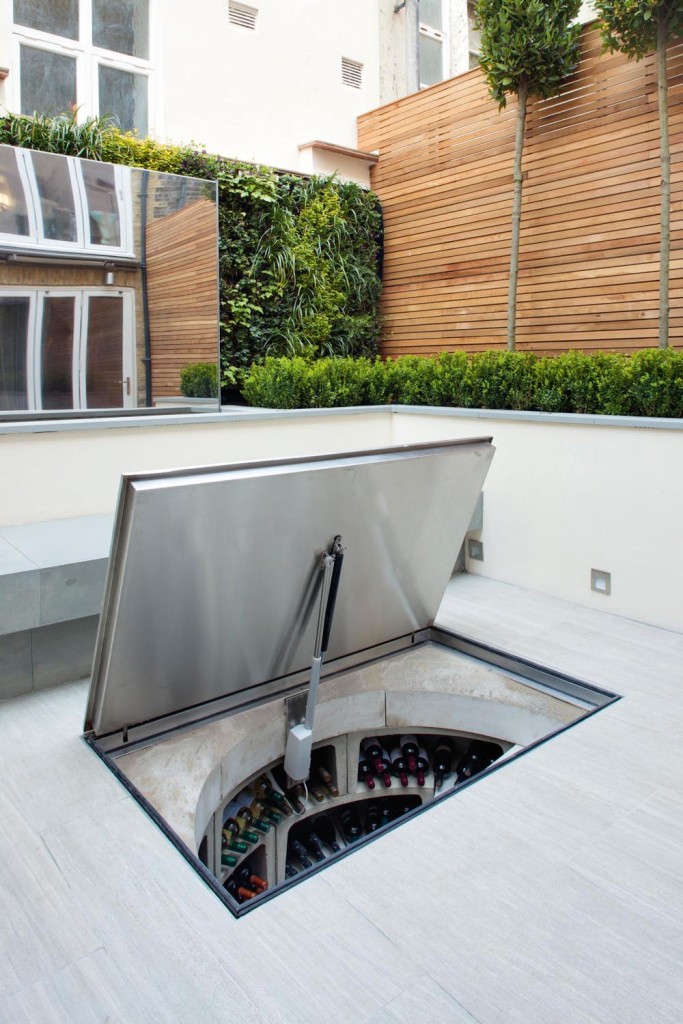 For wine lovers, you might want to consider a designated wine cellar for your outdoor alfresco area. Acting as both storage and a statement piece, Spiral Cellars' Garden Cellar has a weatherproof external trap door and holds 24 standard claret bottles with room for other entertaining or gardening needs, such as extra chairs, outdoor tableware, shovels and rakes.
All in one
How you plan to use your outdoor kitchen and how often will determine the size of your barbecue and whether you will require any extra appliances, such as side burners or even an oven. An Australian-made unit with steel hotplates, ribbon burner and optional roasting hood is a sound option as it offers all you need to cook everything from roasts to pizzas, seafood and steak. However, if you are an avid outdoor cook, an in-built oven could be a great way to keep food warm and allow you to cook every element of the meal in your outdoor kitchen, including roast vegetables and even dessert. Pictured here is Heatlie's Gourmet Elite model.
Wood ovens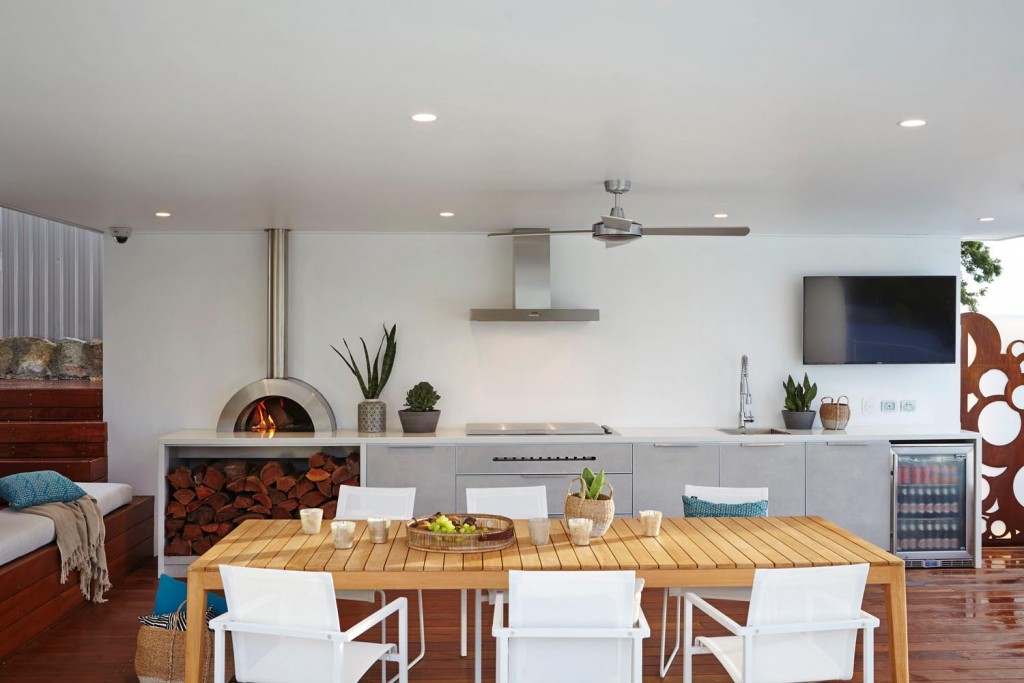 A centrepiece for your outdoor kitchen, and a companion to the trusty barbecue, a contemporary pizza oven can be powered either by wood fire or LPG gas. Not just for pizzas, these ovens are also great for roasting, giving your food that gorgeous smoky flavour. A stunning feature of this extravagant outdoor kitchen, designed by Dean Herald of Rolling Stone Landscapes, the wood-fired pizza oven will also warm up this outdoor room during the cooler months.
Photography by Natalie Hunfalvay Photography.
Sink and mixer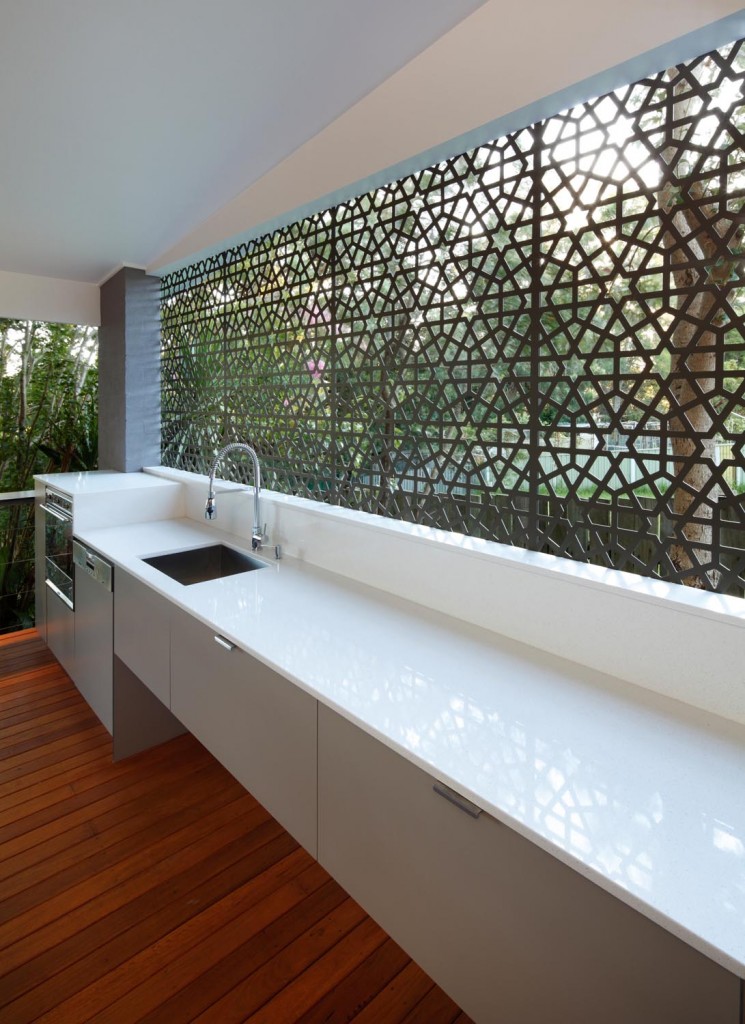 While not the most enjoyable part of the cooking process, the cleaning up still needs to get done. Instead of carting all the pans, plates and glasses indoors, why not consider installing a sink and mixer into your outdoor kitchen space? This means you will be able to clean utensils and other servingware as you go. An extendable sink mixer is ideal for this setting as it enables large pieces that will be quite greasy to be washed. This outdoor kitchen by Concepts by Gavin Hepper even has an integrated dishwasher — genius!
Bar fridge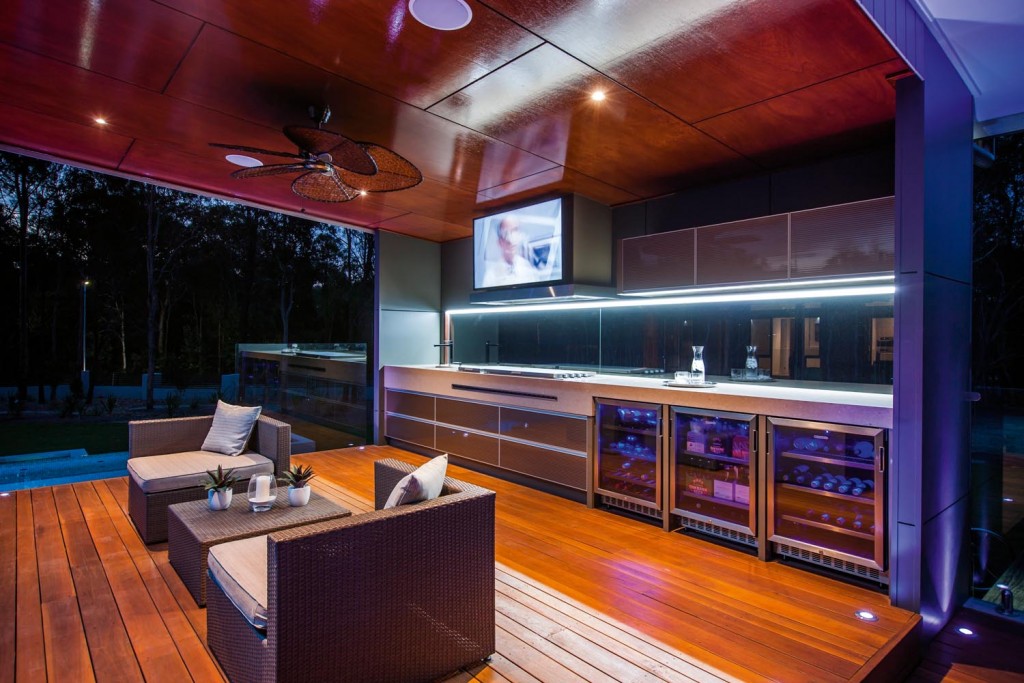 A must-have in an entertainer's outdoor living area, bar fridges will keep your snacks cool and your drinks even cooler. Although it's classed as an extra for most people, if you have the space to install at least one bar fridge, you should. This outdoor entertainer's paradise was designed by Interiors by Darren James and has been fitted with all the mod cons including a slimline Electrolux barbecue and wok, Caesarstone benchtops and three stunning backlit Vintec bar fridges.
Compact design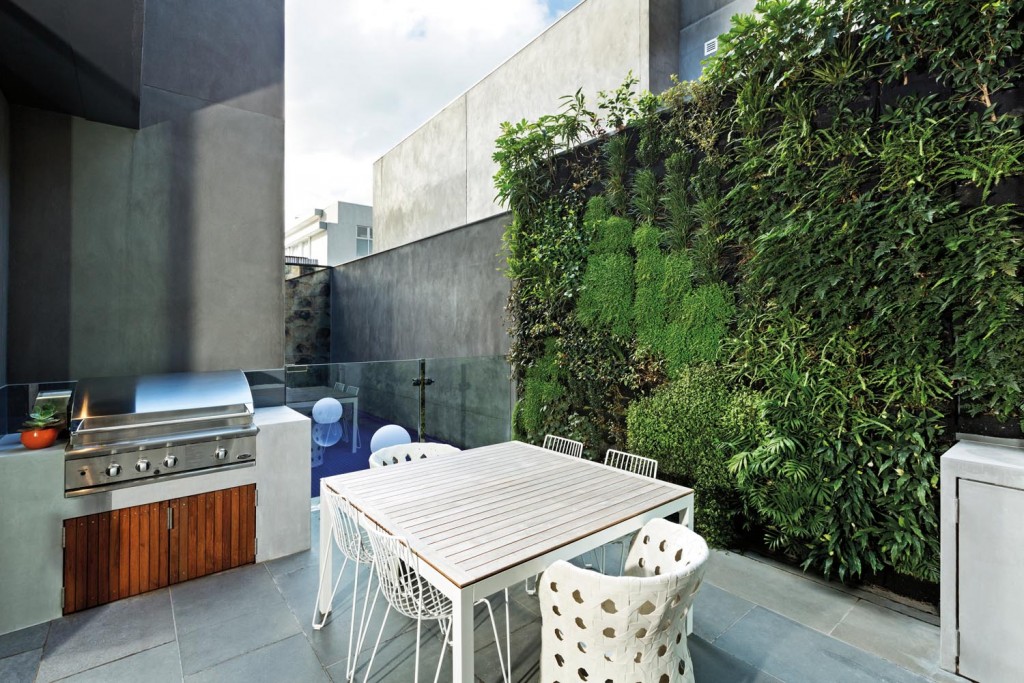 Let's face it — not all of us have huge exterior spaces that can incorporate a five-burner barbecue, wood-fired oven, bar fridges and an integrated dishwasher, but no Aussie home should be deprived of a good 'ol barbie. Designed by Franklin Landscape & Design, this small outdoor space in Prahran, Melbourne, has become a functional oasis with a minimally designed built-in barbecue. Centring the space with a dining table has resulted in an efficient and practical outdoor room that can be enjoyed by kids playing in the pool, adults chatting around the table and the cook whipping up a storm on the barbie.
Originally from Home Design magazine, Volume 18 Issue 1