Creating flow and fusion between the pool and home
When conjuring up designs for your backyard oasis, it is imperative to integrate the pool, garden and cabana with the surrounding home to create strong fusion and flow. John Storch, principal of A Total Concept Landscape Architects, shares his tips on how to unify the elements to create a cohesive environment.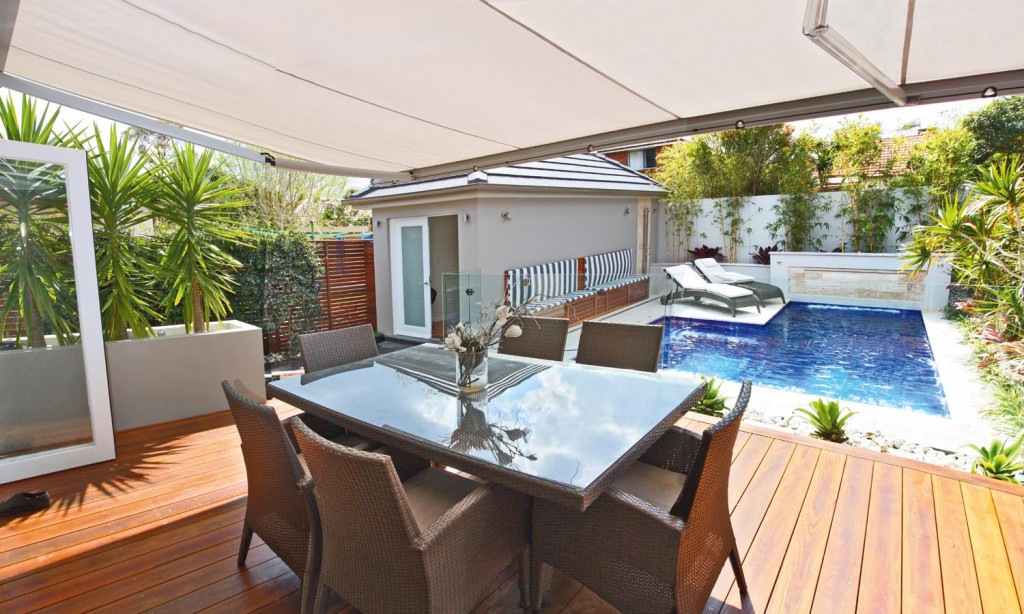 Consider your concept
The initial concept needs to consider the grounds as an entirety, John suggests, so that individual areas are integrated and do not feel disjointed and dysfunctional. "This becomes even more important when a disparate association is caused by a substantial level change between the house and garden area," John says.
"Careful, considered design will ensure the outdoor room appears at one with the overall property and not as an afterthought." A further link between the spaces can be created using the same architectural styles. "For example, a contemporary house will look best with a contemporary pool and cabana, succulent plants and monotone colours," John says. "Replicate the design lines of the house in the cabana, be it in the barge board, concertinaed doors and windows, or timber types and styles."
Be consistent
An important factor to consider when creating fusion between interior and exterior spaces is the consistent use of materials in each area. John suggests designers and homeowners should consider using the same paving, decking, paint colours, walling types and landscaping throughout the project. Likewise, a consistent lighting scheme is a sure-fire way to create a strong flow between all areas when the sun goes down. Lighting can also be used to define or blur boundaries between the various elements of the outdoor room, cabana, pool and garden.
Remove barriers
The removal of visual barriers is another way to create a sense of overall fusion on the property. "The use of frameless glass pool fencing and large glass concertinaed doors on the home is a simple yet effective design principle that will provide fantastic flow and fusion," John says. "Designing a large outdoor room attached to the home and set mid-level between the house and garden on a sloping property works particularly well. Broad generous steps and decks incorporated into the overall design will further link the spaces and remove visual blockages."
Accessorise
Another great tip is to use similar outdoor furniture and accessories in both the inside and outdoor areas. "Outdoor furniture is becoming one of the more important and personal selections of a project and can help organise a space," John says. "Accessories such as cushions and throw rugs, together with feature homewares such as scented candles and sculptures, will undoubtedly individualise an outdoor area and it will often complement the tone and feel of the indoor living space."
Originally from Poolside magazine Volume 46