An Australian native garden that seamlessly merges with the surrounding bushland to create a soothing landscape.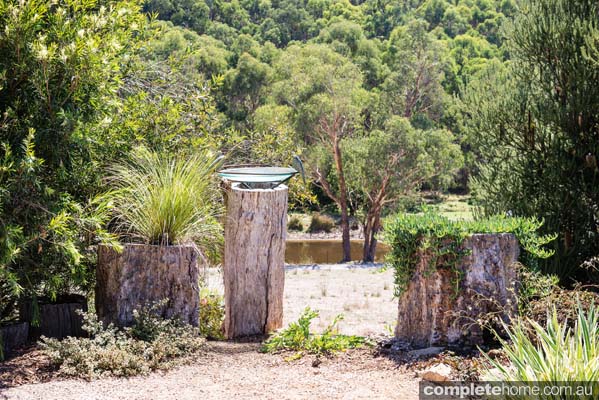 For many, this home represents the Australian dream: A rural location with beautiful bushland views and a soothing, rustic landscape that seems to merge with its surrounds.
Designed and built by Blue Hills Landscapes, the garden is quintessentially Australian, relying on natural materials for paving, decking and walling, and featuring a largely Australian native planting palette.
The site had substantial cross-falls so the challenge was to introduce generous level spaces in the form of decks, pavements and lawns to allow for large family gatherings and parties. Castlemaine slate crazy paving was used on the porch areas, a curved patio space and entrance path. The warm tones of the slate complement the natural look of the semi-circular deck on the northern side of the home.
Adding to the rural ambience of the landscape, there is a charming bird bath set amid hollow log planters, as well as hand-split post and rail perimeter fencing and casual paths of earthy-coloured gravel. The effect is enhanced by the dry-stone retaining walls featuring locally quarried Tynong stone.
The planting scheme is almost exclusively comprised of Australian natives and includes dwarf lilly pilly (Syzygium 'Bush Christmas'), used as screening beside the car port, and mass-planted, low-growing lomandra to the perimeter of the garden on the north and east side. By keeping the plant levels low, views to the native forest beyond were preserved.
On the main deck, a non-native ornamental grapevine grows up and over the pergola. This provides alfresco diners with summer shade while allowing winter sun to flood the area. An automatic irrigation system was installed for the lawn and garden beds, which uses water supplied from the farm dam. As this can only be used sparingly during dry summer periods, hardy, drought-tolerant plants were used.
Project details
Landscape design and construction by Blue Hills Landscape
PO Box 205, Beaconsfield Upper Vic 3808
Phone (03) 5942 7667
Mobile 0411 625 422
Email info@bluehillslandscape.com.au
'Website www.bluehillslandscape.com.au
Photography by Tim Turner
From Outdoor Living magazine 27