Complete your outdoor oasis with the quintessential Aussie appliance
On a balmy summer's night, nothing beats a few cold beers and a barbecue with friends. But with homeowners investing more than ever to create outdoor kitchens and rooms that rival their indoor counterparts, the humble backyard barbie has become a year-round entertainer's delight.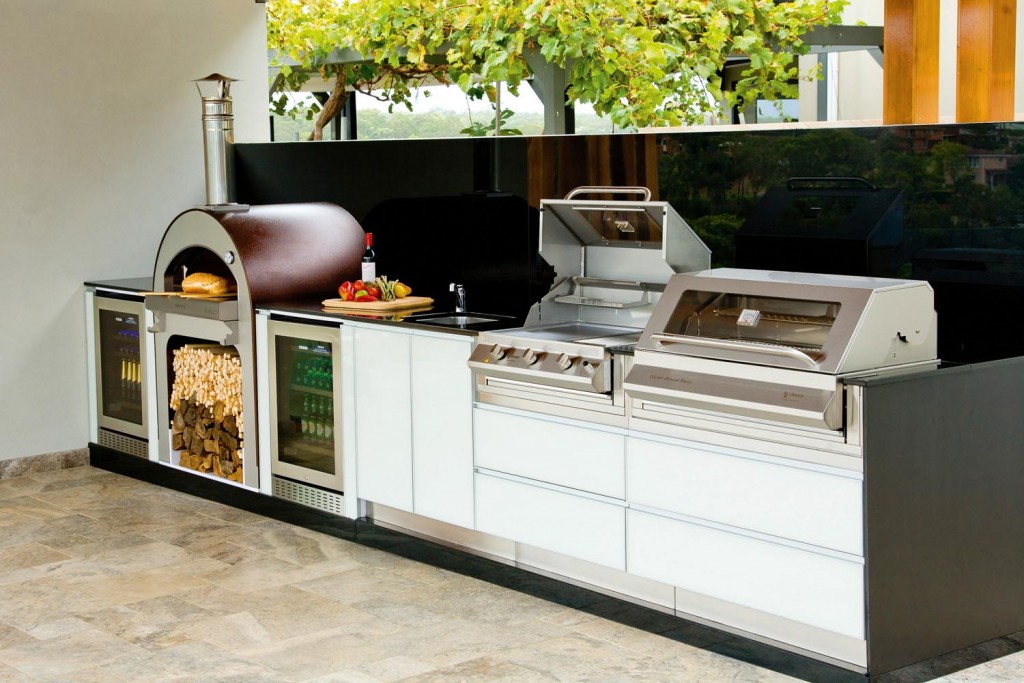 Fine dining experience
According to John McGran, sales and marketing manager for Lifestyle Barbecues, gone are the days when barbecues were solely used to serve up snags and shrimp. "Peoples' expectations of dining have changed over the years," John says. "When I was a kid I remember going to barbecues and all we ate were sausages and chops," he says. "But now it's different. People want a dining experience. So instead of serving up the stock standard barbecue fare, people are baking whole fish and slow-cooking lamb shanks on the barbecue to make it a truly special experience."
As expectations of dining have evolved, so too have people's tastes. "Back in the day, the family would head down to the local RSL or pub for a counter meal," John says. "Now they're dining at Thai, Indian and Italian restaurants and thanks to the rise of reality cooking shows, they're inspired to emulate these cuisines at home. People don't want boring, ordinary meals, particularly when entertaining. They want their friends to say 'wow, how about that barbecue at John's place'."
Complete kitchen solutions
Aside from the traditional four-burner barbecue, Lifestyle Barbecues manufactures and sells in-built barbecues as well as complete outdoor kitchen solutions, including fridges, dishwashers, wood ovens and wok burners, Australia-wide. John says the majority of the company's market is for complete outdoor kitchen solutions, driven by consumer demand to replicate their indoor kitchens.
"People are realising their properties are worth a lot more than they thought," adds John. "They don't mind spending $50,000 on the outdoor entertaining area any more because they know they'll get their money back. People want to spend more time at home so they can save for travel and holidays, and by having a great outdoor space they get more value out of their property. Homeowners aren't afraid to invest in beautiful pools, landscaping and cabanas, and the outdoor kitchen completes the package, turning an ordinary backyard into an entertainer's dream."
Along with a growing demand for complete kitchen solutions, Lifestyle Barbecues has seen a surge in popularity for wood ovens. "Relatively inexpensive and visually appealing, wood ovens are taking backyard entertaining to a whole new level," John explains. "When you've got the wood fire going you can smell it straight away. Your guests can pick and choose the ingredients they want on their pizzas and it creates excitement. Whether it's a wood oven or a barbecue, these outdoor kitchen spaces become the focal point of conversation. When you limit cooking to the kitchen, there's always one person stuck inside and no one wants to stand around watching. But when you have a barbecue or a wood oven burning, everyone gathers round and the person cooking it becomes a hero; they're not isolated to the confines of the kitchen anymore."
Built to last
Outdoor kitchens, barbecues and appliances need to be 100 per cent durable to protect against the elements, John advises. "Consumers should always ask the question of whether the units they're looking to purchase are waterproof or just weather-resistant. At Lifestyle Barbecues, all of the components we use are intended to be durable, even if they are exposed to the weather. We use commercial-grade stainless steel in our full stainless-steel range, and the designer series has waterproof cabinetry with glass doors and stone benchtops."
Besides durability, the other factor to consider when purchasing a barbecue is heat output and maintenance. Built-in barbecues at Lifestyle Barbecues start from $2000, with mobile freestanding barbecues priced from $3000, and the complete outdoor kitchen package valued at $12,000 upwards. John says potential buyers can visit the Lifestyle Barbecues showroom at Padstow in New South Wales or phone and email with their designs, specifications and wish list.
Words of wisdom
To those considering an outdoor kitchen, John's final word of advice is to "think of it on par with your indoor kitchen. For homeowners who are considering buying something on eBay or offshore, if it looks too good to be true for the price it probably is. A lot of people spend $30,000 or more on their indoor kitchen so $12,000 on an outdoor kitchen is a relatively small price to pay for something that will add appeal and value to their property. I always say to customers to consider the long-term value rather than the short-term cost."
Originally from Poolside magazine Volume 46