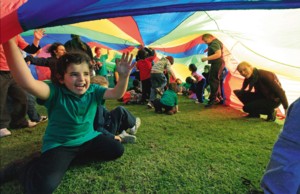 This school vegie garden reaches out to the local community and the rewards flow both ways
We're always talking about how important it is that our children learn the basic skills of everyday living. That is, from the garden and into the kitchen, learning how to grow food, prepare it, cook it and share it.

All right, maybe I'm the one who's always talking about these issues, but I want you to take a moment to think about this and you'll agree with me. In this plastic fantastic world of ours we so proudly live in, there's no denying how important it is to educate and provide our young ones with the right skills to survive in today's world and without the need or desire to eat junk food or, as my parents would call it, "jungle food".
Yes, there may be more to education than just eating tomatoes fresh out of the garden. But what good is it to have three university degrees on the wall if you don't know how to grow simple plants such as lettuce or parsley? And when have you heard of fastfood outlets ever garnishing your meal with fresh herbs, anyway?
Over the years, more and more schools all around Australia have been busy
establishing edible gardens. Some may be lucky enough to have the full vegie
garden set-up, with complete recycling and repurposing departments along with
outdoor and indoor kitchens as well, while others may only be starting their dream garden.
At Croxton Special School, gardening teacher Basil Natoli has turned his green
thumb to helping the children learn more than how to plant magic beans rather than ordinary green beans; ie developing their gardening skills and with them with greater job prospects and a better quality of life. It doesn't end there, though, because at Croxton Special School they have taken it a step further. Well, they've taken it many steps further. It's not just a vegie garden for the kids to enjoy and learn in; the neighbouring community as well as Darebin Council have become involved, too. Initially, what began as a simple school vegie garden has evolved into established plots shared by the surrounding residents, who take pleasure in growing their own produce as well as helping to maintain the school gardens The day Good Gardening visited, local resident Hilde Knottenbelt was there as well. The teachers and students told me she's known as "the chicken whisperer", which I thought meant she liked to share
sweet secrets with the chickens, but in fact she sings songs to the chickens and
clucks like a hen. This was something I had to see and hear for myself, so I put
her to the test and, yes, folks, even I struggled to pick the difference. I was so
impressed by her talent I was sure she'd laid an egg! Just one of the many exciting moments the kids at Croxton experience on a daily basis.
Unlike most schools, Croxton's sports oval and playground are common areas that are open and accessible by the public any time of the week. Obviously, during school hours, the areas are supervised by the teachers for security and safety reasons, but as a first time visitor I found it touching to see the general public, family, friends and students all playing together in the same area and
sharing a vegie garden.
All this would not be possible if it wasn't for the support of Darebin Council and Urban Tree Management Co-ordinator, Ashley Tenson, who has helped to implement Basil's concepts along with his latest request for a fruit orchard in the playground area, so everybody can enjoy the summer shade provided by the tree while indulging in some fresh fruit straight off the branches. I think it's a great idea and, of course, I understand there are some logistics that will need to be addressed before this concept can come to fruition, but imagine how common recreational areas would look and feel if concepts like this become a
widespread reality?
Mark my words, councils all over Australia will catch on and start to streetscape using fruit trees for everyone to enjoy, like they do in parts of Rome. It's something that should have happened years ago.
Amy's Bacon, Cheese & Vegie Filo Quiches

Ingredients
6 sheet filo pastry
Canola oil spray
8 eggs, beaten
Salt & pepper
2 rashers bacon, finely chopped
100g Bulgarian feta, crumbled
1 silverbeet leaf, stem removed, washed and dried and cut into small pieces
2 spring onions, finely sliced
1 tbsp fresh coriander, finely
chopped
Method
1 Spray each pastry sheet with canola oil and fold in half. Repeat twice more until it is the correct size for the mould. Keep them wrapped in plastic wrap until
mixture is made.
2 In large bowl, place egg, salt and pepper, bacon, feta cheese, silverbeet, spring onions and coriander and mix together well.
3 Spray a six-mould large muffin tray with canola oil and put each filo sheet into the tray.
4 Carefully fill pastry cases to the top.
5 Bake in a preheated at 200°C oven (180° fan-forced) for 15–20 minutes.
6 Serve with a salad or eat by themselves.
Enjoy!