This classic contemporary garden design has curves in all the right places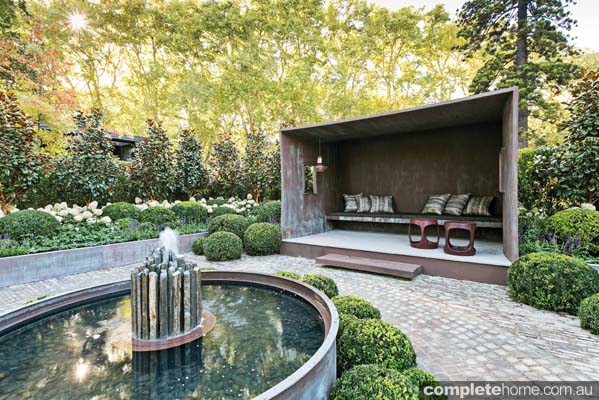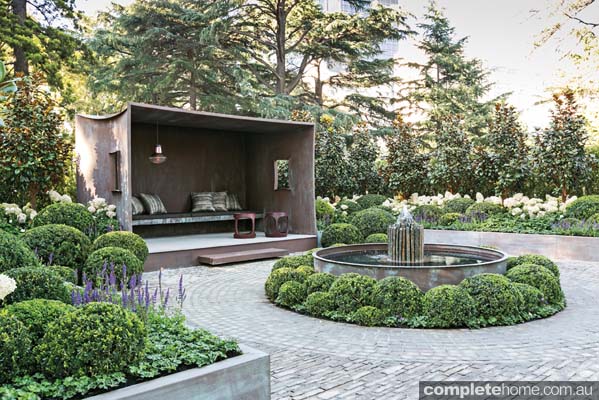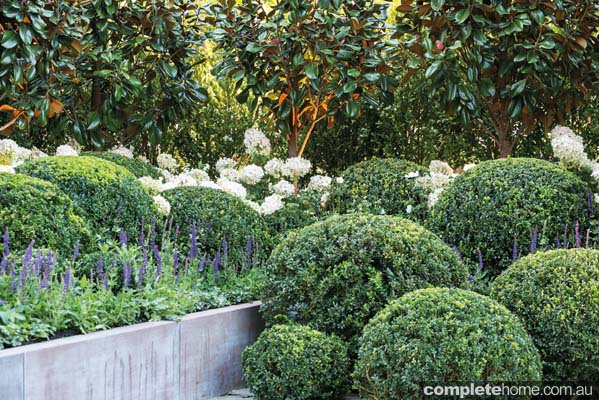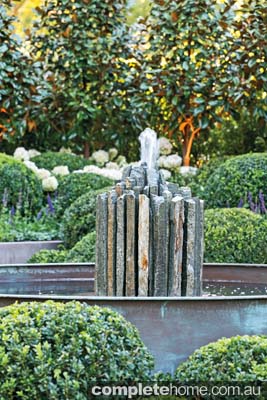 Known the country over for his impressive formal landscape designs, Paul Bangay showcased a new approach to design this year with his first foray into the Melbourne International Garden & Flower Show. The show garden, which he dubbed Tension, reflected the designer's nascent interest in designs that blend informality and formality.
Paul, upon whom the judges bestowed a Gold Show Garden Award, believes we are seeing an overall shift from highly contemporary gardens to more enduring timeless gardens with a hint of formality, and it's a design trend that intrigues. In Tension, the formality was illustrated by the garden's strong geometric layout and the hedging lines of Magnolia grandiflora 'Teddy Bear'. The informality could be seen in the organic shapes of the clipped green clouds of Buxus sempervirens, which were surrounded by soft flowering perennials including Anemone x hybrida, Geranium 'Rozanne' and Salvia 'Ostfriesland'.
Adding to the fullness of the planting scheme were Hydrangea paniculata 'Grandiflora' and Rosa rugosa 'Alba', both species bearing soft, white flowers, and Syzygium 'Hinterland Gold', an upright lilly pilly that is smothered in small, fluffy, white flowers in summer. While the planting palette relied on green and white, the occasional pop of colour was provided by the violet-coloured flowers of the geranium and salvia.
The pavilion, which was painted bronze, provided a modern sculptural element in contrast to the overall garden layout, which leant more towards the formal and classic. Inside, the pavilion featured a long built-in bench topped with seating and scatter cushions, two metal stools and a Blow Light pendant by Tom Dixon with a copper finish.
The simple water feature was a blending of formal and informal elements. Rising up from the depths of the circular pond was a fountain comprised of stone shafts in a range of different heights. The water feature, encircled by Buxus spheres, also of varying heights, sat in the centre of a rounded section of porphyry cobblestones. The remainder of the space was paved in long, thin Filetti porphyry pieces, to add some textural interest.
Despite being called Tension, this was a peaceful garden. With the deep garden beds full to overflowing with mounds of green foliage, the washes of white blooms, the sweeping curves and gently flowing water feature, this was a space to soothe the senses. A place where new and traditional influences met and the planting ensured cohesion.
Written by Karen Booth
Photography by Patrick Redmond
Originally from Backyard & Garden Design Ideas magazine Volume 12 Issue 3