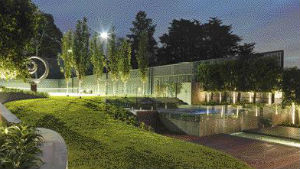 A place to relax, a place to dine and a place to swim … what more could you ask for?
Designed for a family that loves to entertain, this Melbourne property has it all. There are two outdoor rooms — one for lounging about in front of the fire, the other for dining with friends — a well-appointed swimming pool and a gently undulating landscape that connects the home with the tennis court nestled in the farthest reaches of the garden.
"Appropriate use of space should always be a key design principle," explains the designer Nathan Burkett of Nathan Burkett Landscape Design and Construction, "but this does not mean that all space should be trafficable or put to some practical use. We need habitat for our own well being. Balance is the key."
Achieving balance was critical to the success of this design in more ways than one as the existing site was plagued with awkward level changes. Another challenge was the eastern boundary, which was surrounded by a two-metre-wide concrete footing and afforded virtually no planting depth.
"My solution was to lift the beds up from ground level and maintain the soft yet structured characteristic of the site with solid curved walls projecting out of the ground and returning back into the ground," says Nathan. "The curved walls became a key feature of the garden, drawing one's eye from the house and alfresco dining area up to the level of the tennis court."
Similarly, Nathan used the contours of the site to project the pool out of the ground, allowing it to fit seamlessly into the overall design.
From the granite paving to the merbau timber decking, supplied by Chippy's Outdoor, the emphasis was on high-quality materials. The right lighting was just as important. This included uplighting to the feature trees and the stainless-steel sculpture from Sculptura.
To lend the garden a sense of subtle drama, massed low level plantings, including Arthropodium "White Knight" and Liriope "Evergreen Giant" create a "carpet" that follows the undulation of the garden beds. Adding interest and pronounced vertical elements, the pleached white-trunked Ficus hillii and the deciduous ornamental pear Pyrus "Capital" stand like sculptures in the garden.
"My philosophy on design is simple," says Nathan. "You have to be able to live in it, breathe in, and it has to be a part of who you are. With this in mind, I approach each project with the primary objective of interpreting the client's needs and integrating this within the space."
Project details
Landscape design and construction by Nathan Burkett Landscape Design and Construction Phone (03) 9015 7791 Mobile 0411 304 641 Email info@nathanburkett.com.au
Website www.nathanburkett.com.au Stainless steel sculpture by Sculptura Phone (03) 9824 5555 Timber decking supplied by Chippy's Outdoor Phone (03) 9879 4296
Pool construction by McNamara Phone (03) 9315 1123 Photography by Andrew Ashton