From the swimming pool to the entertaining pavilion, this design goes with the flow.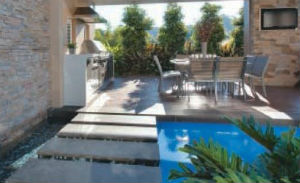 As this was a new home in a newly released estate, Justin Dibble of Fluid Design was presented with a blank canvas, which is always a pleasure for a garden designer.
The owners, a busy young couple with kids, dreamed of a contemporary-style garden, pool and poolside entertaining area with tropical resort-style planting. Their desire was to maximise the backyard with a pool that could be enjoyed by both kids and adults. Next to the pool they wanted a pavilion with all possible inclusions; a luxurious and comfortable space where they could spend time with friends and family while keeping an eye on the kids as they swim in the pool.
The pool, constructed by Splish Splash Pools, was designed to be the main feature of the backyard and completely visible from the house for when the children get old enough to swim without direct supervision. With the pool observable from all main interior living areas, it needed to be interesting and impressive. From the Quartzon pool interior and glass mosaic waterline tiles to the Aqua-Quip pool lighting and semi-frameless glass fencing, care was taken with every detail.
To maximise the available space, the pool design incorporates a large swim-out area where the kids can play. There's even a small cave under the alfresco kitchen and dining area.
The poolside pavilion, the family's main gathering point, looks amazing at night with its cedar-clad ceiling and downlights that highlight the two-metre feature wall with integrated waterfall (clad in Alpine stone from Eco Outdoor) that sits at one end of the pool and to the side of the pavilion. Adding both visual interest and sound to the landscape, this feature can be enjoyed from the pavilion or the pool.
Stepping stones, which seem to float, lead you across the pool to the pavilion where you will find a complete outdoor kitchen with built-in barbecue and fridge. A plasma TV was recessed into the stone pier, which supports the pavilion roof and there's a built-in timber lounge suite for lazing around.
A large hardwood timber deck runs along the length of the pool. Three Bangalow palms protrude through the deck, which has flush-mounted lighting that "catches" the fronds at night.
This design is based on function and space. Each piece of the puzzle seamlessly fits with the next, creating a landscape that not only looks great but feels nice to be in. The owners absolutely love their private sanctuary, especially at night when the lighting brings the pool and garden to life.
Photography by Blue Poppy Photography 
Project details
Landscape design by Fluid Design. For more information visit www.fluidlandscapedesign.com.au