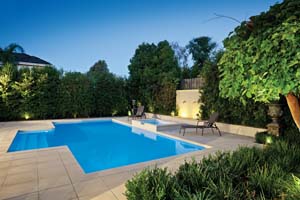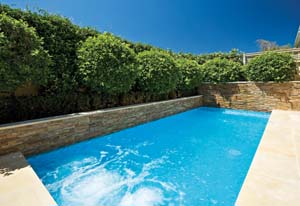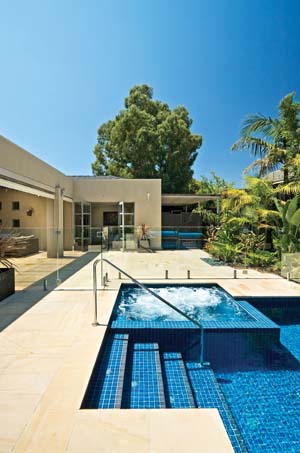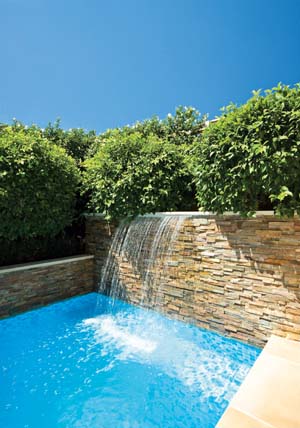 Things to consider when incorporating a pool in your backyard design.
Due to the sheer size and volume of the average Australian swimming pool, it stands to reason that it will almost always become the centrepiece of your outdoor space. So whether you already have a pool or you're thinking about incorporating one in your backyard design, there are two main considerations to think about: theme and functionality.
Theme
The theme of your outdoor pool space will play a significant role in the overall appearance of your backyard.
You could draw inspiration from a particular style or culture, such as Bali or Japan, or it can build upon the appearance of your home. Whatever you decide upon in terms of theme, be sure that it is consistent with your pool design.

Plants play a big part in setting the theme for your pool area. If you're trying to create an arid garden, you could go for succulents or if you want a tropical garden, consider plants with lush, colourful foliage.

The materials used in your overall landscape design also play a role in establishing your theme. Clean lines, simple colour palettes and the use of materials such as glass, concrete and steel will create a minimalist look; while timber and natural stone used in a less formal arrangement will give the impression of a naturally inspired space.

Landscape themes are very subjective so don't be afraid to get creative!
Functionality
While the appearance of your pool will entice you to use it and enhance your experience of it, it's the functionality that will keep you coming back time and again. 
If you're designing a pool from scratch, the things you'll need to take into consideration include: size, shape, entry points, depth, filtration, fencing and location.

If you're revamping your existing pool area, remember that you can save a lot of money by making the most of your existing site, including layout, terrain, fencing and screening.

Apart from the obvious reasons for having a pool – swimming, playing, relaxing – you can build on its usability by incorporating elements such as an overhead cover or shade, a cooking and dining area, refrigeration and lounge seating. It's a great idea to integrate your pool into your outdoor entertaining space, essentially creating a multi-functional outdoor living space.

Fencing is absolutely essential when it comes to pool safety, but remember that fences and screens can also be used to define the boundaries of your outdoor pool space, giving you a sense of privacy and seclusion.

Think about positioning the pool so its most spectacular aspect can be seen from inside your home. That way, you'll be able to enjoy your pool, even when you're not using it.
There are so many little details to consider when you are incorporating a pool into an outdoor living area. Given the possibilities for details like lighting and water features, are endless, it would hardly be surprising if you're feeling a little overwhelmed. Try simplifying the process by imagining your ideal space. Think about what you want and what will work in your outdoor area. Be creative, but remember, the space will need to be both functionally and aesthetically pleasing in order for you to get the most enjoyment out of it.
Water wisdom
Use a pool cover: A pool cover will reduce water loss due to evaporation and it will reduce the amount of cleaning that needs to be done.

Create a windbreak: Place plants around the pool to protect it from the wind and reduce evaporation rates, but don't use deciduous plants.

Provide some shade: Install a shade sail or some kind of shade structure over part or all of the pool to minimise water loss by evaporation.

Rainwater tanks: If possible, install a rainwater tank when constructing the pool. Use the rainwater for tops-ups and irrigating nearby garden beds.