Keep your canine happy and safe with these simple backyard design and planting tips.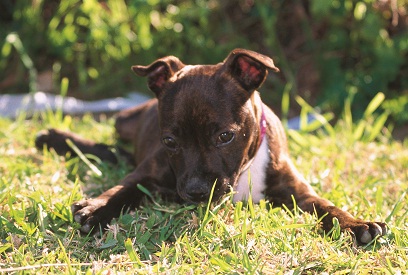 Four-legged canine companions are a much-loved part of many Australian families. Playful pooches enjoy romping and running around the backyard, but unfortunately they can trample plants and dig up gardens, as any garden owner knows all too well. There are also safety factors such as adequate fencing, shelter and plant selection to consider if you have a dog. But it is possible to create a functional and stylish backyard that your pooch — and you — will love spending time in.
Raised garden beds
Raised garden beds are a deterrent to stop dogs walking through and stomping on plants. You can create these from a variety of attractive, hard wearing products, says Ross Hynard, a landscape architect from Green Rooms Gardens and Landscapes.
"Try treated pine sleepers, copper logs (just ensure they don't contain arsenic), rendered masonry, natural stone or Corten, a type of weathered steel that works well in curved garden beds," he says.
Choose resilient plants such as fine leaf grasses, as these bounce back better than broad-leaf grasses if they are trampled on. Plants such as Tanika (Lomandra longifolia), Coastal Rosemary (Westringia fruticosa), Grevilleas, and Gymea Lillies are attractive and hardy, suggests Ross. For delicate plants with fragile blooms, plant these in large pots so your dog can't reach them.
Soft feel of grass
Dogs love the soft, ticklish feel of grass under their paws, so you need a lawn that's durable. "Sir Walter Buffalo is one of the best," says Ross. But even the hardiest grass species can suffer with dogs frolicking on it — one option is to reduce the size of your lawn with pavers.
"Sandstone or limestone pavers look great; your dog will enjoy basking in the sun on them and they're also easy to clean," says Ross.
Another idea is a dog run — many dog owners have dedicated dog runs in their yards. A well-designed run provides ample space for a dog to roam freely and protects your gardens and lawns.
Water features
The cool, soothing sounds of running water add a peaceful ambience to any garden. If you have a garden pond, chances are your dog will enjoy splashing about in it. Be vigilant about keeping it clean, as some water sources can be a potential danger to dogs. "Stagnant ponds with mould and algae can upset a dog's gut, and ponds can be a breeding ground for mosquitoes, potential transmitters of heartworm in dogs," says Dr Graham Swinney from Australian Small Animal Veterinary Association.
Keeping them safe

Another important consideration for dog owners is making sure their yard is doggie proof. Inadequate fencing and gate latches can leave opportunities for your dog to escape. Many dogs can jump over, dig under or push over what you might think is sturdy dog-proof fencing. If your dog is digging under a fence, try burying chicken wire at the base of the fence (carefully rolling over sharp edges).
"If your dog is climbing the fence by stepping on the cross palings, add height to the fence and make sure it isn't made of material your dog can easily scale," says Nicola Westerweel, animal behaviour and training manger at RSPCA Queensland.
If your dog sleeps outdoors, ensure he has a warm, comfortable place to sleep that's free from winter drafts and summer rain. There are many styles of dog houses available, from the rustic to designer models. Why not choose a home for your dog that complements the style of your own home? Then you can decorate it to your taste.
Beat the boredom

Dogs love to dig! It's a natural canine behaviour that can drive garden owners crazy. When planting your garden beds, add attractive ground covers between plants to reduce temptation for your dog to dig in bare soil. Dogs may also dig a hole in the earth to cool down during summer or in winter to find a warm spot to lie in — they're digging as a form of thermo regulation. Make sure your dog has adequate shade and shelter. Shade trees such as Japanese Maple or Crepe Myrtle look attractive and provide ample shade.
Dogs can also dig because they are bored, says Nicola. "They need a stimulating, enriching environment — add agility equipment, things they can jump or climb over, a sand pit or designated doggie digging area," she says.
Toilet training
Dogs also need somewhere to toilet when nature calls, so train your dog to use a specific area. Begin when they are puppies. They usually want to toilet after they eat, so take them to the area you want them to use and reward the desired behaviour with pats and praise, suggests Graham. To separate the area from the rest of the garden, potted plants, a hedging plant or dividing screen can be used.
Plants to avoid

Just like toddlers, dogs — and especially puppies — love putting things in their mouths. Unfortunately, some plants are harmful and even fatal if ingested by dogs. Graham advises avoiding planting oleander, cycads and Yesterday Today and Tomorrow (parts of this plant if ingested can cause seizures in canines).
"It's also wise to steer clear of grasses with orbs or seeds that can get trapped down a dog's ears," he says.
Avoid planting spiny plants or those with sharp edges — these can scratch and injure pets, and keep on top of weed removal — varieties such as Wandering Dew can aggravate skin allergies in dogs. If you store insecticides and fertilisers in your garden shed, be vigilant about ensuring it's locked — if ingested they can be harmful to dogs.
It's not only plants that can be harmful — mulch containing cocoa bean has caused fatalities in dogs overseas. The RSPCA says it's not generally available in Australia but it's possible small chocolate manufacturers could sell cocoa shell mulch as a waste product.
For a comprehensive list of dangerous plants, check the RSPCA website http://www.rspcansw.org.au/education/pet_care/health/Toxic_Plants
By Carrol Baker