Garden screens can be both useful and stylish multipurpose items, whether used for privacy, a decorative wall feature or to conceal unsightly objects
Outdoor screens are ideal for privacy but that is not their only function; these versatile items have proven their worth for a range of tasks. From updating tired walls to partitioning off spaces, they can be used in an array of ways and are available in colours and styles to suit any space.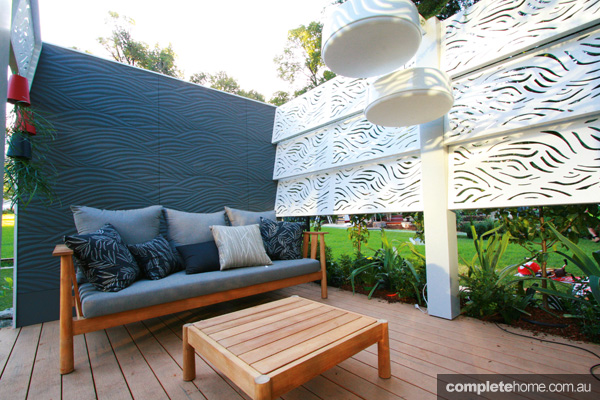 OUTDECO's Wooloomai screen design is reminiscent of ocean waves. This is an ideal solution for a small courtyard or outdoor area, allowing for privcay without compromising on the inflow of natural light.
Timber
Timber privacy screens are the ideal option for those with privacy requirements. You can even choose to paint the timber screen prior to installation so it can be perfectly matched to the space. The range of laser-cut styles can be installed as either feature panels, with lights accentuating their designs, or as walls, giving you a blank canvas to fill. There is a vast range of timber privacy options, such as 60 per cent-privacy screens, which allow significant light through and work well as partitions, as well as 80 per cent-privacy screens, which make the perfect cover for boundary fences. Ninety per cent-privacy screens are also available and offer the highest privacy of all, so are best used around planter boxes or retaining walls.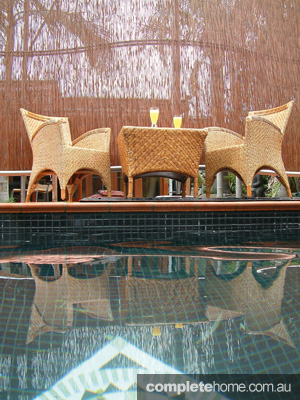 The Bamboo Rod screens from House of Bamboo are a versatile, and popular, option.
Bamboo
Bamboo can transform any drab space into a hidden tropical oasis, making it an easy solution for privacy. As bamboo screens are available in a range of styles, they can even be applied as screens around pool areas. Bamboo is highly versatile and can be used in a number of ways, whether in its natural "rod" form or as a board. Due to the numerous ways you can manipulate bamboo to suit a space, it is the perfect candidate for any style of outdoor area. Another plus is that this wonder product is an environmentally friendly option.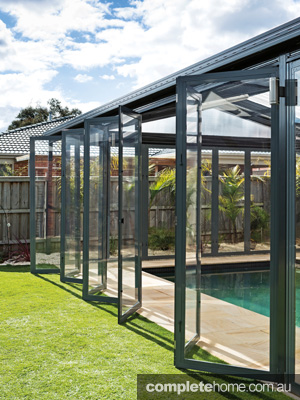 optiScreens' bifolds and multi-stack sliding panels provide thermal and acoustic shelter. They are lightweight and durable and, unlike glass, will not shatter.
Vinyl
Clear screens have come a long way and you can now wave goodbye to the cracks and tears, which were once common occurrences. Vinyl glazing means that clear screens are now available as bifold, hinged or French doors. Sectioning off an outdoor area with a clear screen means you can create an indoor sunroom ready for the cooler months and when the weather warms up, you can open up the area and let the cool breeze in.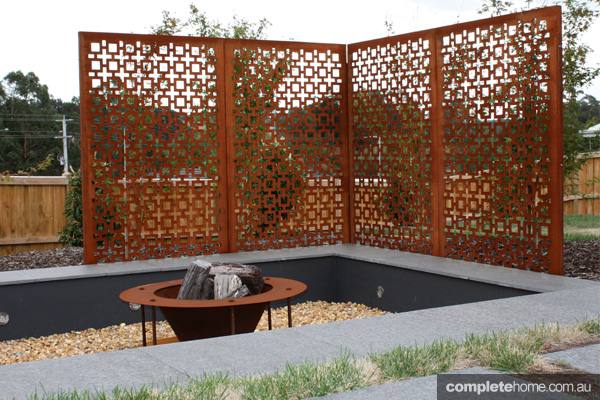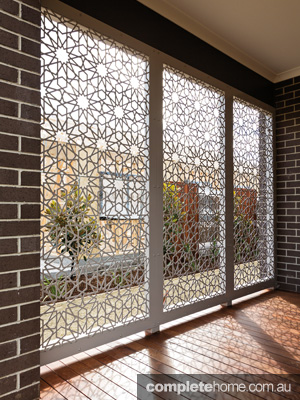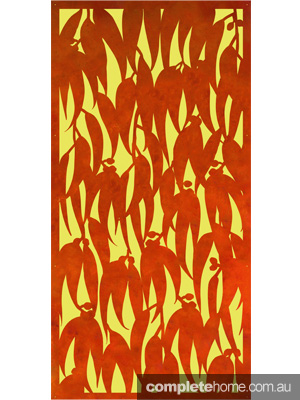 Steel
Steel offers a great solution for privacy as it can be used either in panels or individually. Screens can be oxidised, which gives an authentic "rusted" finish, or they can be powder-coated to suit individual requirements. The laser-cut designs available can help create a level of texture to the steel, with designs such as clouds to help blend the steel with the skylines or perhaps a plant pattern to merge the steel with surrounding shrubbery. Steel panels are also ideal to use with crawler plants; simply plant at the base and train the plant up the steel. It can be used in myriad ways to create a privacy screen or a feature area — just plan your space according to what you want.
Martin Kellock Pots and Planters martinkellockpots.com.au
Laminex
Long gone are the days of Laminex only being found in kitchens and bathrooms due to the newly developed range specifically designed for outdoor areas. Its superior moisture, wear- and weather-resistance means the new Laminex Alfresco Compact Laminate is perfect for decorative panelling. Laminex will help update any outdoor space into a newly transitioned outdoor entertaining area. There are nine styles available so you can now complement your cut-out panels with multiple styling options. For an ultra-modern look, use along the wall of the outdoor space to ensure a seamless transition.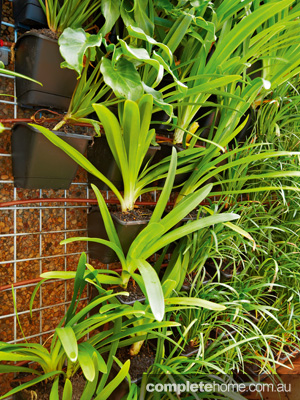 Green screen
In recent times, these vertical gardens have flourished in contemporary outdoor areas and homes. This is because they can be used as both a stylish feature and a screen. Because they take up such little space, they are perfect for places with little, if any, garden space. They are attractive and can make your city apartment feel closer to the country with a range of planting options available, such as ferns for greater coverage. Or you can even use different-coloured plants to form a patterned screen. Use plants sparingly for a green window or, alternatively, cover the wall from ceiling to floor for an easy and private tranquil escape. Vertical gardens can also be used as a one-stop herb shop for the at-home chef, when planted with herbs such as oregano or thyme. Be careful with lavender and rosemary, though, as they can spread very quickly and dominate your vertical garden.
Words by Erinne Sullivan
Originally from Outdoor Product Guide magazine, Volume 4