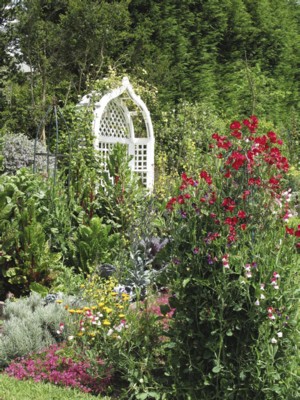 "I cannot pretend to feel impartial about colours. I rejoice with the brilliant one and am genuinely sorry for the poor browns." (Winston Churchill)
Spring is the loveliest time in the garden. Everything is waking up from the long winter sleep. Trees and shrubs are bursting with that very chartreuse shade of green that is so lush and rich at this time of year. Birds are twittering about making nests and everywhere you look there is some colourful bloom emerging to delight the senses. Or at least that's how it can be if you've gotten your planting right. But if your garden feels like it's still napping, not quite ready to throw off the blankets of winter and looking a little lack-lustre as spring approaches, read on; it's not too late to infuse some extra spring colour in your garden.
For the best in spring colour, you needed to do a little planning back in autumn as that's the time the foundations of the colourful spring garden should be laid. Those who took time to plant spring-flowering bulbs while the weather was still distinctly on the cool side will be seeing a mass of leaves and even a few early flower buds starting to form on tulips, snowdrops, hyacinths and all manner of little gems. For the late starters, it's probably too late to be planting bulbs such as tulips, daffodils, jonquils, ranunculus or anemones, but that doesn't mean you have to miss out on these delights completely. If you head out to your local nursery you can probably find pots of these colourful beauties that you can strategically place around your garden.
You could either colour co-ordinate your efforts with the warm yellows and oranges of sunshine by concentrating on daffodils, poppies, gerberas and yellow irises or you could experiment with strong pinks by way of fuchsia-toned ranunculus, anemones and tulips.
What about experimenting with the blue phase by adding bluebells, pansies, irises, crocuses and more? Many artists have enjoyed working with an all-blue palette or you could take inspiration from Van Gogh who claimed there could be no blues without orange and plant some flashes of orange to capture the attention of passersby.
An all-white display is a calming alternative for bulb lovers, but my favourite is to mix the strong blues and purples with reds, pinks and whites for a romantic and exotic display. The fiery reds add drama to the garden but are kept in check by the blues while the pinks and whites add a feminine touch. This colour combination also offers you a chance to explore the full range of spring bulbs. You can try sparaxis, freesias, ixias as well as all the usual suspects: tulips, anemones and ranunculus.
The great thing about spring bulbs such as tulips and irises is that as well as adding colour to the garden, they add height to your spring display. However, bulbs are not your only option for spring colour. The chartreuse-yellow of euphorbia can add some zing to your garden and the mauves of the wallflower will be ever-present from now almost through to the end of summer. Rhododendrons and azaleas, lilacs or camellias are another option for a colourful display and their height can add a nice mid layer to the garden.
Flowering trees are another delightful bonus at this time of year. Magnolias range from whites to pinks and burgundies and the ornamental flowering fruits such as cherries, apples and crab apples not only bring colour when you look up but they lay a soft carpet of colour as their petals fall.
Annuals also provide strong bursts of colour to the spring garden. Pansies, petunias and snapdragons will all add colour to any boring spots in the garden, and stocks can add colour and fragrance. But don't scatter your offerings too far and wide. Give your garden maximum impact by grouping plants together. Remember, spring is no time for shrinking violets. This is the time of year for the garden show-offs to really take centre stage.
Spring-flowering roses will complete the picture, but to ensure your display lasts as long as possible, try to select repeat-flowering specimens.
If you're reading this well into spring and you've missed the boat in planting all these flowering masterpieces, you could use paint to increase the colour in your garden. Try painting a fence or feature wall, garden furniture or terracotta pots in bright shades and go and make a note to yourself in your diary or calendar to plant some bulbs next autumn or your plants won't be the only thing caught napping.