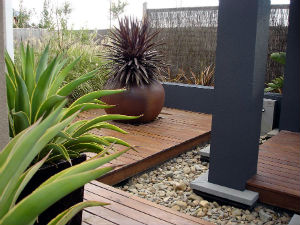 Resort style living was the inspiration behind this family-friendly sanctuary

Photos: Adnic Photographic Services
Functioning as an extension of the home's interior living spaces, this modern sub-tropical garden has given a young Brisbane family a private sanctuary where they can relax amid lush natural surrounds.
The design brief was for a backyard retreat that everyone, parents and children alike, could enjoy. Something private and low maintenance with the kind of relaxed natural charm you only tend to find when visiting a favourite holiday resort.
"The garden has soft, flowing curves and a natural sub-tropical feel," explains designer Renai Stupart of Vision Scapes. "Soft, light colours contrast with timeless timber shades and natural grey slate adds a sense of depth.
"The many complementary focal points within the garden create eye-catching features, including the sandstone wall/seat, the granite wall and the lush garden beds which are illuminated upon sunset when the striking outdoor lighting scheme comes to life."
The light-coloured paving, which has the look of natural sandstone, has a gently undulating surface which lends an air of sophistication to the pathways and the resort-style dining area tucked beneath the pergola. Constructed using feature timber supports, the pergola is topped with thatch roofing which allows sunlight to gently trickle through during the daylight hours.
To tie in with the pavers, a sandstone block retaining wall was created along the side of the entertaining space. This enabled the creation of garden beds and an additional seating area. A charcoal granite-clad wall was introduced as a feature to bring depth and substance into the space. Above the stone wall, a horizontal timber panel was added for privacy from neighbours and used to complement the architectural style of the house.
To create natural breaks between the solid paved surfaces, various natural gravels were employed with feature pots acting as focal points.
"The family wanted every moment spent in the garden to be about relaxation and enjoyment, so having low maintenance plants that would look striking all year round was a must," says Renai.
Hardy water-wise plants with strong architectural qualities were chosen, including agaves, yuccas and cycads, along with bamboo to create areas of interest. To soften the dramatic effect and add splashes of colour, grass-like plants and corydlines were introduced.
Subtle stylish lighting throughout the garden adds warmth and depth. Of special note is the up-lighting incorporated into the sandstone garden beds which creates a beautiful effect when the soft leafed bamboo casts shadows against the stone cladding.
The combination of timber and stone gives the garden a real sense of permeance while the exterior lighting scheme enhances the wonderful natural feel at night, contributing the laid-back resort-style feel the family were after. The result is a secure space for the children, complete with a lush lawn of drought-hardy Greenlees Park couch, and a place where the adults can escape.