This reinvigorated garden pays homage to the formal while embracing the modern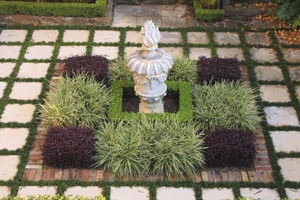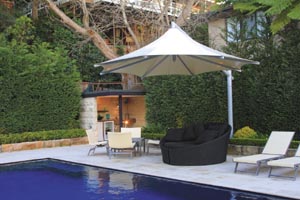 By cleverly combining formal design elements with contemporary design ideas, Urban Escape Landscape Contractors breathed new life into a tired garden that was fading fast.
Rejuvenating the lifeless outdoor spaces was just one of several boxes Urban Escape needed to tick, however. They also needed to forge a closer connection between the various areas so each flowed seamlessly into the next, create appealing spaces for outdoor entertaining, and renovate the dated pool so it once again became a social hub for outdoor activities.
With its clean lines, evergreen plants and sense of symmetry, the garden design gives expression to its formal influences. The formal flourishes contribute a feeling of serenity, with the centrepiece of the design the parterre garden on the lower level. Boasting an urn of classical design as a focal point, the pavers have been laid in a traditional grid pattern and then surrounded by planting that is structured without being rigid. The result is a delightful tableau that can be enjoyed from the pool, the cabana or from the various levels of the house.
The contemporary touches are most evident around the pool, with its honed Himalayan sandstone paving, semi-frameless glass fencing and modern poolside furniture. The cabana is also equipped with everything the modern family needs to entertain outdoors.
To define each outdoor room and screen for privacy, Urban Escape used a limited mix of evergreen plants that are right at home in a formal garden — English box, murraya and conifers. To provide an invigorating splash of colour there is ruby leaf alternanthera and variegated liriope, while to soften the hard hedges and create a sense of abundance there are palms, giant liriope and acanthus.
This garden is also an excellent example of how you can have a lush garden even during water restrictions. By installing a drip irrigation system fed by rainwater tanks, Urban Escape has given the owners of this Sydney home a stunning garden that has been built to last.