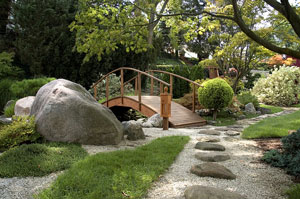 Everything you need to create your very own backyard Balinese sanctuary

Anyone who has ventured to Bali knows that you cannot help but be inspired by the lush tropical gardens, the charming Alang Alang (thatch) gazebos, the amazing outdoor furniture, the exquisite carved stone statues and the beautiful water features.
So what happens when you take each of these elements and place them in your own backyard? You get your own personal Balinese sanctuary — just like the one showcased here.
Everything in this garden, barring the plants, comes from Bali House & Garden, located in the outer Sydney suburb of Sydney. In their massive 60sqm showroom you will find a complete range of Balinese furniture, décor and shade structures – in short, if it's made in Bali, they will have it.
If you need outdoor lighting, tiles or pebbles, they have them. They also have Balinese artwork, wall hangings and a range of furniture and wooden statues for indoor use.
Bali House & Garden is owned by Coleen and John Biondich. After their first trip to Bali, they set about creating their own backyard Balinese retreat, which is the garden featured on this page. "On a summer's day we sit under our gazebo and enjoy being 10 degrees cooler, thanks to the Alang Alang thatching," says Coleen. "And with the water features running and the lush tropical plants surrounding us we always feel like we are on holiday.
"It has taken us a few years to complete the garden and watching it transform from a blank canvas to a Balinese haven has been a wonderful experience. To achieve a backyard transformation of your own all you need to so is call in to our showroom and talk to our helpful staff. "
Bali House & Garden is open seven days a week and is easy to find — it's just a one-minute drive off the M5 Motorway after taking the Ingleburn Exit. They also have Certegy Ezi-Pay. This no-interest ever direct-debit payment system means all you need to do is put down a 25 per cent deposit and then you can stagger your payments over a six, 12, 18 or 24 month period.
BALI HOUSE & GARDEN
Corner Williamson and Stennet Roads
Ingleburn NSW 2565
(Located in the VP service station units) 
Tel: (02) 9618 1146
Email: sales@balihousegarden.com.au
Website: www.balihousegarden.com.au