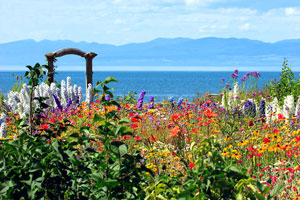 An easy to love rooftop garden for a tough coastal location
Serving as the home's main entrance, this compact garden is actually a converted garage rooftop. Oriented to capture ocean views, it takes what was previously an unsightly, unused space and turns it into a place of contemplation.
From the rectilinear concrete feature planters to the metallic grey galvanised-steel balustrades, this elevated garden relies on clean lines and a restrained colour palette to give it a modern look. To temper the hard edges of the contemporary design, reclaimed wharf timber was used to edge the water feature and construct a day lounge.
Soft and hard landscaping materials were chosen with the exposed coastal conditions in mind, in particular the salt-laden breezes and intense summer heat. The subtle charcoal-coloured Botannix pavers are especially hard-wearing and work beautifully with the velvety grey-green foliage of the Metrosideros 'Tahiti' hedging. This easy-to-shape, compact evergreen produces orange-red blooms in spring and summer and serves as a very effective privacy screen and windbreak.
Throughout, plants were selected as much for their drought tolerance and ability to thrive in a punishing coastal location as they were for their striking foliage and flowers. In addition to the Metrosideros 'Tahiti' you'll discover New Zealand flax, chosen for its strappy leaf form and colour; gymea lilly (Doryanthes excelsa), included for its blade-like leaves and towering flower spike; and kangaroo paws (Anigozanthos), favoured for their spiky foliage, unusual flowers and furry texture.