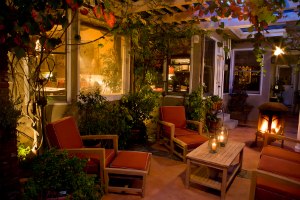 The aim of garden-effect lighting is to sculpt a beautiful night scene where trees glow, fountains sparkle, and paths are bathed in a subtle, natural light.But in most cases, developing an outdoor lighting scheme is not just about accenting garden features and creating a natural ambience, there are also serious safety and security concerns to consider, as well as myriad practical matters.According to David Matthews of Luminance Night Gardens, the first step is to create a sketch of your landscape – including paths, steps, walls, planting, statuary, water features, etc – to determine where the focal points will be.
The next step is to think about which areas need effect lighting only and which need to be lit for safety reasons.A professional lighting designer can prepare a design drawing, which will contain precise information about the quantity and location of all lighting components. This plan can then be used by the installing contractor and as an ongoing maintenance document, says David.Such a plan would show the landscape layout and indicate light fitting locations, lamp type and wattage, transformer locations and sizes, switching locations and circuits, plus installation notes. It would also include a low-voltage circuit diagram indicating cable sizes.
Creating the desired ambience
Amander Flaherty and Glenn McGrath from Light on Landscape work closely with designers to establish not only a sense of intimacy between interior and exterior spaces, but also a sense of fun and theatre.Amander and Glenn believe a garden should encompass a range of qualities, from the meditative – enticing you to sit outside and read a book, to the social – having friends over for dinner under the stars. "It's important to be able to get home and have that release at the end of your day," says Amander.Through the careful highlighting of textures and decorative elements, Amander and Glenn can bring a garden to life, but as each garden and homeowner is different, they take their clients' preferences into account. One may have a favourite tree, another a beloved antique light fitting they want featured. And because they believe that a well-lit garden should lift your spirits, they always incorporate the principles of light therapy when designing.
Types of lighting

Outdoor lighting falls into one of two broad categories: decorative or hidden. Decorative lights form part of the architecture and are meant to be seen both day and night. Hidden fixtures are often used where the aim of the lighting is purely functional, such as lighting an entry. An example of the latter would be downlights hidden in the eaves to provide back door lighting, or perhaps walkway lighting provided by lights discreetly positioned in trees.
Below is a list of some of the most common types of outdoor lighting:
UPLIGHTS
These create a dramatic effect by lighting trees, statues, wall-mounted water features and the like from beneath. Surrounding areas are washed in a peripheral glow.
DOWNLIGHTS
These reveal the texture of the surface that is bathed in its light, as well as highlighting a specific object. They can also be used in trees to create a dappled effect on paving or lawn.

WALL-MOUNTED
Such fixtures are usually placed at eye level, which is why you need to avoid using overly bright, disorienting lights. To ensure a wash of diffused light, translucent panels (eg frosted or sandblasted) are recommended.
BOLLARDS
These are low-standing lights (up to a metre high) with a light source on top, which may be louvred or open. These are useful for lighting pathways or entries.
POLE TOPS
Sometimes up to 2.5 metres tall, they are used mainly for lighting paths and driveways. Styles range from traditional coach lights to modern, plain spheres.
SPOTLIGHTS
These are most often used to highlight large architectural features, garden statues and special trees.
UNDERWATER LIGHTS
Submersible lights can be placed in a pond, water feature, pool or spa to create a variety of night-time effects and alert visitors about a potential danger. If you are feeling in the mood for a little fun or want to create a special effect for a special occasion, use a weatherproof string-light system to outline the edges of paths or to interweave through the branches or trees and shrubs. Or you might prefer a series of lanterns (either hanging or standing) with translucent glass to mask the bulb. For a non-electricity powered option, you can always use garden flares, Chinese or Japanese stone lanterns, or groupings of candles.
Planning for success

The key to an effective lighting scheme is restraint. Outdoor lighting is most effective when used to accent rather than overwhelm. As David Matthews says: "Garden lighting is an area where more is definitely not better. It is the garden and its design that is the star feature, not the lighting. The object of the lighting is to accentuate the features of the garden and make it safe to traverse, not to try and turn night into day."The light fitting and lamp must also be appropriate to the job at hand. A wall-mounted light may be effective for illuminating an entrance, but it is inappropriate for feature lighting. And while floodlighting may make your pool a safer place to swim at night, it will make plants look washed out.The wider the field of light you want to cast, the higher you need to place the fitting. If illuminating a path, for example, you need to consider whether you want to simply light the walkway or the planted borders to either side as well.And of course, there are all manner of technical considerations. For example, the further away a light fitting is from the transformer and the more lights installed in between, the greater the possibility of a voltage drop, that is, a drop in the amount of light emitted. And to provide for your future needs, it might be a good idea to buy a bigger transformer than you currently need and to leave some extra wire when the lights are initially hooked up.
This is also the time to consider switching control devices, which range from manual wall systems to daylight sensors to remote control systems with handsets and dimming capabilities. For safety reasons, consider infrared movement sensors that turn on automatically when wanted and unwanted visitors approach. And don't forget those all-important finishing touches – coloured filters, frosted lenses, anti-glare devices and the like. Coloured filters should be used with care in the garden as they can cause plants to look sickly or unnatural. However a blue filter on an underwater light can make the water look very fresh. This is an area where it's best to get some expert advice.