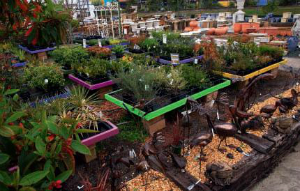 Search no more — here's a garden store that truly does it all

City Garden and Aquarium is an exciting addition to the gardening scene. The retail arm of Menduni Garden Artistry, an Australian-owned company that has been in the garden décor and aquarium industries for more than 30 years, City Garden and Aquarium has everything you could think of for your landscape.
With one of the largest product ranges in Australia, this is your one-stop shop for almost everything one could want in their garden. Make sure you leave yourself plenty of time to browse the plethora of products, which ranges from plants and birdbaths to gazebos, reptile accessories and even fish.
If, however, you have a pond or are considering installing one, drop into the store and check out its range of pond-related items including pumps, fish food, filters, clarifiers, heaters and chillers from such trusted brands as Hikari, Sera, Aqua One and Eheim.
If you want to bring a water element into your landscape minus the fish, City Garden and Aquarium can accommodate. And there are a few good reasons to include one in your garden — for example, the sound of trickling water is so soothing and relaxing and a feature can become a focal point within the landscape while screening the noise of traffic beyond your property's boundaries. From fountains and water features to aquariums and ponds, the store has you covered.
When it comes to statuary, you must check out City Garden and Aquarium's unique range. There are mystical creatures — including part-man part-beast — and a host of other poly resin sculptures.
For those who need it, there are lightweight versions of selected products available for short-term hire that can be used for photo shoots, weddings, films and garden parties.
And if there's something in particular you have in mind but can't find it in stock, be sure to let the friendly sales team know, as City Garden and Aquarium offers a mould-making and design service capable of reproducing almost any item of garden décor.