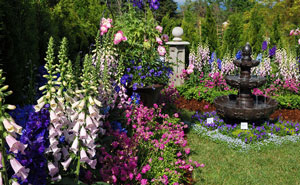 Garden DesignFest, a weekend-long garden design showcase, makes its much anticipated return

Following on from the great success of the first two Garden DesignFests, held in 2004 and 2006, some of Melbourne's most innovative and interesting gardens will open to the public for Garden DesignFest 2008.
To be held on Saturday and Sunday, November 15 and 16, this weekend festival will showcase the work of more than 20 of Melbourne's most notable garden designers and provide lovers of good design and gardens alike with an opportunity to meet the professionals behind these gardens.
Organised by the Rotary Club of Kew (Inc) under the Chairmanship of John Patrick, landscape architect and presenter of the television show Gardening Australia, Garden DesignFest is also a charitable endeavour with all funds raised going to selected local and international charities.
All gardens will be open from 10am to 4.30pm each day with refreshments available at selected gardens. A single entry ticket will cost $5 while $25 will buy you entry to all gardens and a colour booklet covering all of the gardens on display. Tickets will be available via the Garden DesignFest website prior to the event or at any of the garden gates on the open days.
Guided bus tours of the gardens will be available (check the website for details), some of which are shown on these pages.
For more information about Garden DesignFest, visit: www.gardendesignfest.com