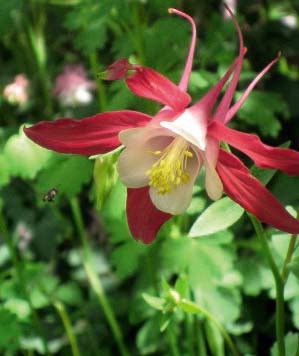 Columbine flowers, also known as Aquilegias or by their more common name of Granny's Bonnets, seem to have disappeared from most gardens over recent years. This may be due to people thinking of them as high maintenance or hard to grow, but these dainty flowers borne on the ends of long, slender stems are very simple to propagate and make a wonderful display in the garden. In fact, if they are not deadheaded regularly they may fill your garden as they self-seed readily and removing them may become a bit of a job.
 Some may consider the Aquilegia old-fashioned; however, one look at the colours available in the columbine range will make you think again. From whites, creams, pinks, red and yellows through to blues, purples and combinations, this member of the Ranunculaceae family can have a place in most gardens. There are single- and doubleflowering varieties and the short nectar spurs on the back of some of the flower heads make an interesting feature. Perhaps it's just that columbines have just been forgotten about or have not been discovered by gardeners before. Whatever the reason, why not look at growing some of them for a woodland or cottage garden? Or plant some in between rocks where other flowers may not grow to give the area some colour.
Columbines are herbaceous perennials and will come back each year, but it's still a good idea to try to collect some seed from your preferred types, as the plants will not last forever and this way you could try to grow your favourites each year. I say "try" because you should bear in mind that there is a good chance they have been cross-pollinated by bees and other insects and this may affect the colour of the flowers formed from that seed. This may be a good thing, as you could get variations that appeal to you more than the original. Some gardeners actually trim columbines to the ground after the majority of blooms have been spent and then feed them in order to force them into a second, healthier flush of leaves and flowers.
A partly sunny spot is best for columbines, but they will do well in full-sun provided they are watered when they need it; well-drained soil is best. In some warmer areas, sowing seed in autumn and treating columbines as annuals is more successful than growing them as perennials, as their flowering may lessen each year. Sow from autumn through to early spring in temperate and cooler regions. Columbines grow to a height of about 60–70cm, so they can fill a space in the garden between taller plants at the back of the bed and smaller edging flowers at the front. Protect young seedlings from snails if sowing direct or start them indoors in punnets and transplant them when they are larger. Caterpillars and aphids may also attack young plants, so always be vigilant. When they reach a decent size, they are not prone to many pests at all.
There's evidence that the leaves and seeds can be toxic, so wearing gloves when sowing seed, deadheading or removing spent plants is advised. As well as bees and other beneficial insects, columbines also attract any nectar-eating birds that may reside in your area, so plant some around a water feature or bird bath and you may fill your garden with wildlife in the warmer months.
It can take up to two years for some species to flower from seed, so dividing the root clump may be a faster way to propagate more plants from the ones you already have or from an obliging friend or neighbour. If in doubt, it's always a good idea to check with a nurseryman or expert before attempting this rather than risk killing a favourite plant.
Some columbines to look for include Nora Barlow, with its beautiful, soft pink and green colouring or Roman Bronze, which has goldcoloured leaves and dark purple flowers. William Guinness is a very dark brown and white variety more commonly known as the Magpie Columbine because of its colouring.
Other names include Crimson Star (red and white), Green Apples (lime fading to cream), Oranges and Lemons (shades of orange and yellow), Snow Queen (white) and Black Barlow, which has dark purple almost black blooms.
There are also dwarf varieties that only grow to about 30cm or less including Nana (red and white), Corbett's (yellow) and Calimero (burgundy and yellow). These smaller versions would look great in a rockery setting or at the front of a garden bed with larger columbines planted behind.
With the variety of colours available and the ease in which they grow, why not plant some columbines in your garden this season? You may help gardeners to rediscover these oncecommon flowers or introduce them to a whole new generation of green thumbs. Either way, you are sure to benefit from having a display of them around your home.