Planning a swimming pool design can be a breeze if you follow these simple guidelines.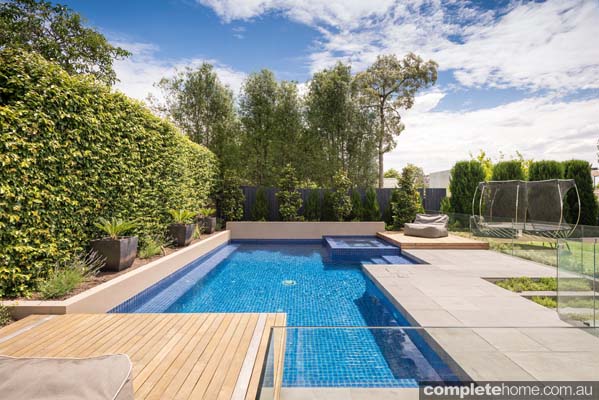 When designing a pool you need to take the whole garden into consideration. Photo courtesy of Aloha Pools.
When you build a swimming pool in your backyard, you'll wonder how you ever got by without one. On scorching hot days, a quick dip is an instant way to feel refreshed. They're also great for exercise, for summer pool parties and family get-togethers. There are endless uses for your pool, to not only help you keep your cool but to entertain with style.
Because your swimming pool can quickly become a pivotal point for entertaining, designing it to artfully integrate with adjacent covered spaces will help to maximise its use, even in the cooler months of the year.
The addition of a poolside cabana or pavilion to accommodate guests makes the pool area more conducive to entertaining. You can take an afternoon snooze on a cabana daybed after doing some laps, or lounge about comfortably with friends catching up on the gossip while the little ones are splashing about nearby.
Pool location, location
To maximise its use, your pool needs to be in the right location. David Haythorne, Managing Director of Integrated Pools, says a well-positioned swimming pool can be viewed from the main living areas of the home, so you can enjoy it all year round. It should also be orientated so your outdoor entertaining areas flow into it.
"A good idea is to position a cabana or pavilion a little higher than the water level so when you are seated, you're looking out over the water," he says. "If you have timber decking you can even structure it so the decking projects out over the pool creating a pier like effect."
Attention to surrounding landscaped areas around the pool and pavilion areas also helps to integrate the spaces and makes it more appealing, he adds.
"If you have a flat block, integrate different levels. For example, you might step up to the pool at the same level as the house, if you add raised garden beds, you give some form to the backyard," he says.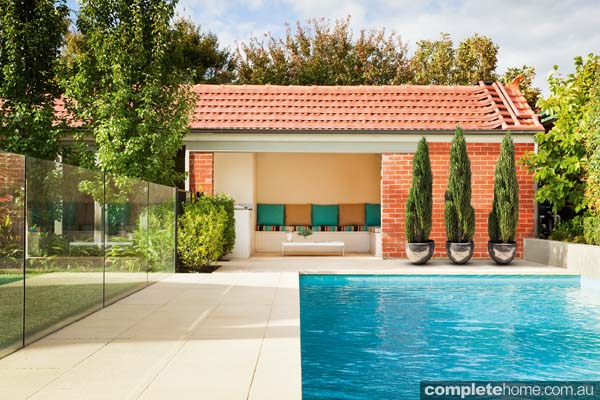 A cabana will turn your pool area into your home's entertaining hub and heating your pool will extend its use. Pictured (roof), the Venetian Solar System from Boss Solar Solutions.
Maximum enjoyment
There are many ways you can appreciate your pool all year round; with the clever use of pool and cabana lighting. During the day, if the swimming pool has a water fall or deck jets, it becomes a shimmering water feature. At night, pool and cabana lighting can illuminate selected plants in the gardens and surrounds adding soft warmth. With adjustable mood lighting, the flick of a switch converts your poolside cabana into a romantic place for dinner for two, or cranks up the vibe to an energetic party atmosphere.
The finishing touches in furniture and decor to your cabana are important. You can create virtually any look you choose – the key elements are comfort and ease of entertaining so it becomes an inviting space for you and your guests.
Try grouping occasional chairs together in a conversation corner with side tables, position a modular lounge to look out over the sparkling pool, and a cosy swinging egg chair the kids will love. For the family, include a table and chairs to dine alfresco style. And for when guests pop over, a bar fridge, so there's no need to go inside if you need a cool drink, or if your budget allows, even a wet bar.
Create for comfort
When the weather starts to cool, an outdoor heater or fire around the pool is a must. The crisp crackle of logs on the fire and the warmth of burning embers create a welcoming ambience on chilly nights. Patio gas heaters or heat strip heaters can also keep you toasty warm.
If you install bi-fold doors, you can open them up fully on hot summer nights to allow cooling breezes to gently flow through your cabana, while you sizzle a steak on the barbecue. Closing cabana doors in the midst of winter retains heat, while you can sit inside, warm and cosy. Perhaps you can even share a delicious wood-fired pizza and a glass of wine!
"Add a big screen television and you've got another lounge area – perfect for watching the football and cricket, no matter how chilly it is outside," says David.
Install showers and a toilet and you have a self-contained space. Post-summer swim, kids can changed in the cabana instead of stomping wet feet through the house. But according to David that's only the beginning. "During the winter months of the year the cabana can become a teenage retreat; those bi-fold doors will come in handy to keep the noise in," he says.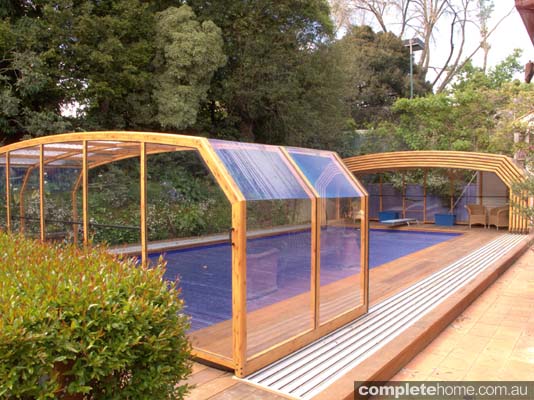 A retractable pool enclosure from The Pool Enclosure Company.
Pool enclosures
There are many different types of enclosures to help you keep snug around your pool any time of the year. James Hutchins, Managing Director of The Pool Enclosure Company, says there are also enclosures available that offer cosy warmth in winter and can be retracted back in summer. Some models are designed to enfold a larger open pergola by using a nearby existing wall. When the weather warms up, just retract them as desired. Special permits are not required in most cases, says James.
To make the most of your swim time, building an enclosed pool in your home is one idea. However, that can be a costly exercise, as that can also mean the associated costs of extending your home. With an indoor pool, you'll have protection from UV rays during the summer months as well however, an indoor pool doesn't allow you to appreciate and immerse yourself in the luxurious weather and outdoor lifestyle that is very much part of the Australian way of living.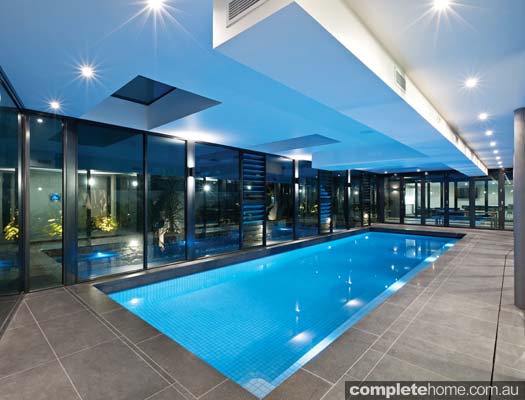 This indoor pool, designed by Natural Pools, affords maximum privacy and full protection from the weather.
Heat things up
With the changing seasons, sizzling summer days do eventually become cool autumn afternoons. Heating your pool extends swim time and keeps goosebumps at bay. Taking a dip in a chilly autumn afternoon might appeal to some, braving the chill in the dead of winter to a few— pool heating is a neat solution.
There are many ways you can heat your pool; with solar heating, pool blankets, heat pumps, motorised hard covers and roller covers. All of these have varying cost factors associated with their initial purchase and ongoing running costs.
Some people choose to heat only their outdoor spa, so they can still enjoy it all year round. "Even if the grown-ups shy away from the swimming pool in winter and just use the spa, the kids will definitely love thawing out in the spa and then jumping into the cool pool water," says David.
Or you can heat the pool just for special occasion get-togethers. If you have a party on a weekend, with a gas heater you can heat the water to a cosy temperature.
EXPERT TIP: Pool covers can reduce more than 75 per cent of ongoing costs. You don't need to heat your pool as much, or use as much gas or electricity, the covers save chemicals and you're minimising water evaporation.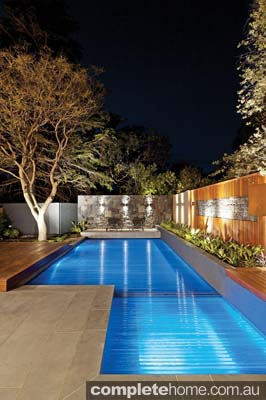 A swimming pool cover will help to keep the water at a warmer temperature as well keep leaves and debris out.
Eco-friendly pool tips
Install an energy-efficient pool pump. Slowing the speed of the pump will dramatically reduce the amount of power it uses. Remember, if you slow the flow rate, you will need to increase the running time. Ensure that this is configured correctly by checking in with your local pool shop or service guy.
Check with your local energy retailer if you are able to run your pool equipment on an off-peak tariff. There are different types of off-peak tariffs available. Select the one that caters for your ideal filtration times.
Pool covers and blankets reduce the amount of water and chemical loss from evaporation, and the amount of heat loss overnight if your pool is heated. There are many options if you think your pool will benefit from this. If you don't like the idea of putting one on and taking it off, consider using a liquid pool blanket.
Reduce heating costs of a heat pump or gas heater with a solar pool heating system. There are various types of glazed and unglazed systems. Consider the aspect and pitch of the roof, the amount of roof space available and the aesthetics of your home.
Source: Solaratherm
Poolside decks
Decking is definitely back as a pool surround choice and many modern pool designs integrate both pavers and timber decking for textural and colour contrast. Decking needs to drain well. If it's a shady area, dirt can build up and cause slippy fungal growth. Not to worry though: regular cleaning with a pressure cleaner can prevent this.
Decking is often combined with a coping paver but note that timbers with high tannin content, such as merbau, can cause staining on adjacent paving, compared to lower tannin timbers such as ironbark. You will need to use high-grade stainless-steel fastenings around a saltwater pool and if you stain the timber too dark it will be too hot to walk on.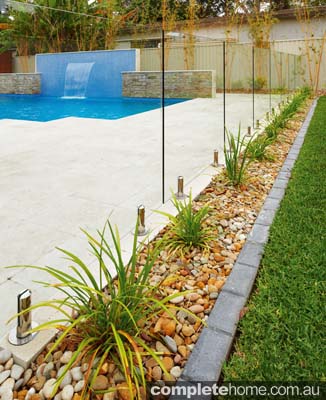 Frameless glass fencing is the modern choice and allows clear views. Photo courtesy of Insight Landscapes.
Fence sense
Pool fencing regulations are strict for a good reason; they do prevent children from drowning. The main requirements are usually a 1200mm-high isolation fence with gaps of a maximum 100mm between vertical members. Pool builders know your state's laws— they can't legally fill a pool until the fence is constructed.
Fences that don't block any view of the pool are the most popular, such as frameless glass as the least obtrusive (and most expensive), framed glass, vertical tensioned steel cable or powder-coated aluminium. If you need privacy screening or a solid back for your sitting space, look at incorporating bamboo reed, brush fencing, lapped timber or aluminium slats. You may also want a screening section of fencing to hide a pool blanket roller or the back of the compulsory safety sign.
By Carrol Baker
From Backyard & Garden Design Ideas magazine Vol. 11. No. 3