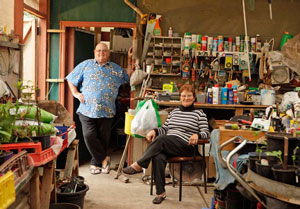 Singer-songwriter and dynamic entertainer, John St Peeters, also known as the virtuoso accordionist Johnny Lo Piccolo, talks about his Italian roots and homegrown garden
What were your goals growing up?
I wanted to be like Dad. He was in a band and started giving me music lessons when I was a kid. My goals were to be a successful musician/entertainer and those dreams all came true — and more.
How did you become a celebrity?
After numerous television appearances as a young kid playing the squeeze box, I knew I had done all the squeezing of the box I wanted to, so I gave myself another challenge and that was to become a singer/songwriter — a pop star! And after years of practising and performing, that dream came true. I wrote many hit songs, like So Many Ways, Deep Inside of Me, the theme song for Simon Townsend's Wonderworld and many many more. The biggest thrill of all, though, was making it on the biggest television music show that existed during those years — Countdown, hosted by Molly Meldrum. What a fantastic experience that was. From there on, I guess, I became a celebrity. I couldn't walk down the street or go shopping or even go to the movies without being approached. It was really tough! That was one of the main reasons why I got out of mainstream.
Where have you performed?
This wonderful dream has taken me all over the world over and over again, performing for prime ministers, presidents, the Pope, sheiks and, most importantly, the ordinary people of the world, who I'm ever so grateful to for their support throughout the years.
OK, enough of celebrity. Let's get serious now. Growing up, did your mum and dad have a vegie garden?
Yes, they did. Show me a wog … sorry, I mean an Italian, without a vegie garden and I'll shave my head — again. Mum and Dad had it all — tomatoes, lettuce, potatoes, peppers (hot ones, too). You name it, they grew it.
What do they grow now?
They don't have as much now but they still grow the most important things — tomatoes, potatoes etc — but my dad is still as crazy about his garden as ever. He has it caged over with mesh and a timber and steel framework to hold it all up. I must say, he grows some of the biggest and craziest-looking cucuzzas [squash] you could possibly imagine.
What is your opinion on organically grown compared with chemically grown?
Hey, Vasili. In your single days would you have gone out with a plastic, manufactured woman or the real thing? Definitely organic! As they say, organic always tastes better.
Do you and your family practise healthy eating?
Yes, we do. Very much so. And I still had a quadruple bypass! Can you please tell me why, Vasili? You're the man with all the answers …
Do you still enjoy the produce from Dad's garden and Mum's cooking?
I am still very involved in the world of show business and am on the road and touring a lot. So, when I'm home, my wife Teresa and I have personal chefs — my beautiful mother Giovanna and my beautiful mother-in-law Pina, who cook up a storm for us. How lucky are we?!
Do you see and taste the difference between homegrown and supermarket produce?
Yes, I do. Supermarket produce is always so tasteless compared to homegrown stuff. We don't have to add any seasoning to our food when it's homegrown 'cause it's bursting with flavour already.
What are your views on the environment?
The world is aware of the hole in the sky and everything else that goes with it. We all know what needs to be done to help; it's just a matter of time before we all start to take it more seriously and practise a better and more sustainable lifestyle. Piano accordion lessons for everyone! We all need to make changes in our lives to make this world a better place for our children. I now get up half an hour earlier to work out which colour bin needs to go out and what goes in it. It's all good. Life is beautiful.
What about educating your children on healthy gardening and eating?
It's very important that we educate kids today to eat the right foods that will help them grow strong and healthy in this fast world we live in. Not as many families have gardens nowadays or they have only very little space for a garden, and that's sad. But, looking on the brighter side, you can get dwarf varieties of every type of fruit and vegetable you want to grow. Just like us Sicilians and Calabrese — we might be short but we're packed full of flavour.
What changes would you make to help better their lives?
We should have healthier takeaway food places. Instead of the ones we have we should have McHealthy's and have all the young people in there shoving lettuce, cucumbers and all types of vegies in their mouths with the media promoting McHealthy's as a cool place to eat.
What should people be aware of when choosing fruit and veg from stores? Make sure they're not stuck together from being there for weeks and watch out for the tomato imposters; they think they're apples and try to hang around for weeks without rotting.
How do you think we can better the quality of fruit in retail stores?
We should all be growing it in our own garden then selling it to them daily! Seriously, though, we really should grow more of our own and buy less. Maybe this will educate them to provide better, healthier produce.