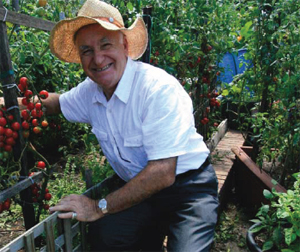 Hairdresser Nazzareno Minniti says no haircuts for the wild growing zucchinis in his backyard veggie patch.
Nazzareno Minniti and Josephine, his wife of 41 years, have lived in Epping for four decades and brought up four daughters there. Nazzareno has been a barber as long as he can remember, opening one of the first businesses in Epping. "I was a barber back then but now I'm known as a hairdresser, too, because I have a bit more style in my cut, which you have to have if you want to stay in business. No more back and sides only."
One would expect a barber's garden to be perfectly manicured with clean, straight lines throughout, wellmaintained vegies, tomato vines without a single shoot out of place and no zucchini plant daring to climb onto any other plant and risk a short back and sides for its trouble. That's not the reality of Nazzareno's garden, but who really cares what it looks like as long as it's producing lots of fresh, organic produce? Nazzareno admits to being passionate about his garden. He's out there at 6am every morning before heading off to work, then he's back again in the afternoon when he returns home, grabbing a beer in one hand and the secateurs in the other, wandering around the yard to do quick touch-ups.
Tomato plants grow happily throughout the garden with a few sides shoots running wild and the zucchini have taken over one side of the garden completely. "I say let the zucchini climb all over the plum tree and the beans take over the tomatoes if they want to — no more haircuts," says Nazzareno.
Maybe it's his home brew of liquefied chicken manure that's made everything grow so wild. Using a large plastic rubbish bin, Nazzareno adds one bag of chicken manure, or about 10kg, into the bin then fills it with water, leaves it to ferment for a couple of weeks, then dilutes it nine parts water to one part liquid manure. He waters his plants with the solution every two weeks.
Among all the madness of the vegie garden, there is a small section to the side where flowering plants grow. Josephine is less than impressed with his management regime in this part. "He never weeds, he never waters them and he never looks after my flowers — it doesn't matter what I say." And what does Nazzareno say? "Well, er, I do nothing here because you get nothing out of these. You know — there's nothing to eat. At least over there I get to eat something."
Nazzareno is rightly proud of his tomato plants, which produce more than 20 tomatoes to a bunch, causing them to hang low because of the weight. It's amazing what a bit of lateral thinking can do, though. Using horizontal and vertical timber staking, which in total stand only 1.5m high, Nazzareno grows the plants laterally with lots of thinning of the centres for good air circulation.
The local soil is relatively heavy so growing small vegetables can prove an impossible task if planted directly in the ground. To combat this problem, Nazzareno raised his garden beds about 400mm. This allows water to drain away freely without fear of root rot. "I had to do this because the soil is too hard and nothing grows. This way, it doesn't matter how much it rains, the plant drinks up what it needs and the rest goes away," he says.
Normally, cucumbers are grown either trained on round garden stakes or in a tangle up a trellis. Once again, Nazzareno has constructed something slightly different, using metal trellis formed in the shape of a cylinder and placed over the plant. So, as the plant grows, it hooks itself to the surrounding wire and grows in the shape of a bollard. This method requires little training or maintenance because it doesn't grow up in one clump but rather spreads around the wire frame, providing plenty of light through the centre of the plant, and it takes up less space in the garden.
Just to the right of the cucumbers Nazzareno has grafted an eggplant and a tomato onto the one solanum rootstock, which is quite possible but not common. Having them growing on the one base is a great achievement and they were producing prolifically as well.
It has to be said that Nazzareno's plants weren't the best-looking, but they sure were some of the tastiest. At the end of the day, it really doesn't matter how it looks on the outside; it's what's on the inside that counts. And talk about nothing going to waste. Even the old dunny bowl got a second lease on life. It now resides outside, next to the vegie patch, with some blooming beauties growing straight out of it.