A stunning fusion of contemporary and traditional landscape design by Ecodesign.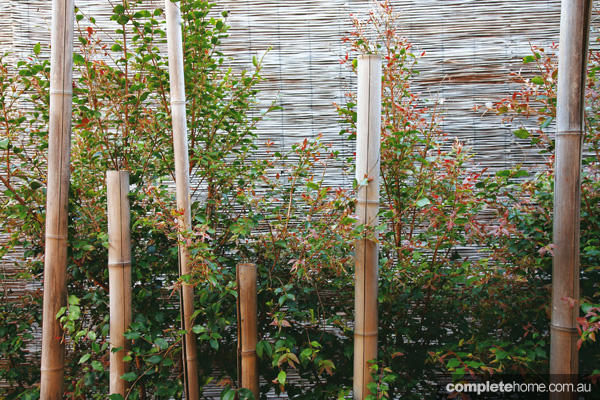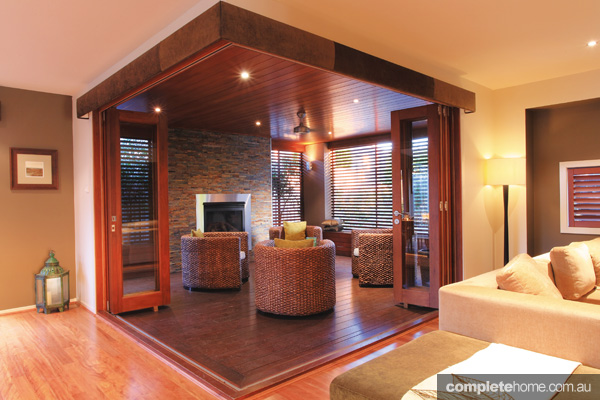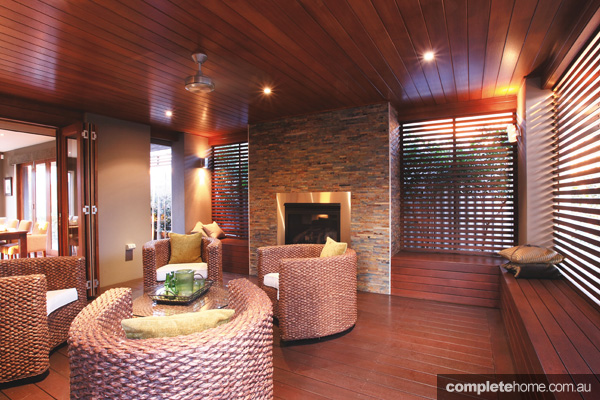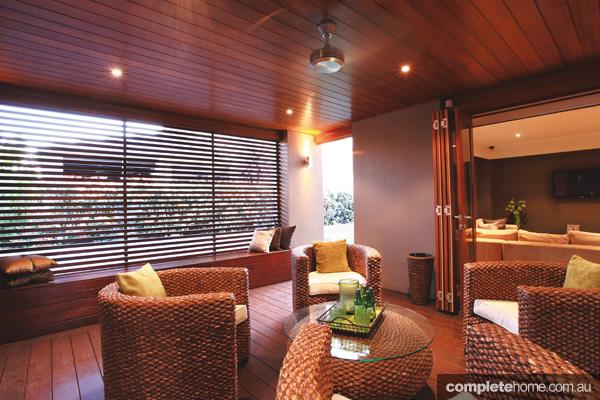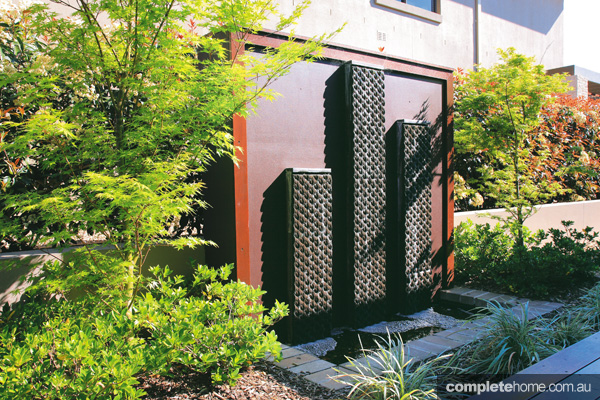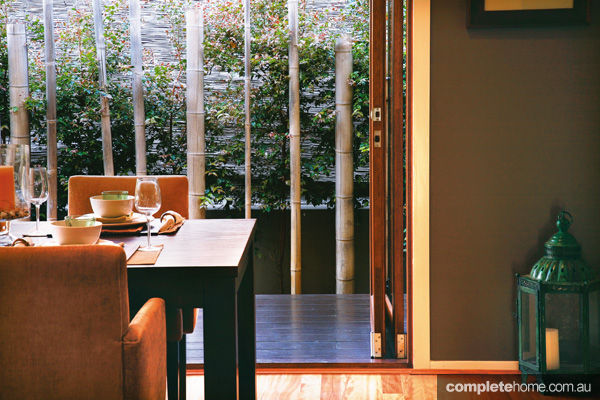 Although this noteworthy outdoor room is impressive in its own right, it's actually one of five adjoined display home residences in Kellyville. Ecodesign, which was commissioned by Metricon Homes, sought to make an impression on the Sydney market with its New South Wales flagship display dwellings.
Metricon Homes sought to embody a new and innovative take on the outdoor room with Ecodesign's main brief: to ensure the landscape presented as a continuous extension of the interior finishes, with themes and colours reflecting the architecture of each home.
The design was styled to complement the contemporary façade of the home, which utilised light-brown and natural stone colours. The enclosed outdoor sitting room with inbuilt seating and the outdoor fireplace and ceiling fans provide a comfortable and stylish sitting and entertaining area perfect for any time of year. The rich appearance of the 130mm-wide hardwood timber decking boards paired with the lighting effects of the halogen downlights creates a warm and welcoming atmosphere. The double bi-fold doors that link the outdoor and indoor areas provide practicality as well as good looks, making the transition from outdoors to in a seamless one.
The garden layout sought to provide a modern take on the traditional suburban garden. Plants were selected for their bold deep greens and coppery bronze foliage attributes. Red was an underlying colour theme Ecodesign sought to accentuate through plant selection. Varieties such as the Japanese maple, Austromyrtus Aurora, Gardenia Florida, stripey white mondo grass, Aspidistra, Buxus, Cyperus, Dietes robinsoniana, Grevillea prostrate gold, Grevillea scarlet sprite, Leucadendron "Red Devil", Yuccas, Viburnum "Emerald Lustre", Aussie Southern Lilly Pilly, Chinese Elm and Banksia integrifolia have been utilised to stunning effect.
Another important element in the design was to create an accessible space that also provided privacy by discreetly blocking the views into and out of neighbouring properties. Feature screening of randomly sized bamboo poles, screen hedging and nature reed cladding to the fence adjacent to an outdoor dining area provide textured finishes that enhance the overall design, while providing inhabitants with privacy. A focal point of the design not to be forgotten is the eye-catching wall-mounted water feature that also acts as a screening wall.
The overall design style centred around a contemporary look that also replicated a more traditional layout, with structural screening plants and foliage with blue/grey attributes used as feature accent plantings.
FOR MORE INFORMATION
Landscape design by Ecodesign Pty Ltd (Construction by Metricon Homes)
Unit 61, 5 Gladstone Ave, Castle Hill NSW 2154
Phone 02 9680 7712
Email info@ecodesign.com.au
Website ecodesign.com.au
Originally from Outdoor Rooms magazine, Volume 11