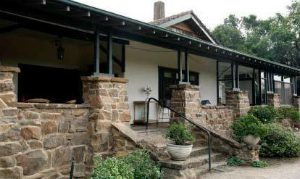 "Another thing I like to do is sit back and take in nature. To look at the birds and listen to their singing." (Larry Wilcox)
After hibernating most of winter and slowly shifting outside during spring, summer is finally here and the time is right to spend as much time as possible outdoors. Making the most of the Australian sunshine is something we have done since childhood — whether days spent at the beach, barbecues, fishing, bushwalking or picnics, the outdoors was the place to be.
As everyone works longer and more intensely, finding time to venture outdoors can be a challenge. The answer lies in making our own home our haven and in creating an outdoor oasis on our own verandah.
Longer days, coupled with daylight savings, means this is the time of the year that the verandah comes into its own. It's not just somewhere to hang beach towels to dry or a place to park pushbikes, it's the perfect place to sit in the shade and rest, read or just watch the world go by — and to eat.
Why not use your verandah to enjoy breakfast with your family if you have not done it before? You may even be able to set the table the night before or put out plates, bowls and cups while the kettle boils and toast cooks. Organising to have the morning newspaper delivered so you can catch up with current events as you watch the sun rise may just top it all off.
Lunch can be a relaxed affair held undercover and out of the harshest sun of the day. It's a chance to invite friends over for a leisurely meal while making the most of the summer weather. Dinner can be as formal or casual as you like — for example, a barbecue with the neighbours or a baked dinner with family. A few citronel a candles will help keep the mosquitoes at bay and tablecloths, good china and a few flowers will make the atmosphere complete. If during the week is too hectic, aim for making this a Friday night special as a reward for a week's hard work. If your kids are on school holidays, get out the board games or teach them a card game or two — all in the relaxed comfort of your verandah.
The verandah is wonderful for younger children; they can stretch their wings just a little, experiencing a taste of independence, while remaining close to the safety of home. What if you don't have an open verandah? Don't despair. In fact, an enclosed verandah allows it to be useful during the cooler months of the year as well. If it has glass windows that catch the sun through autumn and winter to warm the room, it's a usable space all year round and, because it is not susceptible to the extremes in weather, it can be left fully furnished.
Open verandahs should have furnishings that can survive the elements and be washed down or cleaned easily. If your verandah cops the full force of the sun during the day, it may benefit from attractive adjustable blinds.
Decorating your verandah is very much a matter of taste. Avid gardeners will no doubt choose to fill theirs with potted plants, hanging baskets and old gardening pieces such as galvanised watering cans or a bird cage. You could also use the verandah to indulge a theme or passion that would be too overbearing in the house, such as an American theme or to showcase a collection such as birdhouses or teapots.
No matter how you choose to decorate, paying some attention to storage is a good idea. Somewhere to leave rubber boots, raincoats and umbrellas comes in handy throughout the year. Seating is also an element that deserves ample consideration. How nice to be able to entertain unexpected visitors by offering them a comfortable seat and bring the teapot and cups outside to them.
Seating itself can be a wonderful old church pew, a few vintage school chairs or an old flattopped chest with a padded cushion on top. It's perfect as not only seating but also for storage of garden tools or kids' toys — and cushions can be thrown in it if rain seems imminent. Cane tables and chairs stand up to weather extremes well and a stylish wrought-iron grouping painted to match your outdoor décor will add a touch of class to most verandahs.
If the view from your verandah is less than pleasing, it doesn't mean the verandah is offlimits; it just means you will need to come up with some clever solutions. While there may be nothing you can do to move any unsightly buildings or other structures that are visible from your verandah, you may be able to use a front garden to mask them. Planting an attractive, fast-growing shrub or tree in the middle of your yard may block
Five Decorating schemes for the verandah
Garden schemes are particularly suited to this space — think plants, watering cans and birdhouses.

Beachside themes work great for coastal verandahs — try jars of shells and sea glass, decorative lighthouses and life buoys and lashings of timber and blue paint.

Monochromatic colour schemes will unite a variety of elements — by limiting your colour palette, items are automatically linked. Try neutral creams/whites, all pink, all blue or sunny yellow schemes.

Australiana schemes allow you to show your patriotism — combine corrugated planters with native species, add in cushions or tablecloths made from Aussie flags and a rustic timber miners' settle, and you're all set.

French-style schemes will enchant your inner Francophile — think pink and black, chic cushions, cafe street scenes on coasters and placemats and perhaps even a wire Eiffel Tower on a side table. Ooh la la.