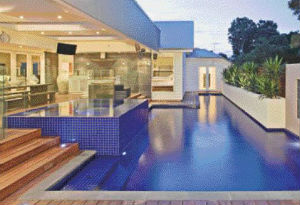 Enjoy the luxury of a spa in your outdoor room and indulge in the ultimate in relaxation
Words: Natalie Raad
There's something truly mesmerising about water. Whether it's a decorative feature with a soothing trickle or a crystal-clear plunge pool, water can transform an outdoor space and give it that special, atmospheric touch.
Depending on the size of your outdoor room, a full swimming pool may not always be possible. A good alternative, though, is a spa. Not only does it fulfil the requirement of bringing the element of water into your outdoor room, a spa has long been considered a luxury item and its inclusion will only add further appeal to your outdoor space.
Compact and low-maintenance, spas can fit into the smallest spaces, allowing the rest of your outdoor room to be used for other things. If you already have a pool in your outdoor room, integrating a spa into it will only enhance the overall experience of water in your outdoor setting.
Spas can serve many purposes, the most obvious being relaxation. And in the outdoors, there's something even more special about relaxing in a spa with lush greenery all around and the stars above. Spas are also hospitable — imagine entertaining friends outdoors, with cocktails and drinks in the spa, while you fire up the barbecue for a light lunch. And for the more energetic among us, there are spa versions that promote exercise, such as a swim spa.
No matter what size your outdoor room is, you'll find a spa to suit your space and style. A spa can be effectively installed in an existing area, such as a deck, or a setting can be made specifically for it, such as a gazebo. In this way, the area becomes multi-purpose and creates interest in the landscape.
If your outdoor room is perched high on a balcony, you can still enjoy the luxury of a spa. Provided you have enough room, a portable spa can be installed — and you can take it with you when you move. A concrete spa is a permanent fixture and is only possible if the balcony is yet to be built and is properly engineered.
In addition to the relaxation and entertaining qualities of spas, there is further appeal in their year-round useability. Whether it's a balmy summer's night or a cool winter's evening, you can unwind in your spa after a busy day, or entertain your friends; it offers both flexibility and relaxation.
The marketplace is filled with different kinds of spas — freestanding, above-ground, in-ground, custom-designed, concrete, swim spas, hot tubs and more — so how do you find out which is the best option for you?
An important consideration is how many people you would like to seat in the spa. A four- to six-person tub is the most popular, catering for both family use and entertaining. You can buy larger models if you want.
Next, consider how you will use the spa. Will it be every week or just for the occasional indulgence. If the latter is the case, you may not need to spend a large amount for a fancy model. Instead, opt for something comfortable, efficient and modestly priced. However, if you have a large family or think you'll be spending a lot of time in it, a high-end model could be worth the investment.
Some high-end spas come equipped with digital or LED lighting, sound systems, flat-screen televisions and even DVD players, as well as all the usual features you find in a normal spa. Although these models are expensive, they offer the ultimate indulgence. When choosing a spa, also look for features such as a large footwell so people can sit and stand comfortably, as well as seating of different depths, headrests and lumbar support.
While size, shape and budget are major considerations, there are other things you need to factor in. For example, if you're going for a portable above-ground spa do you have the right surface to place it on? Portable spas need a foundation surface such as paving, decking or concrete. There are, however, spas designed so they can be placed on any level, firm surface as their base is made from rolled fibreglass.
Portable spas are great if you want to give your outdoor room flexibility. They can be relocated as you see fit, giving you more control over the configuration of your outdoor room. With a portable spa, remember that you'll need a means of getting in and out of it with ease. Some come with matching steps or you can build a tiered deck around it that doubles as a means of access and somewhere to sit.
For a more streamlined, less intrusive look, you can opt for an in-ground spa (typically placed somewhere in an outdoor room and sunk into a concrete pit) or one that is set below a deck attached to the house so it gives the look of being in-ground. Swim spas, which feature jets against which you can swim to get a good workout, are often placed below ground as they are generally larger than the average spa.
Another option is a timber hot tub. Look for one made of finest-grade western red cedar (which is a natural insulator, helping to keep the water hot for longer) where the waterproof seal is achieved using the ancient art of cooperage (barrel making), which allows the natural absorption of the water to form the seal.
If the spa isn't on a covered deck or beneath a shady pergola in your outdoor room, you might want to provide some form of protection from the sun. This could be a simple, space-saving cantilevered umbrella, a shade sail or a little thatched hut over the top of the spa, giving it a resort feel.
For a spa to form part of your outdoor room, in particular an above-ground type, consider grouping potted plants to the sides. Also look for a company that offers a choice of spa shell colours or outer cladding so you can match the spa to your outdoor room and any nearby landscaping structures and elements. You can even get above-ground spas that have a bar shelf integrated into one side so you can really turn the spa into an entertaining hub.
Safety is obviously a concern, especially when children are around. The water temperature shouldn't be more than 40°C (35–38°C is recommended) and in some instances a safety fence and gate may be necessary. A spa cover is always recommended. This keeps children, pets and debris out, which leads us to the subject of maintenance.
While you'll still need to clean your spa and add chemicals for sanitation, the effort and cost involved in maintaining a spa is less than that required to look after a pool, so even if the size of your outdoor room is not a problem, a spa can still be a very good idea.
SPA SAFETY
• Water temperature should be 35–38°C and no more than 40°C.
• A safety fence or gate is recommended, especially if children will be around.
• A spa cover is always recommended to keep children, pets and debris out.
• For above-ground spas, ensure there is a means of getting in and out of the spa safely.
• Some form of protection from the sun is required, such as a pergola, covered deck, cantilevered umbrella or shade sail.