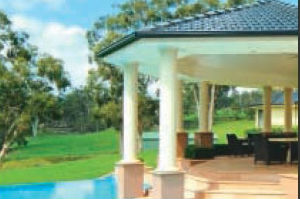 This outdoor project sets a new benchmark for resort-style living and design
What the homeowners yearned for was a trans-seasonal outdoor entertaining area. Turrell Building and Landscaping Services accepted the challenge and took the property from a deserted, unsightly yard to a lifestyle masterpiece.
"I went to the property to take a look at the existing home's finish so I could acquire a sense of what they would like and what would suit the estate," says Turrell Building and Landscaping Services' managing director Neil Turrell, who managed the project in its entirety.
Neil started with the design of the pavilion and suggested to the owners that they position the billiard room, bar and bathroom over on the boundary side to screen out the neighbouring property and to frame in the view of the surrounding bushland that backed onto their block.
After laying out the pavilion and the billiard room, it was then a case of designing a pool to blend in with both. The last thing was to fill in the blanks with the water feature, outdoor kitchen, planters and a lighting design.
"The home had a very modern look with a rural, bush outlook, so I chose a natural stone for the mass of paving and the planter caps to bring a natural feel to the job. We matched the colour of the columns, render and general construction details to the existing home to ensure consistency and to tie it all together," says Neil.
The pool was designed to sit under the pavilion to amalgamate indoor and outdoor living spaces. The impressive water feature, which is passed on entry to the billiard room, is composed of a 1.5m-high pot in the centre of a 6m-long catchment trough.
Lighting of the project was given high priority and includes a C-Bus system, which manages the lighting for the entire entertaining area.
"I am a big believer in lighting, especially in entertaining areas where you are trying to create a specific atmosphere. The pool, planters, walls, water feature, columns and roof structure all have feature-controlled lighting. I even included two 300-watt spotlights to light up the bush when entertaining in the evening," says Neil.
The outdoor kitchen, constructed with CaesarStone benchtops, contains everything required for entertaining including dishwasher, sink, fridge and a stainless-steel barbecue with side burner. The area is conducive to entertaining no matter what the season thanks to the glass roof, which allows light in at all times of the year, the heating in the pool and billiard room, not to mention a recently installed outdoor fireplace.
Project details
Landscape design and construction by Turrell Building and Landscaping Services Shop 3, 362 Galston Road, Galston NSW 2159 Phone (02) 9653 1003
Website www.turrell.com.au Photography by Bruce Usher