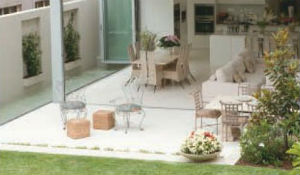 Offering the ultimate indoor-outdoor living experience, this is a dream garden
A well-designed garden sends a siren call, luring you outside in any weather. It has vitality, individuality and a genuine sense of place. This garden, designed by Jamie Durie's team at PATIO Landscape Architecture & Design and built by Landart landscapes, bares these hallmarks — and more.
Offering a contemporary take on a French provincial theme, the garden was designed to complement a recent home extension. One of the major challenges was how to resolve the level change between the new addition and the existing garden. When standing inside the house looking out to the garden, the view was obstructed by retaining walls and steps. The existing pool was also awkwardly orientated, preventing a seamless transition between outdoor living spaces.
The solution was to lower the garden area and use the pool — and a glass highlight window within the pool — to draw the eye to the rear of the garden. The raised pool and window now function as a focal point that can be enjoyed whether relaxing in the garden or looking out from the house.
To add to the family's enjoyment of their new outdoor living environment, there is a pool pavilion with an outdoor kitchen and contemporary outdoor sofa, a level multi-use lawn terrace and a profusion of flowers and foliage to stimulate the senses and please the eye.
Plant selection and placement was integral to the success of this garden. The goal was to develop a palette of plant species that would reinforce the French provincial theme and contribute seasonal floral colour and interesting foliage form year-round.
Pure white Australian sandstone was used for the paved areas and creates a light, open feeling. It also serves to blur the boundaries between indoor and outdoor living areas so that when the folding glass doors at the rear of the home are folded back, it's hard to tell where one space begins and the other ends.
Of course, the success of such an impressive project lies not simply in good design but in excellent construction. Landart Landscapes handled every challenge that came their way with skill, precision and efficiency. By working in close co-operation with one another, and the owners, PATIO Landscape Architecture & Design and Landart Landscapes have created the ultimate outdoor living experience.
Project details
Landscape design by PATIO Landscape Architecture & Design 35 Albany Street, Crows Nest NSW 2065 Phone (02) 9026 7400 Email design@patio.com.au Website www.patio.com.au Landscape construction by Landart Landscapes 35 Albany Street, Crows Nest NSW 2065 Phone (02) 9439 6853 Email info@landart.com.au Website www.landart.com.au